iPads in Schools: Are They Secure?
Feb 13, 2018 | 42Gears Team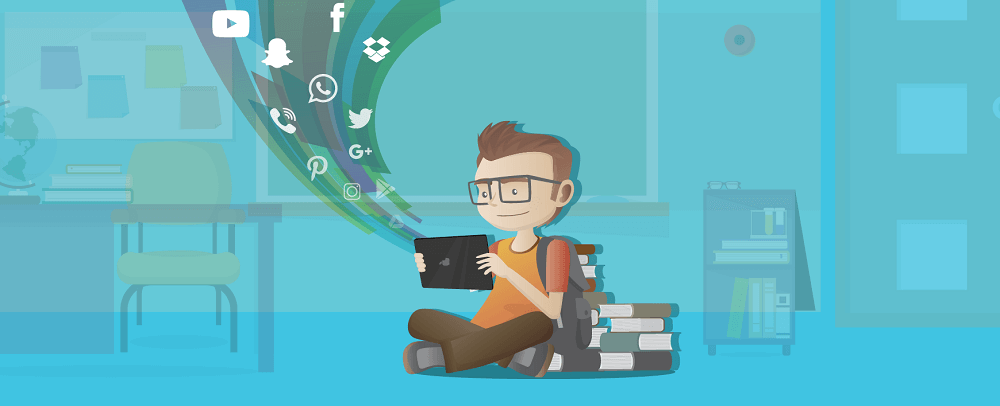 Empowering education institutions' BYOD strategy with iOS
With the growing popularity of smart devices in the education sector, blackboards, whiteboards, chalks, textbooks, and notebooks are becoming secondary requirements. The extensive adoption of iPads and iPhones across schools and colleges, makes iOS devices the number one choice. As per Piper Jaffray's, an investment firm's survey report, 2017, 78% of teens own an iPhone and 82% of teens said their next smartphone will be an iPhone. The survey covered 6,100 teens across the US with an average age of 15.9 years. A similar survey done earlier in 2013 by Piper's firm reveals that iPad is also very popular among teenagers. 68% said they own iPad whereas, 52% said they will buy iPad in next 6 months. This survey was conducted on 7700 teenagers in US.
The popularity of iPhones and iPads among the youngsters is attributed to the adoption of iOS BYOD (Bring Your Own Device) implementation in education verticals also. BYOD adoption not only helps institutions to improve the education system but also saves them from spending on hardware costs.
Under BYOD, schools and colleges allow students and staffs to bring their personal devices and connect with their internal Wi-Fi networks. Though BYOD has many benefits, allowing personal devices in schools may easily distract students from concentrating on their curriculum. Playing games, accessing social networking sites, engaging in chats or instant messaging and downloading or uploading prohibited files or data are common routines followed by students who have access to their iOS devices during school or college hours.
At the same time, educational institutions can also face challenges such as school's Wi-Fi network being overloaded by data accessed through student-owned devices and exposing school's network to potential security threats. So, there must be some sort of restrictions that institutions can impose while implementing BYOD.
Must-have restrictions to strengthen BYOD strategy
Blacklisting unwanted apps and URLs
Blacklisting includes defining and blocking all unwanted applications and URLs that are to be prohibited from use in school or college premises, such as games, social networking sites and more. This feature prevents misuse of school time for non-productive purposes.
Whitelisting essential apps and URLs
Whitelisting apps and URLs define the right applications and websites that are allowed to be accessed while students are on the premise. These could be the ones that support their educational purposes such as school's app where students can access educational materials and take assessments.
Network Fencing
Network fencing plays a crucial role in controlling and monitoring device usage in BYOD scenario. Through network fencing, educational institutions can set policies that will be applied to iOS devices when they enter the institute's Wi-Fi periphery. The policies could include allowing only whitelisted apps and URLs to open in the device. Similarly, when the devices go beyond the school's Wi-Fi network coverage, the access to school's data can be blocked.
Geofencing
Geofencing is a GPS-based software technology that creates a virtual geographic boundary for devices. Educational institutions have started embracing this feature to monitor student behavior and to prevent unnecessary data usage. As soon as students enter the college premise, they can be automatically connected to the college's Wi-Fi network and given access to the required applications or URLs. Also, admins can provision to get alerts when a device goes beyond the geographical fence.
Time Fencing
Time fencing is used to define and set device policies and settings to be applied on an iOS device during a particular time frame. Though this feature is extensively used in enterprises to control the device usage for productive purposes, it can also be used in educational institutions to administer the device usage during study hours. Admins can set up policies based on particular timings. For example, students may be allowed to use their personal devices for only educational purposes during college hours. Except the whitelisted apps and URLs, students will have no access to other materials during college time.
EMM – A Prerequisite For iOS BYOD Implementation
Educational institutions would require an EMM (Enterprise Mobility Management) solution to manage and control iOS devices. All the necessary restrictions such as blacklisting or whitelisting apps and URLs, network fencing, geofencing and time fencing can be set as policies through an EMM solution.
EMM enables admins to monitor and control devices by applying restriction profiles, deploying web content filtering, Wi-Fi configuration, single application mode, application policy, file sharing policy and message texting.
Undoubtedly, EMM provides the school greater control on the student-owned devices. EMM password policies ensure that students are unable to unenroll their devices from the EMM tool. Also it will prevent unenrolled devices from connecting with the school's Wi-Fi network again or accessing any data or material provided by the school.
Any educational institution, before allowing use of iOS devices, should always check with EMM vendors whether they offer the above mentioned restrictions in their EMM solutions or not.
42Gears is a trusted EMM solution provider offering support remote management and control of iPad and iPhone devices.
Manage your iOS devices today using 42Gears EMM. Try it for free!
Read how 42Gears helped Byjus secure student devices.