SureVideo Digital Signage Solution
Efficiently engage audience
Targeted content delivery
Generate advertisement revenues
Easy setup
Easily update content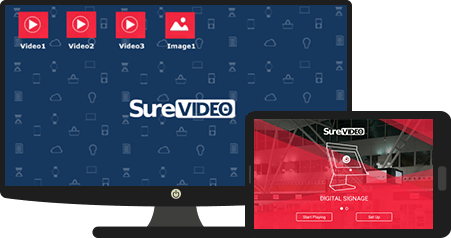 Digital Signage solutions are useful for delivering targeted content to audiences in order to grab their attention. SureVideo can be used as video looper to display advertisements, news, product information, or anything your business wants to deliver to the customers.
Install SureVideo on a tablet or TV stick and configure a playlist that plays videos in a loop. You can easily deploy the playlist on multiple devices and update it at any time.


SureVideo Kiosk works like a charm. There are a lot of options that you will like. Also shoutout to technical support who helped me in a second to solve my mistake. Great recomandation!


Bane Jovicic


Very Good for single screen digital signage solution. Very user friendly. Just plug-n-play with simple copy paste methods. Has lots of features in and can run 24/7 without any hazard.


Ashik Haydari
Who needs SureVideo?
SureVideo is an easy solution for all your digital signage requirements. It is used by businesses across various industries.
Entertainment Industry
Educational Institutes
Retail Stores
Travel and Tourism
Hospitality