AOBRD or ELD – What's the difference?
Feb 12, 2018 | 42Gears Team
An Automatic On-Boarding Recording Device (AOBRD) is a hardware piece that records a driver's hours-of-service (HOS) by connecting to the vehicle's engine. On the other hand, an Electronic Logging Device (ELD) is a piece of hardware that records a driver's HOS by connecting to a vehicle's Electronic Control Module (ECM). The functionality of an AOBRD device is similar to that of an ELD device but it records and displays less data.
The difference in amount of data recorded and editability of recorded data defines the variance between AOBRDs and ELDs. Given below is a chart to show the comparison between the two types of devices as per section 395.15 of Federal Motor Carrier Safety Administration's (FMCSA) comparison chart:
ELD
AOBRD
What Does It Record?

Engine Hours

Date and Time

Locations Covered

Vehicle Miles

Driver Info

Duty Status

Log in and Log out

Motor Carrier

Engine On and Off Status

Malfunction Data

Engine Hours

Data and Time

Locations Covered

Vehicle Miles

Drive Times

Duty Status

Driving Time

No allowance for editing Driving Time

Driving Time can be edited if attributed to wrong driver

Locations Covered
Automatic Recording of:

Change in duty status

Engine turn off and turn on

Start and end of yard moves

Personal conveyance

60-minute driving intervals

Accuracy of recording:

Within 1 mile when driver is on 'on-duty driving'

Within 10 miles when driver is on personal conveyance

Recorded at each duty change

Manual entry is possible

Editing History

Records when edit was made and by whom

Annotation required for all edits

Events recorded automatically can't be edited, they can be only annotated

Edit history readily displayed to DOT inspectors

Records when the edit was made and by whom




Does not easily display edit history
What's in it for the drivers?
ELDs have some rules which control its  functions during certain events and situations. For example, when a vehicle stops moving for 5 consecutive minutes and the driver doesn't respond to a prompt within 60 seconds, the ELD device will automatically log the driver's duty status as On-Duty, Not Driving. On the other hand, AOBRDs do not automatically change a driver's duty status when the vehicle is no longer in motion.
Secondly, electronic logging devices are required to account for all vehicle miles to ensure accuracy of driver logs. They will warn drivers about all the unassigned driving time and miles that is recorded by the device when they log in.
The ELD Mandate had made it mandatory for all fleets to implement certified ELDs to document HOS by December 2017. Fleets that were already using AOBRD have to ensure compliance with the necessary specifications by December 2019.
Transitioning from paper logs to ELDs might not be a smooth adjustment for drivers. To address the cost concerns of adopting expensive electronic logging technology, the FMCSA allowed the use of smartphones, tablets, and even rugged handhelds in accordance with ELD requirements. Widespread use of Android smartphones and tablets across the globe also makes it probable that truck drivers will be more familiar with their UI, ensuring easier acceptance and adoption.
Challenges for using smartphones and tablets for ELD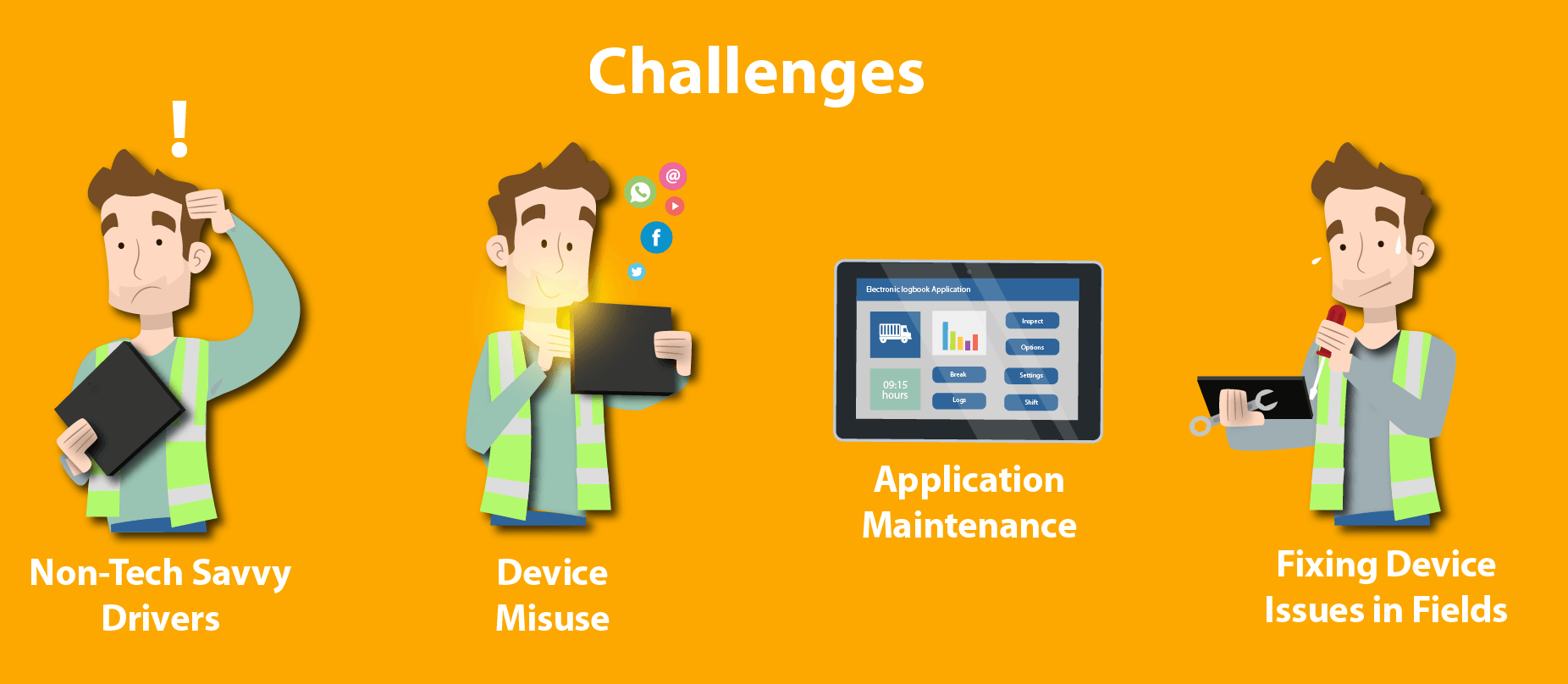 Device Misuse – With the large scale use of smartphones and tablets, it is quite probable that drivers are familiar with device usage. In most cases, drivers would know how to operate the smart devices to access other applications or sites such as social media apps or entertainment channels. This could be distracting for the driver, resulting in loss of time and increase in risk of accidents.
Application Maintenance – ELD devices use an app to records and sends a driver's hours of service. It becomes necessary to ensure the app is maintained to ensure uninterrupted recording. Also, the drivers shouldn't be able to tamper with the app settings or delete the app by mistake.
Device Management – As with any device being used on the field, technical issues are common. With drivers covering large areas on their routes, it becomes difficult to troubleshoot devices immediately. Bringing back devices for maintenance leads to loss of time and effort.
42Gears UEM solution allows fleet management companies to secure, monitor and manage mobile devices. It offers a comprehensive feature set including device lockdown, location tracking, driver safety mode, remote screen control for troubleshooting, remote app installation and upgrade, and two way messaging. These features can help you manage your fleet of tablets and smartphones running Electronic Logbook Application. .
Want to enhance your ELD deployment? Sign Up for a 42Gears UEM Free Trial.
View Challenges with ELD Deployment infographic here.
Exclusive News and Updates on Enterprise Mobility!
Subscribe for our free newsletter
Thank you! you are successfully subscribed.
Please enter a valid official email
*

I consent to receive newsletters via email from 42Gears and its Affiliates.
Please agree
*

I have reviewed and agreed to 42Gears Privacy Policy and Terms of Use prior to subscribing and understand that I may change my preference or unsubscribe at any time.
Please agree