Partnerships are pillar of technology. It all has to work together. We have joined hands with a growing list of partners to provide best in class solutions for our customers. Our customers love the fact that we very deeply fit in their ecosystem, are able to provide very targeted solutions to their needs, and are already working with many of their vendor partners. To leverage the full potential of our combined solutions - Lets Partner. Click Here.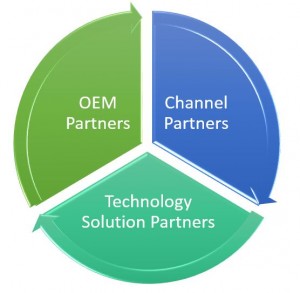 Channel partners are face of our products and we enable them with in-depth knowledge of our products, mobility experience in different industries and feature-rich products that customers love. You can also help your customers, grow your business, and be at the forefront of mobility. Become a Partner.
Technology Solution Partners
Many of our Technology Solution Partners (TSP) are system integrators, custom development houses and software vendors. Our solutions are easy to implement and help organizations achieve their end objectives seamlessly. We can help enable your solutions with power of mobility. Become a Partner.
Our solutions are supported on devices from leading mobile device manufacturers. Working alongside our OEM partners, we have offered niche, unique and fitting solutions to our customer's needs. If you are a device manufacturer or want to grow your presence in mobility ecosystem, enable your devices with cutting edge solutions from 42Gears. Become a Partner.
 If you want to join or are interested in knowing more about our Reseller or Technology Partnership program, send an email to our team.