Windows 10 Kiosk Mode Solution

Kiosk Lockdown for your Windows Desktops, Laptops, and Mobile Computers
Easy to setup kiosk software for Windows 10, Lock down Windows desktop to specific apps or websites.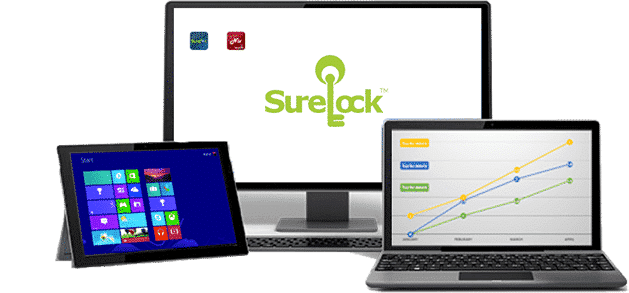 What is Windows 10 Kiosk Mode?
Windows Kiosk Mode refers to transforming desktops, laptops, and mobile computers running Windows 10 or earlier into dedicated purpose devices. You can set up kiosk mode on Windows devices by locking down the Windows shell environment and allow the users to access only certain approved Windows applications or only specific allowed websites. Once Windows 10 Kiosk Mode is configured, the Windows device runs in an immersive kiosk-type environment whereby the end-users cannot intentionally or unintentionally misuse the device.
You can easily activate Kiosk Mode with SureLock by 42Gears. While SureLock can be purchased as a standalone license, it also comes included with licenses of SureMDM, the 42Gears device management solution.
Dedicated- or public-use kiosks based on Windows 10 operating systems are often deployed in locations that cannot always be monitored by IT teams. It is important to maintain the security of these kiosks and protect them from intentional or unintentional misuse.
How to lock down Windows 10 devices?
The following options exist for locking down Windows 10 into kiosk mode. 
Assigned Access
Assigned access is a Windows 10 feature that can be used to set up a lockdown environment that allows users to interact with only one app or a few specific apps when they sign into a specified account. 
Assigned Access has many drawbacks making it non-viable for business use. It lacks many functionality and security features that most businesses require.
Pros

Suitable for personal use

Built-in Windows feature
Lacks
Supported only on Windows Pro or later

Only works with Windows Store apps 

Users are able to bypass lockdown by rebooting and logging in through an alternate account
SureLock Windows 10 Kiosk Mode
(Supported on earlier versions of Windows as well)
By choosing SureLock as their Windows kiosk software, IT admins can lock down Windows desktop or other Windows devices ensuring the users can only access pre-approved applications. In addition to application restriction, SureLock can also block keyboard functionality. Admins can permit access to apps beyond those found in the Windows Store, and prevent any given app from switching to another app, thanks to SureLock's Watchdog Service functionality.
Plus, SureLock integrates with 42Gears' device management software, SureMDM by 42Gears, to manage any device running on Windows, macOS, Linux, Android, or iOS devices. Now administrators can lock down and manage all business devices from one place.
Capabilities of SureLock's Windows 10 Kiosk Mode
Allow only pre-approved applications to run

Allow browsing of only selected websites or URLs

Auto-launch selected applications at system startup

Enable auto-login after a system reboot

Disable Ctrl-Alt-Delete key combination

Filter and configure keyboard inputs

Password-protect settings

Customize background wallpaper

Disable access to Windows Task Manager

Configure Windows Kiosk Mode on multiple computers at once with SureMDM
Benefits of SureLock's Windows 10 Kiosk Mode
Maximize uptime by lowering the risk devices will break down.

Impress customers with a professional interface featuring your branding.

Improve crowdflow by keeping customers focused on intended activities. 

Boost productivity by directing employees to work-focused apps.

Slash transit costs by enabling remote repair for many potential problems.

Gain peace-of-mind that your investment in Windows kiosks is effective.

SureLock allowed us to control our very large Point-of-Sale system the way we wanted, and helped us create a consistent and secure user experience. Managing the software is a breeze, and for those times we weren't able to figure things out on our own we had their fantastic support to fall back on. 42Gears support has even gone as far as creating custom features for our needs, and for no extra charge! As a non-profit organization, the price point was well within our budget and the product exceeded our expectations. Definitely recommend!

Jeff Perry,
Internal IT Department, Heritage Park