Kiosks are great tools for businesses to connect with their customers, employees, and public users. However, the process of building a traditional kiosk is complicated and time-consuming. The cost associated with industrial kiosks is also unrealistic for most businesses.
SureLock by 42Gears offers a quick and easy way to lock down off-the-shelf mobile devices. With the help of SureLock, tablets, smartphones, smartwatches and even desktop computers can be used as dedicated-purpose devices.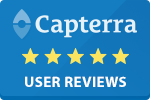 We use SureLock by many of our devices with Android 9. We are really satisfied with the stability and flexibility of the configuration. We really like the excellent support.


Greatcom AG


We are very happy with this product and the customer service provided by 42Gears.
They are prompt at handling all technical questions and issues and aim to get them resolved quickly. Their product is great for all the Android devices we have here. We have also used their SureVideo and SureLock products, and they are great as well. Thank you!


James A. Michener Art Museum
Doylestown, PA


We are using both SureMDM and SureLock to remotely manage, secure, and deploy 500+ tablets for our fleet of trucks. After a quick demo of the products I was making custom deployments for our entire fleet. You won't be disappointed if locking down and remote management of mobile devices is your goal.


Halvor Lines


42Gears has provided a solution that helped to fill and plug operational gaps. The customized features of 42Gears products along with lightning-fast IT support team allows Yelp Eat24 to present a polished and consistent experience for our Restaurant Owners. This, in turn, translates into a great rewarding customer experience.


Kevin Hong
Lead, Tablet Department, Eat24, Yelp Inc.


I just wanted to let you know that customer support rep helped me with a licence key issue with my installation of SureLock and he was very helpful, polite and patient.
I appreciate his professional response to my query which was completely resolved by the end of the call..


Martin Francis
Developer, ChurchesInYourTown.ca


Great App !!! One of the best lock down solution for the android platform. User interface and add- on features makes it more user friendly for mass deployments.


Ranjit Kotian
MT Educare
Case Studies
MRF capitalizes on 42Gears products to manage tablets in its exclusive stores