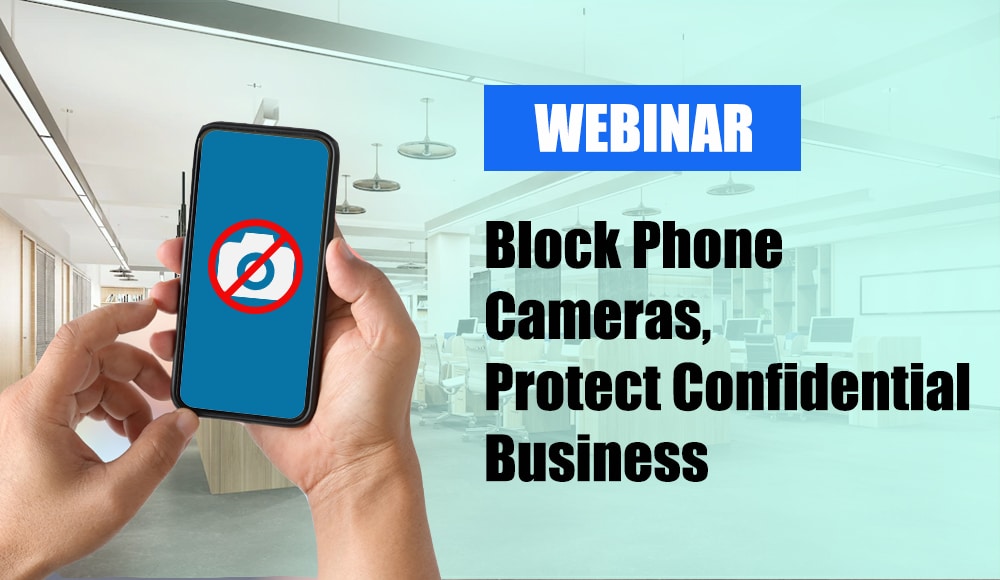 Block Phone Cameras, Protect Confidential Business
Protecting confidential data at all times and under all circumstances is a prime concern for enterprises. Confidential data can be anything from source code on developers' computers and proprietary manufacturing processes in a factory to patient records in hospitals and student information in schools. It is challenging for enterprises to restrict employees or visitors from clicking pictures inside business premises that might intentionally or otherwise capture portions (or the whole) of such data.
Watch this webinar to discover how CamLock, the intelligent mobile camera blocking solution by 42Gears, can help enterprises protect their confidential data from unauthorized mobile camera access.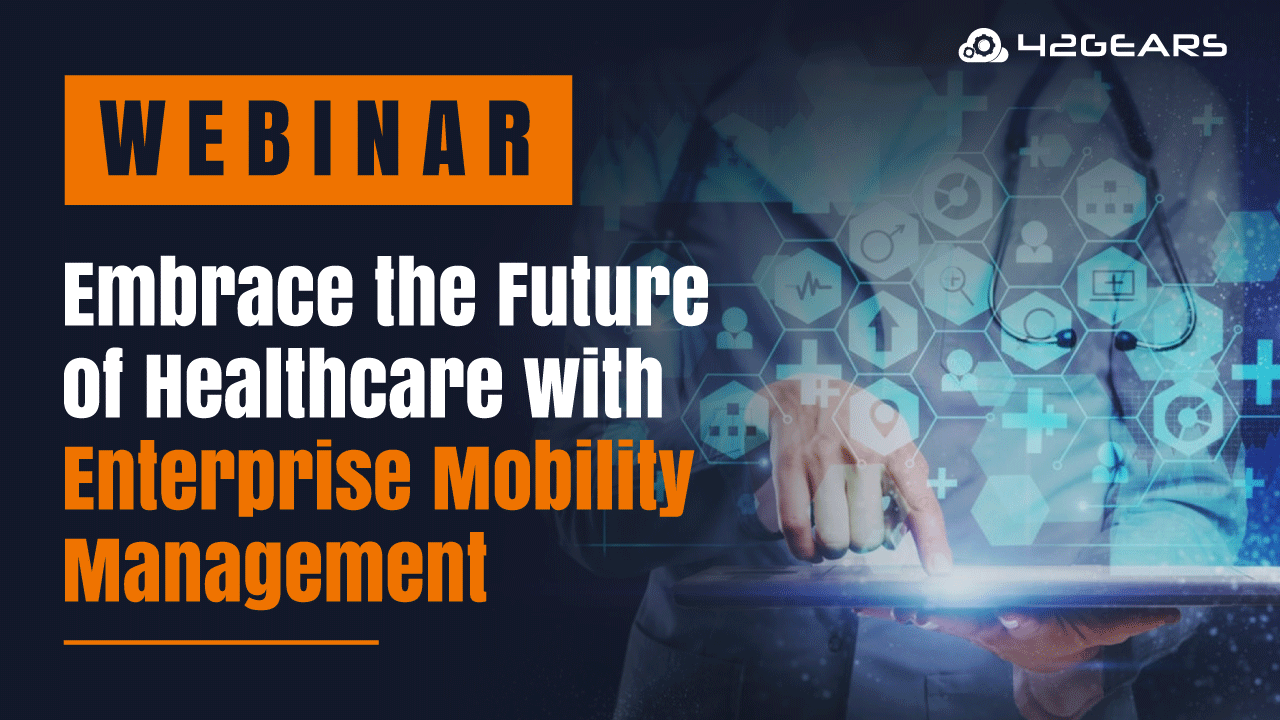 Embrace the Future of Healthcare with Enterprise Mobility Management
Hospitals have adapted to the challenges of 2021 by embracing telemedicine and the Internet of Medical Things (IoMT). Unfortunately, many have struggled to manage and maintain new devices after deploying them.
Watch this webinar to learn how 42Gears and T-Mobile can help you ease the healthcare industry's growing pains throughout 2021.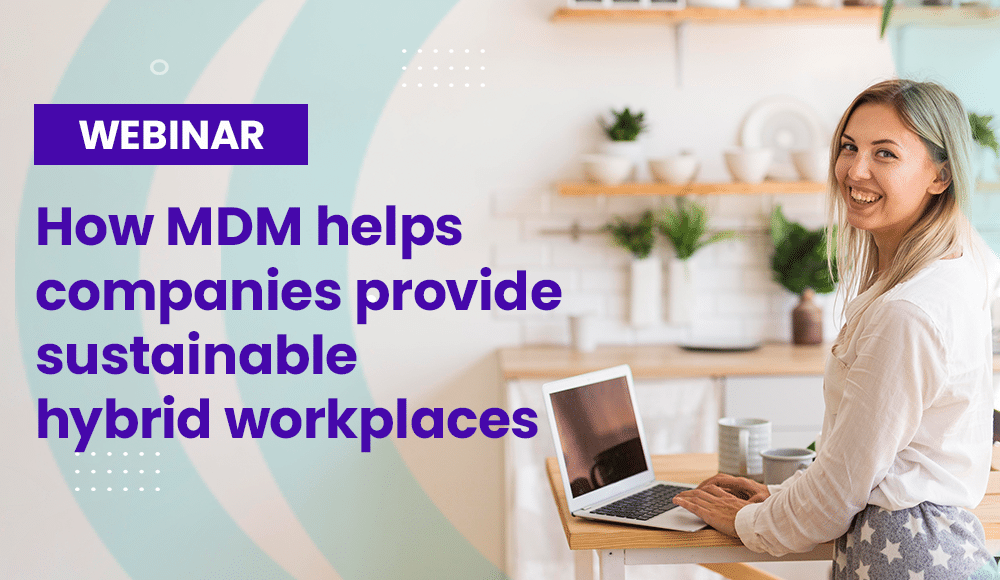 How MDM helps companies provide sustainable hybrid workplaces
The hybrid work model is reimaging the workplace ecosystem. In this video, you will learn how a Mobile Device Management Solution can help you manage devices and secure corporate data in a hybrid workplace. Gain insights on how to get better results in terms of increased employee productivity, and maintaining device and data security with the help of SureMDM.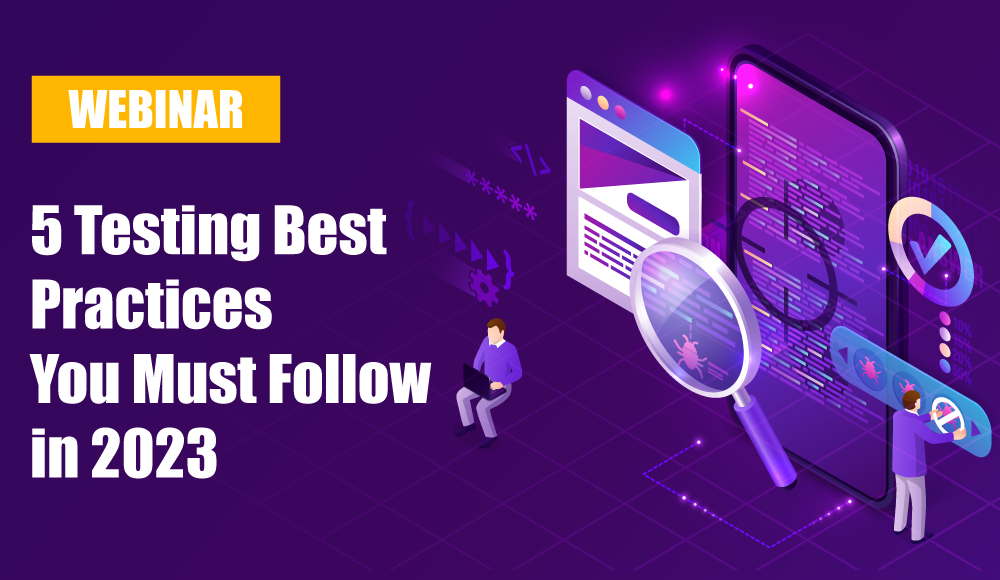 5 Testing Best Practices You Must Follow in 2023
In this video, you will learn the latest trends and best practices in software testing to stay up-to-date with the industry, and ensure that your testing processes are optimized for success. Gain valuable insights on how to achieve better results and deliver higher-quality software applications with the help of AstroFarm.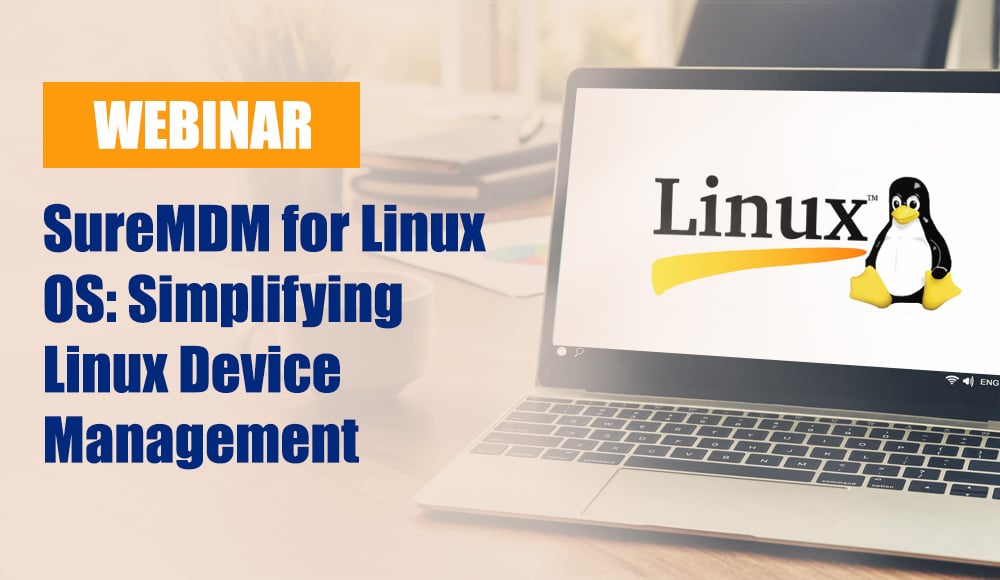 SureMDM for Linux OS: Simplifying Linux Device Management
Businesses are rapidly adopting Linux devices as a part of their core device fleet. Thus, as a part of their key business infrastructure, they must also implement solutions that can help them manage the entire lifecycle of these devices while ensuring they are secure and stay compliant. Unfortunately, not many businesses have access to the tools that can help them achieve this. This is what SureMDM, a robust Linux Device Management solution, helps businesses with.
 Watch the webinar to discover the key features that can help you simplify Linux device management and ease the adoption of Linux OS.
Date: January 20, 2022
Duration: 33 minutes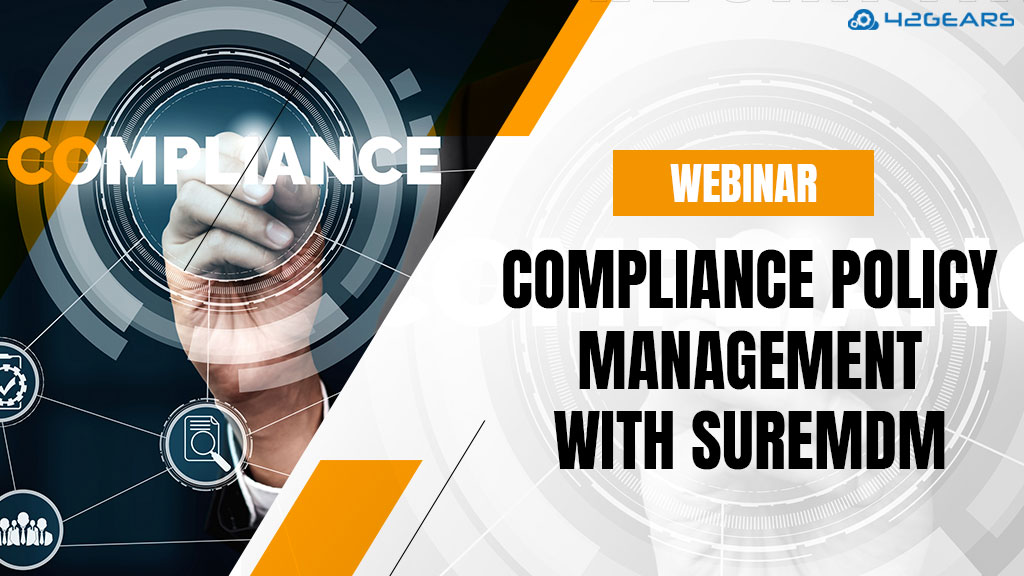 Compliance Policy Management with SureMDM
Because employees often use devices in risky or careless ways, IT teams struggle to secure those devices and the data they access. This is even more difficult when employing third-party software, which can augment device functionality, but introduces new ways for employees to misuse devices.
The best way to address these concerns is to implement compliance policies on these devices through a device management solution.
Watch this webinar to learn how SureMDM makes it easy to monitor compliance on many devices at once, and automatically take action when devices violate the policies you put in place.
Date: October 27, 2021
Duration: 50 minutes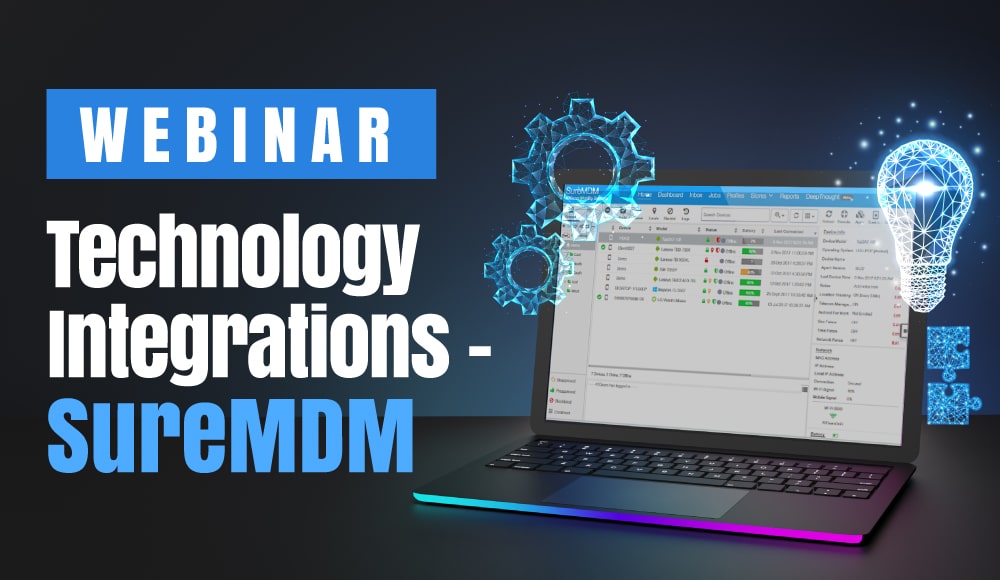 Technology Integrations - SureMDM
Digital technologies keep evolving, and so do the customer needs. That is why it is critical for software solutions to integrate with various technologies in the market so they can keep up with customer demands.
Watch this webinar to learn more about technologies that SureMDM integrates with and how you can make the best use of them.
Date: August 12, 2021
Duration: 45 minutes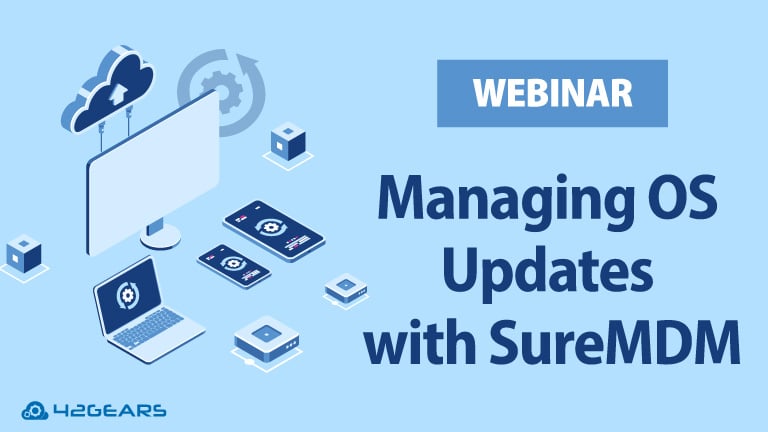 Managing OS Updates with SureMDM
As we all know, it's crucial to keep operating systems updated. In a remote working environment, OS updates are even more important as they introduce new features, improve compatibility with other software, and remove outdated features. Despite this, updating the OS is probably one of the last things in an employee's/user's task list. Unfortunately, this can make an organization more vulnerable to security breaches by jeopardizing business devices and data. As such, businesses need a fool-proof solution that can help them manage OS updates remotely.
Watch this webinar to learn how you can easily ensure that business devices are updated at all times.
Date: June 30, 2021
Duration: 35 minutes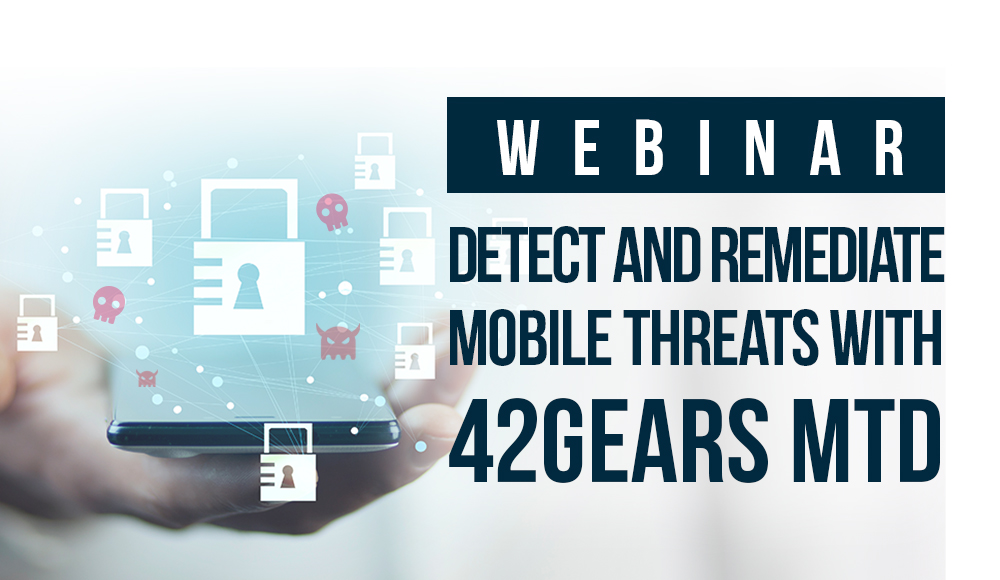 Detect and Remediate Mobile Threats with 42Gears MTD
With a large part of their workforces still working remotely, mobile security has become the new imperative for businesses around the world. It's important for organizations to fortify their defenses against emerging risks that threaten data privacy at various levels.
Watch this webinar to learn how you can implement the native MTD features of SureMDM by 42Gears and prepare for the unknown.
Date: May 6, 2021
Duration: 45 minutes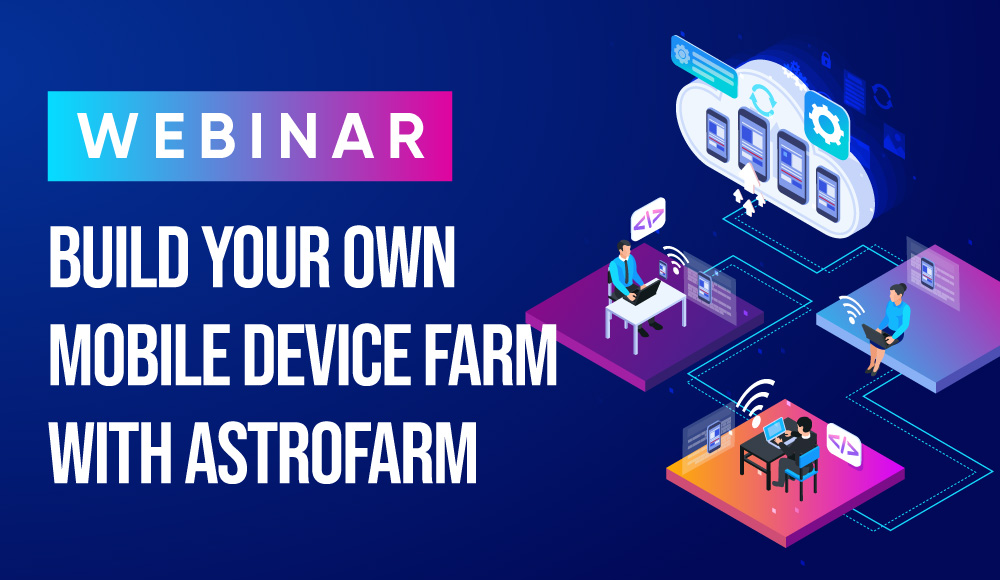 Build your own mobile device farm with AstroFarm
Businesses invest in different types of devices for development and testing. But if these devices are not easily accessible by remote teams, it results in poor resource utilization and ROI. Moreover, there's a significant impact on engineer productivity if the right device is not available to them to work on at the right time. That's why we built AstroFarm.
Watch this webinar to learn how AstroFarm can empower you to build your own scalable mobile device farm with the devices that you already own.
Date: March 4, 2021
Duration: 60 minutes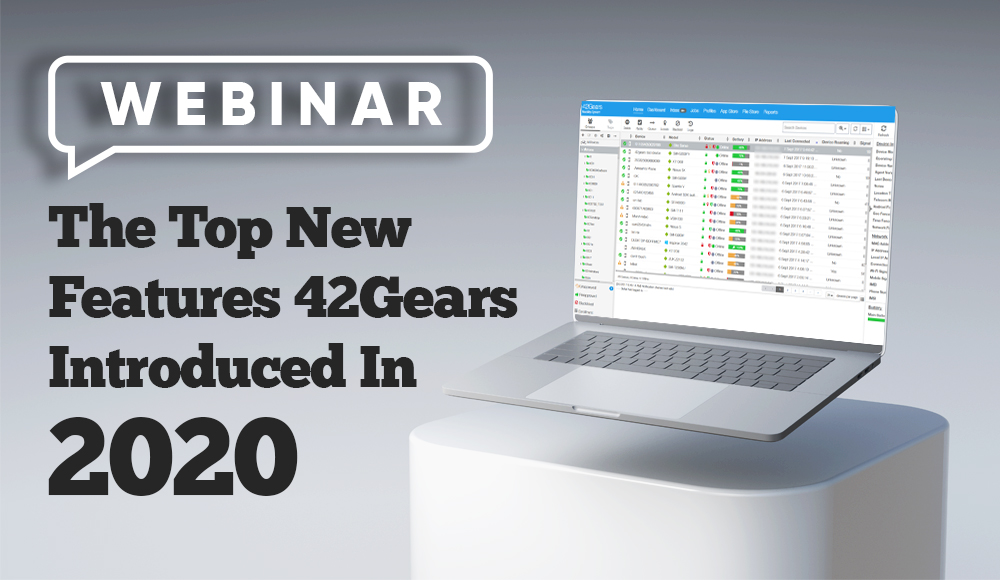 The Top New Features 42Gears Introduced In 2020
The latest security enhancements, features, platform updates, and UI upgrades in 42Gears software afford businesses even more control over their devices than ever before, making device management even easier.
Watch this webinar to learn about all the features we've added to our products, so you can implement them effectively right away at the start of 2021.
Date: January 28, 2021
Duration: 23 minutes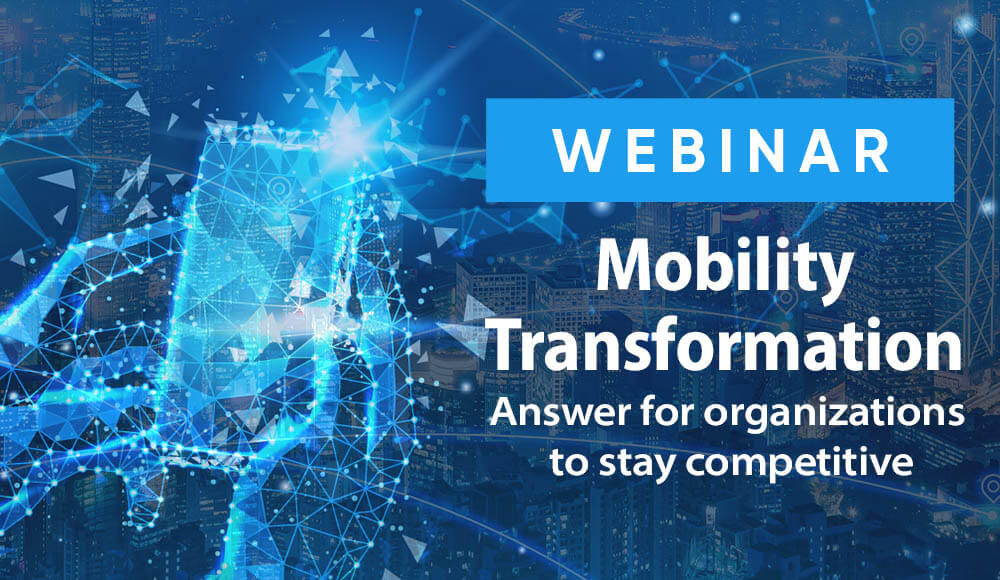 Mobility Transformation - Answer for organizations to stay competitive
As the COVID 19 pandemic has led to major disruption in business operations, enterprises worldwide need to transform themselves and beat the competition. Mobile devices play a crucial role in this transformational journey.
Watch this webinar on mobility transformation as key to remain competitive for enterprises in the current pandemic. Learn how you can leverage SureMDM to beat the competition.
Date: October 3, 2020
Duration: 56 minutes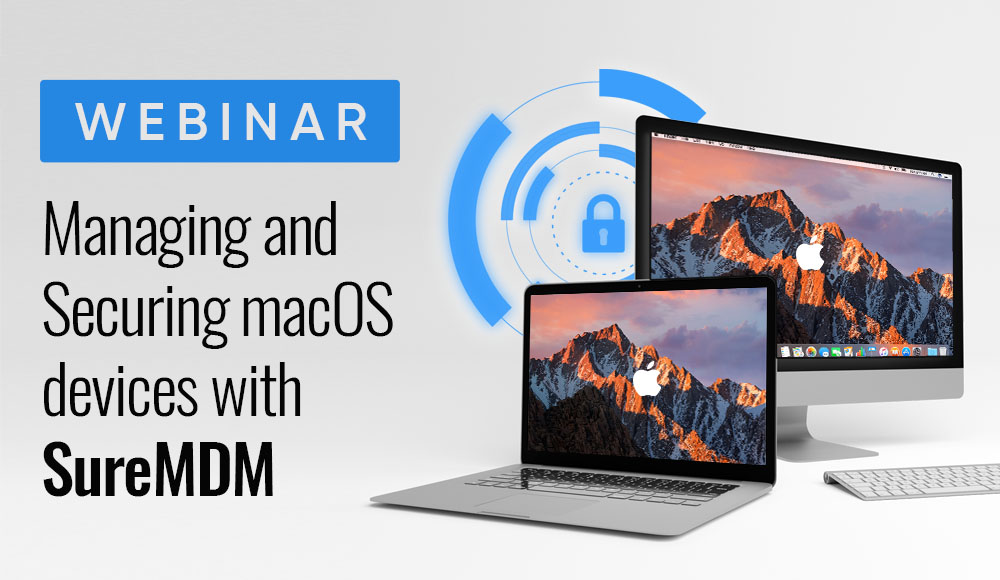 Managing and Securing macOS devices with SureMDM
Of late, there has been a huge surge in the adoption of Mac devices, especially in the education and healthcare sectors. But do IT teams have the tools they need to manage Macs remotely in a hybrid environment (along with other operating systems)? SureMDM macOS management solution by 42Gears provides IT teams the visibility and control required to manage Macs just like any other mobile device.
Watch this webinar to learn how SureMDM works with Apple Business Manager to easily enroll, manage, and secure macOS devices from a central console, even in a remote environment.
Date: September 29, 2020
Duration: 32 minutes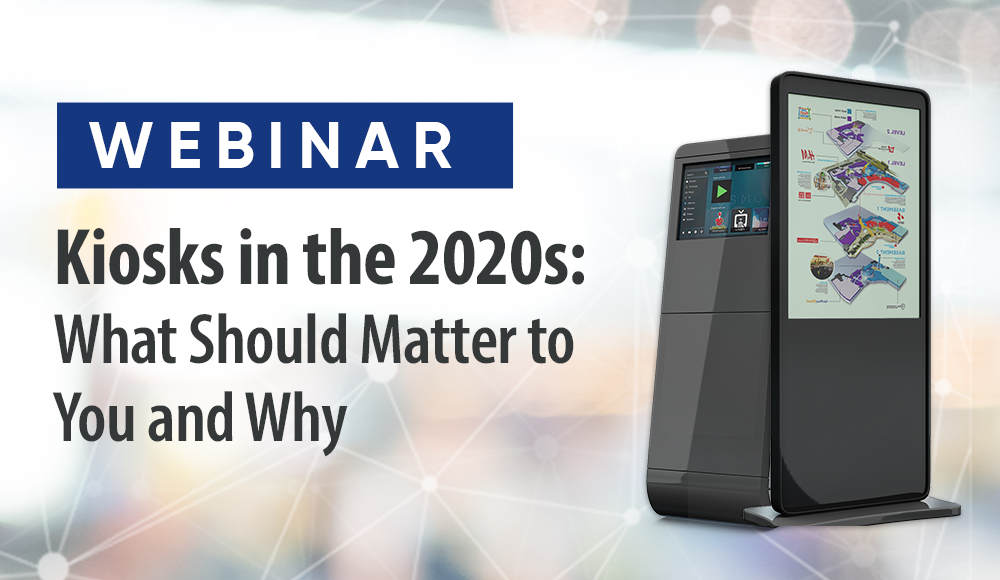 Kiosks in the 2020s: What Should Matter to You and Why
Kiosks play an essential role in many industries, allowing customers and staff to find the resources they need independently. Especially when minimizing contact between workers and staff is essential, kiosks have a large role to play.
Watch this webinar to learn how you can use SureMDM by 42Gears to secure, monitor, and manage kiosks. Plus, discover the value of Advanced Remote Management and see how Intel and 42Gears have teamed up to make this possible.
Date: August 6, 2020
Duration: 30 minutes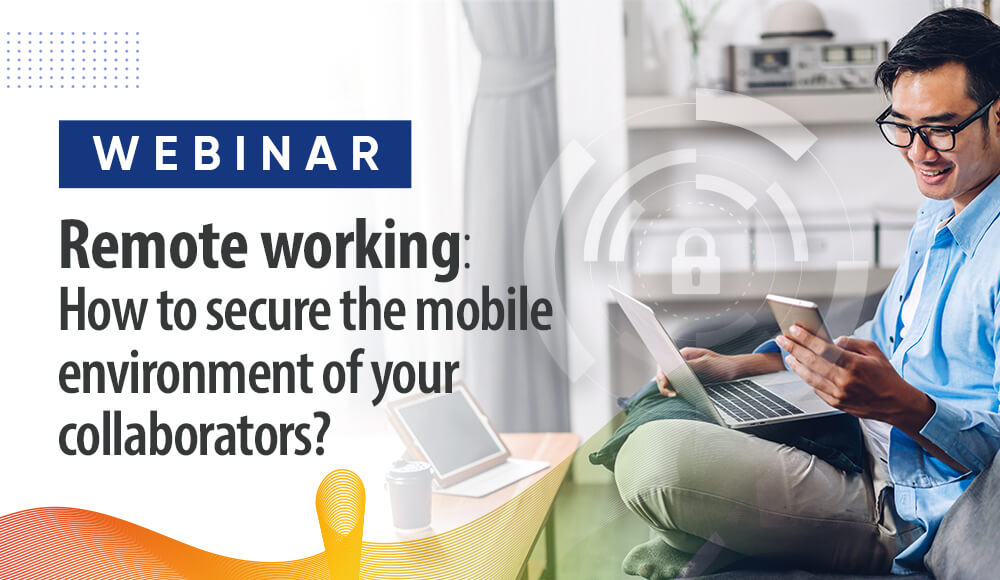 Remote Working | How to Secure the Mobile Environment of Your Collaborators?
With the surge in remote work, employees are using a mix of their own and company-issued mobile devices to conduct business operations. Thus, protecting these devices against security threats has become more important now. Businesses can secure these endpoints while managing them remotely.
Watch this webinar to learn how 42Gears and Pradeo have come together to help businesses detect threats, protect and manage data beyond the company perimeter.
Date:  July 29, 2020
Duration: 43 Minutes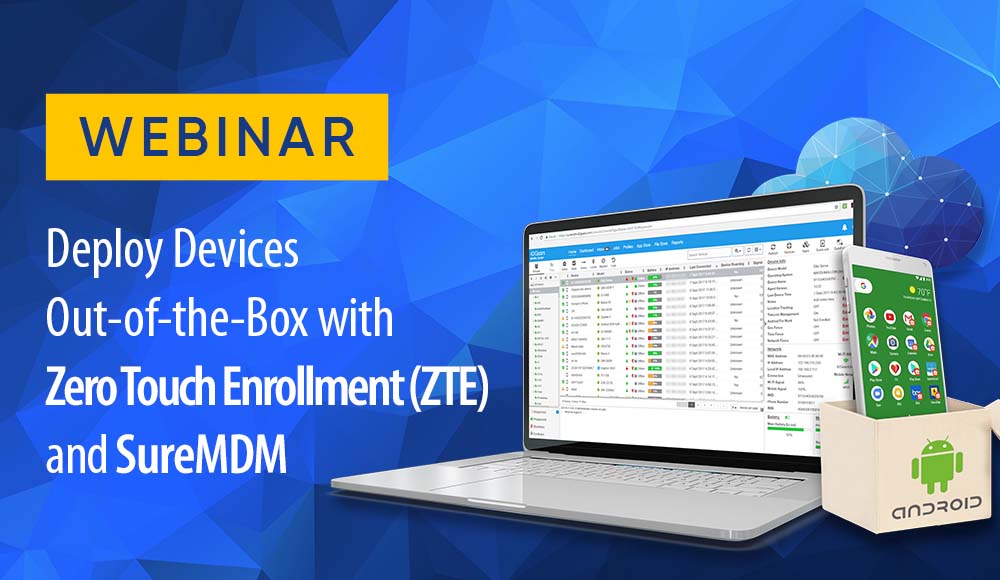 Deploy Devices Out-of-the-Box with Zero Touch Enrollment (ZTE) and SureMDM
Android supports a wide range of business-critical operations for frontline as well as knowledge workers. Enterprises require easy enrollment options to deploy Android devices remotely, anywhere, and at any scale. Zero Touch Enrollment (ZTE) helps streamline large scale roll-outs for any use case.
Watch this recorded webinar to learn more about 42Gears' support for Zero-Touch Enrollment and how you can configure ZTE and default MDM policies.
Date:  July 9, 2020
Duration: 46 Minutes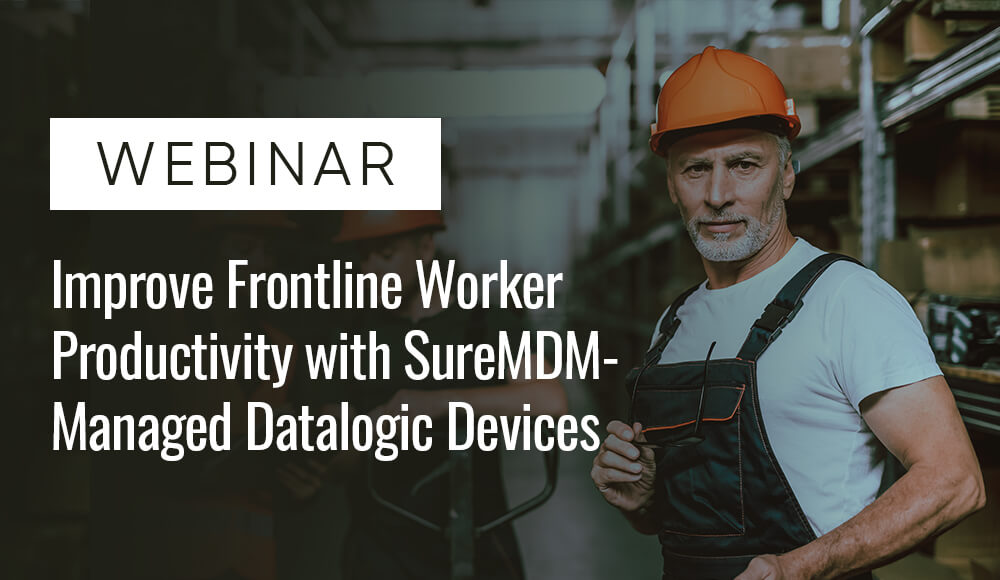 Improve Frontline Worker Productivity with SureMDM-Managed Datalogic Devices
Datalogic devices enable and empower frontline workers across industries. Thus, it's important for businesses to be able to quickly configure such devices and ensure secure app and data access on them for uninterrupted operations.
Watch this recorded webinar session to discover how you can leverage 42Gears SureMDM to deploy Datalogic devices seamlessly, manage them effortlessly, and secure them proactively.
Date:  May 13, 2020
Duration: 50 Minutes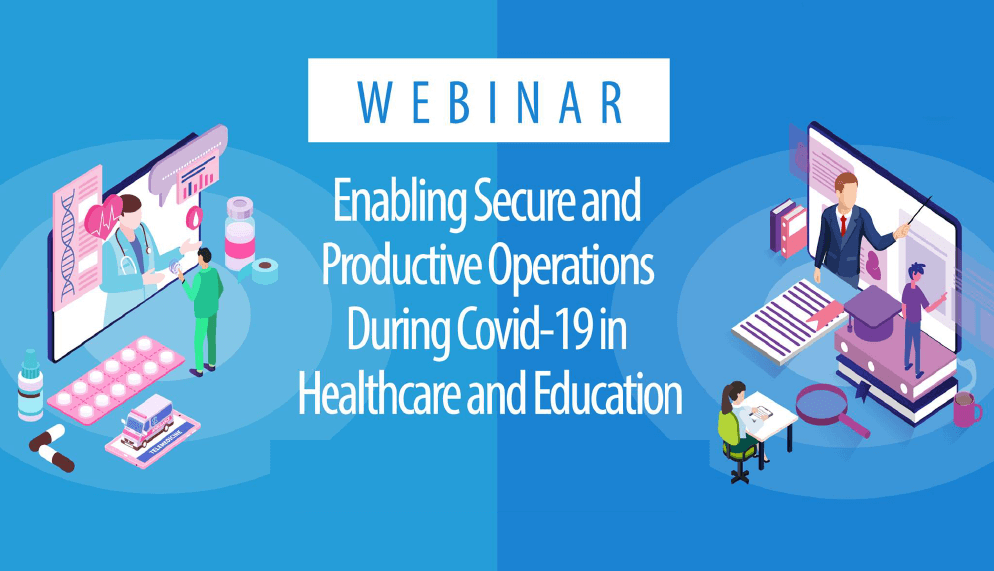 Enabling Secure and Productive Operations during COVID-19 in Healthcare and Education
The global pandemic caused by COVID-19 has hit the education and healthcare industries especially hard. Many schools and hospitals have to mobilize a large number of devices in a hurry. Our product experts will walk you through the software that you need to provide healthcare and education in the era of COVID-19.
Watch the recorded webinar to learn how mobile device management can help education and healthcare organizations withstand the impact of COVID-19.
Date:  May 5th, 2020
Duration: 30 Minutes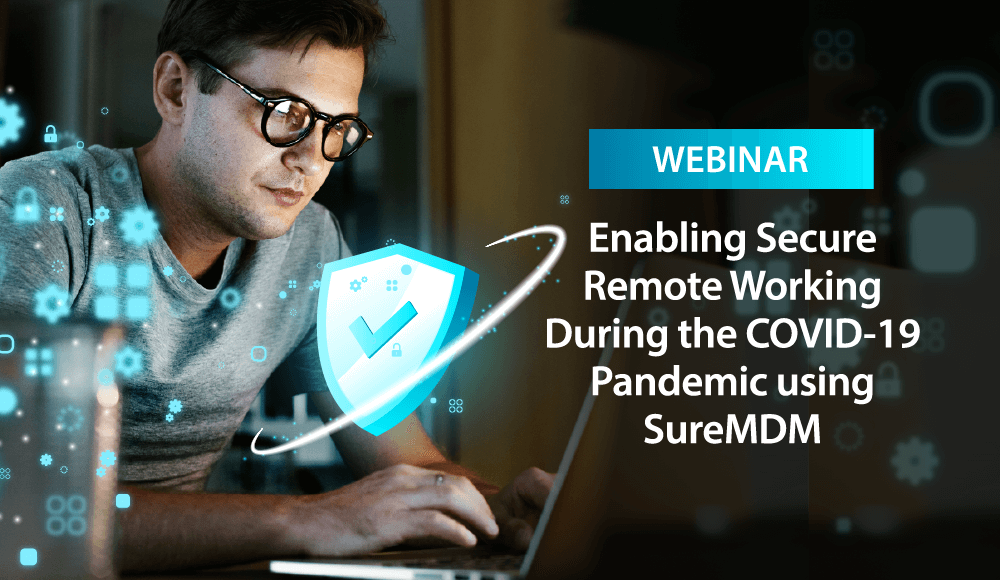 Enabling Secure Remote Working During the COVID-19 Pandemic using SureMDM
As more and more businesses adjust to the new normal of remote working due to the global outbreak of COVID-19, organizations are employing proactive mobility strategies to enable their workforce. Putting a Mobile Device Management (MDM) solution in place can help businesses lay the foundation of a sustainable remote workplace.
Watch this recorded webinar to discover actionable security measures you can implement to create the best remote work environment for your workforce.
Date:  April 9th, 2020
Duration: 52 Minutes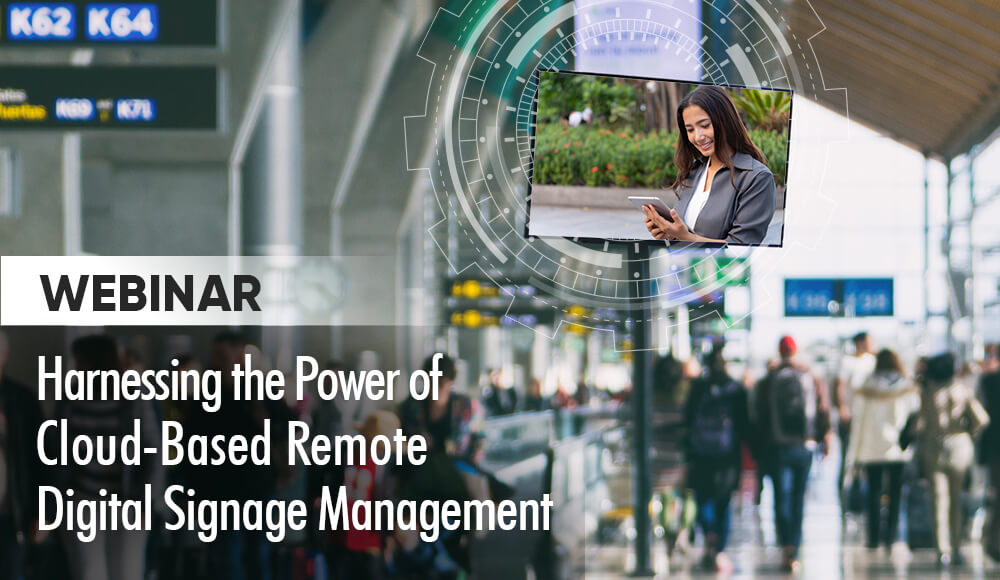 Harnessing the Power of Cloud-Based Remote Digital Signage Management
Remotely manage devices from the cloud, anywhere, in any way, at any time, with 42Gears SureMDM and Intel vPro/AMT. Learn how to harness the power of this cloud-based solution to manage remote digital signage, beneath the operating system level. Take advantage of Remote Power-On and Power-Off, KVM Control, and much more.
Date:  March 26th, 2020
Duration: 40 Minutes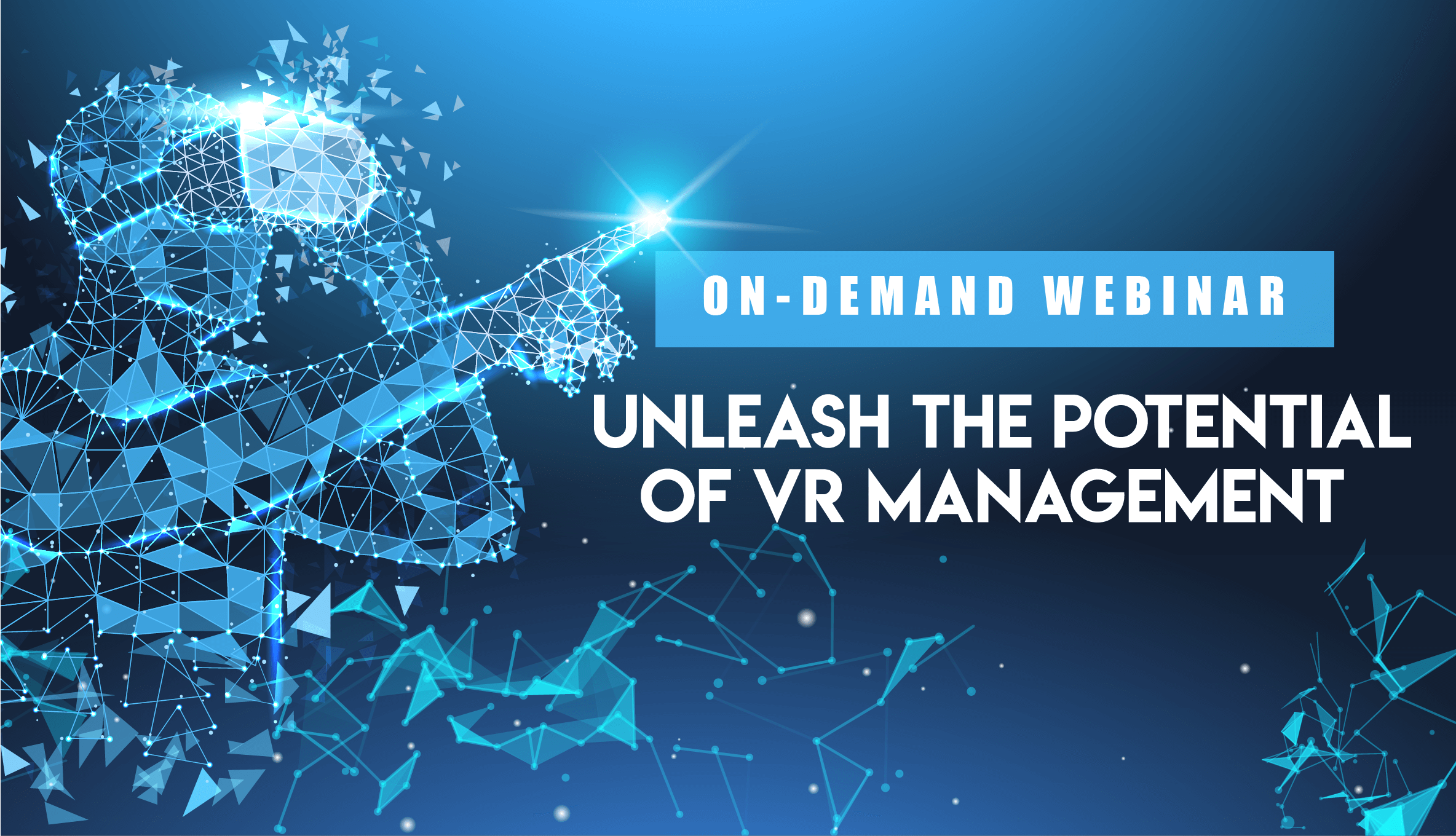 Unleash the Potential of VR Management
After years in the consumer market, VR devices have gradually become regular tools in the enterprise. But organizations looking to ride the VR wave must be prepared to deal with challenges that come with its deployment. Businesses of all sizes can easily onboard, configure and manage VR devices with 42Gears VR Device Management Solution.
Explore the latest features that 42Gears UEM has to offer for VR device management.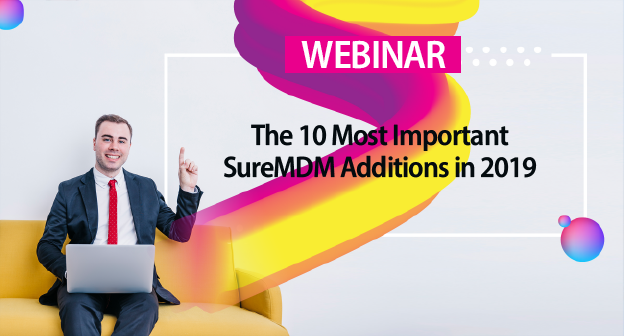 The 10 Most Important SureMDM Additions in 2019

The latest security enhancements and features, platform and UI updates in SureMDM enable businesses to secure and manage new endpoints.
Join this webinar to learn about all the features we've added to SureMDM.
Date: February 20, 2020
Duration: 25 Minutes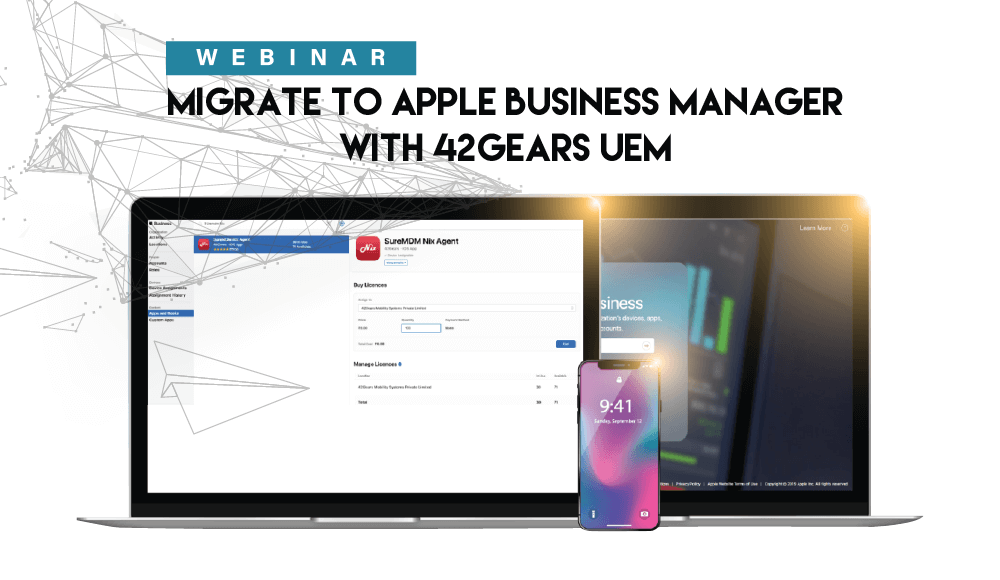 Migrate to Apple Business Manager with 42Gears UEM
As Apple devices become must-haves in every enterprise toolkit, it is imperative to use DEP and VPP to manage fleets of Apple devices. But there's a growing need to simplify management, make things easier and less technical for users. Realizing this need, Apple has consolidated multiple portals into one- Apple Business Manager (ABM).
Not only have they consolidated portals but it is now mandatory to upgrade to ABM before December 1, 2019, as other Apple Deployment Programs will no longer be available post that. Join this webinar to get an overview of ABM and discover the benefits of migrating with 42Gears UEM.
Date: August 28, 2019
Duration: 25 Minutes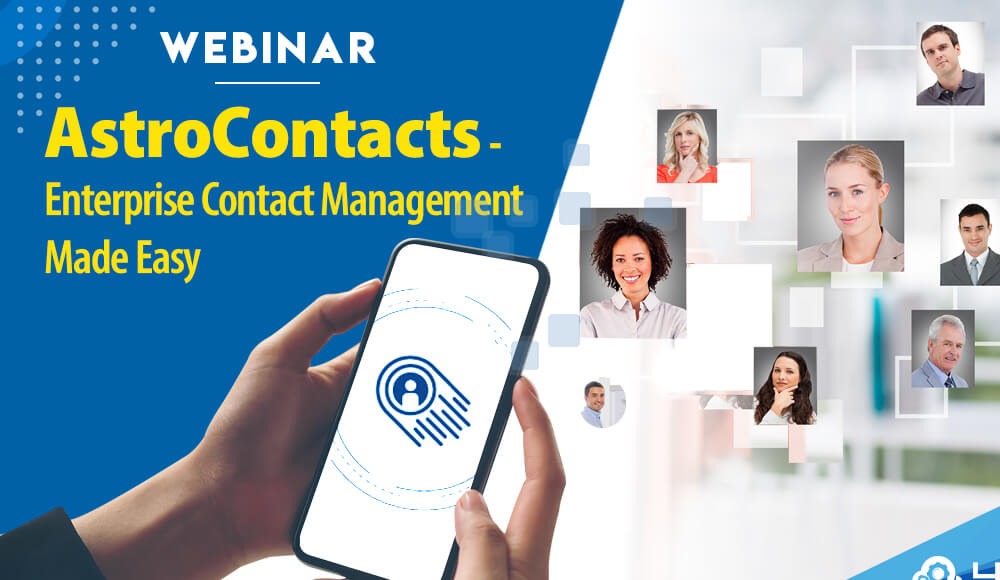 Explore AstroContacts, a Cloud-based Enterprise Contact Management Tool
An unorganized contact system can cause chaos in any business. It is imperative for businesses to have an effective contact management solution that allows employees to share contacts with each other.
AstroContacts from 42Gears is an indispensable Enterprise Contact Management tool for any business organization. It empowers businesses to seamlessly share contact details between team members on any mobile platform. Join us for a live webinar on AstroContacts and explore the features and benefits of this tool for any business.
Date: June 27, 2019
Duration: 35 Minutes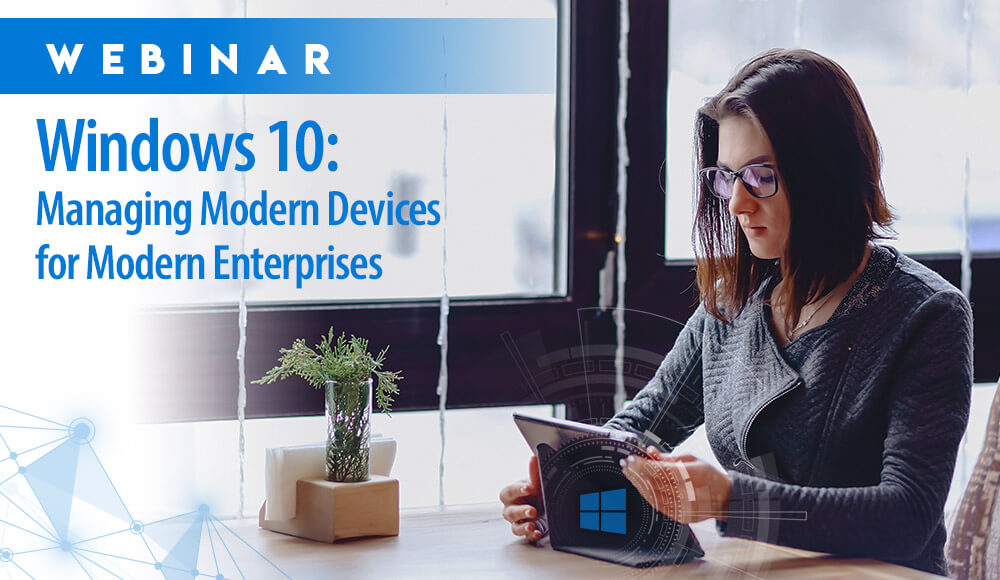 Windows 10: Managing Modern Devices for Modern Enterprises
Windows 10 is pioneering a new era of enterprise computing, presenting exciting opportunities to businesses. The benefits of migrating to Windows 10 are many - enhanced flexibility, improved security, and a more productive workforce. However, all these benefits can best be availed when enterprises embrace UEM capabilities to streamline endpoint management.
This webinar talks about how enterprises can easily manage and secure Windows 10 business devices (PCs, mobile phones, tablets) through 42Gears UEM solution.
Date: May 16, 2019
Duration: 45 Minutes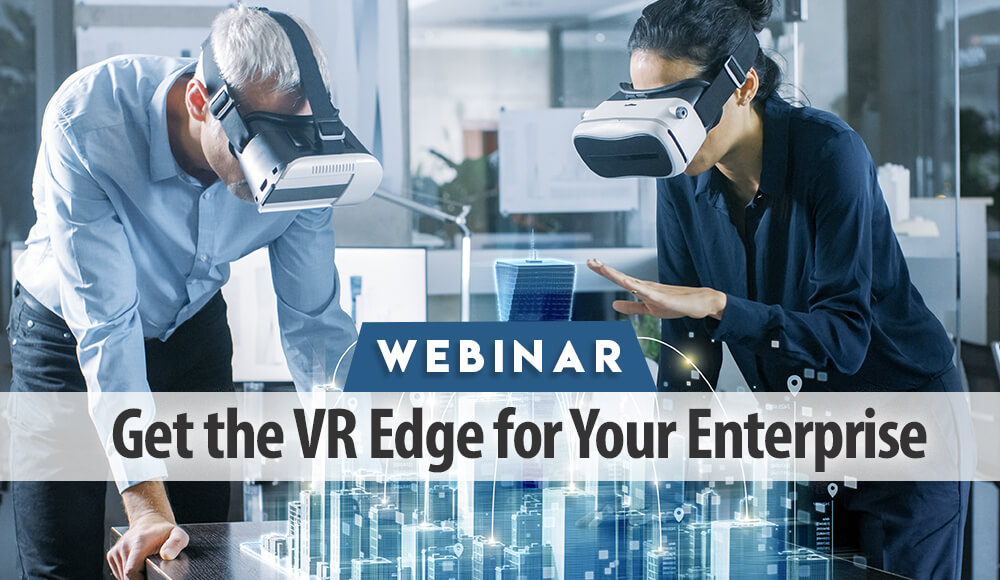 Get the VR Edge for Your Enterprise
An increasing number of enterprises are adopting virtual reality (VR) for business use. Organizations in the retail, healthcare and education sectors are looking at how VR can transform sales, service, and learning experiences. I&O leaders must be prepared to deal with three basic challenges when optimizing the use of VR devices: content distribution, device deployment and device management.
This webinar talks about how businesses can ensure easy adoption of VR devices in the enterprise.
Date: March 28, 2019
Duration: 38 Minutes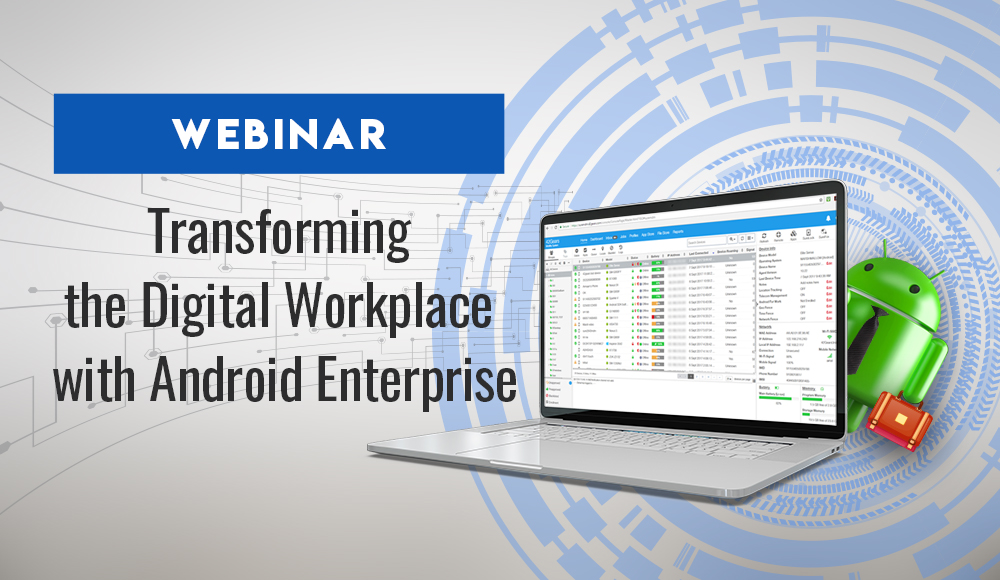 Transforming the Digital Workplace with Android Enterprise
Android offers a world of capabilities and flexibility to enterprises. But it also brings in a daunting challenge in its wake - increased susceptibility to malware and cyber-attacks. In order to use Android devices for enterprises, IT Pros must deploy a secure and comprehensive device management solution. That's where Android Enterprise comes into the picture. It's the key for IT Pros to simplify the management of Android devices and ensure a high level of security while delivering a consistent application experience to users.
This webinar offers key insights into how 42Gears UEM solution can help businesses maximize the use of latest management and security features in Android with Android Enterprise program.
Date: January 24, 2019
Duration: 38 Minutes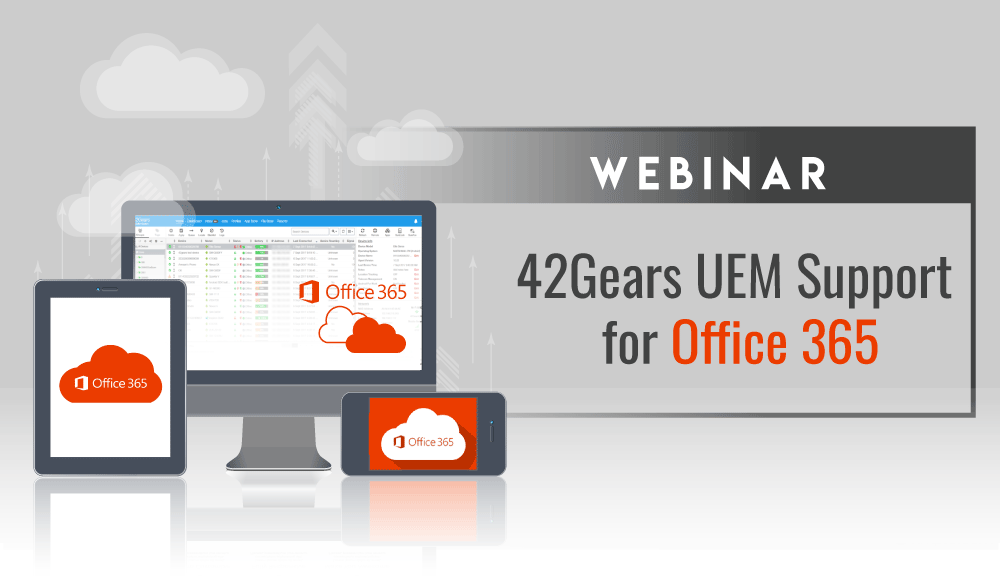 42Gears UEM Support for Office 365
Office 365, Microsoft's Office suite of enterprise-grade productivity applications, is used widely across businesses of all sizes. Its user-friendly features make it popular among the mobile workforce and can be easily integrated into mobile devices based on any platform. Employees can access their work email, contacts, calendar and other business documents easily and get their work done anytime, from anywhere. It is imperative to protect business data exchanged using Office 365 on employee devices.
This webinar gives an insight into 42Gears UEM solution's support for Office 365. You will see how 42Gears UEM features can be used to deploy and configure Office 365 applications in devices, authenticate users signing into Office 365 and more.
Date: November 16, 2018
Duration: 30 Minutes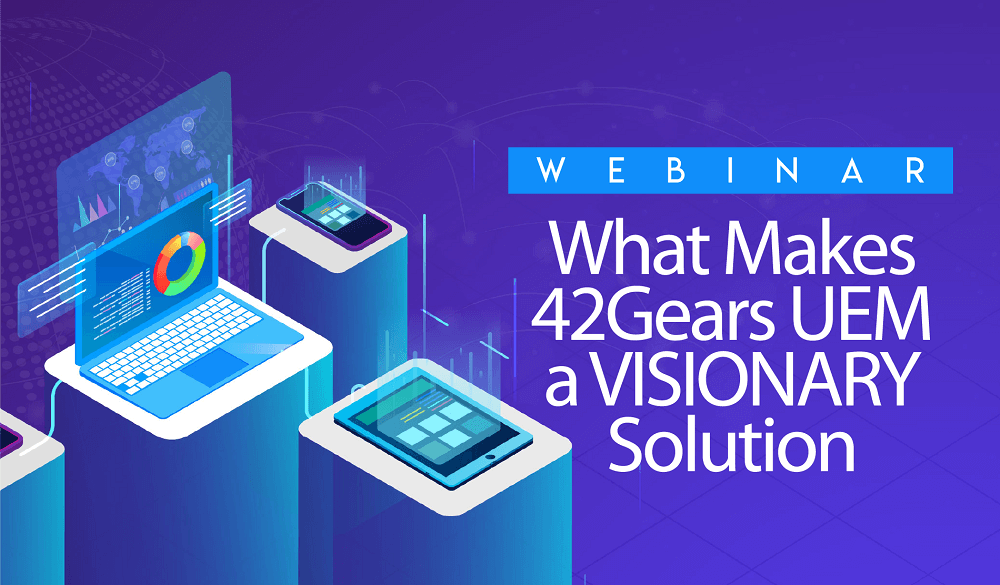 What Makes 42Gears UEM a VISIONARY Solution
As per Gartner, UEM refers to a new class of tools that can act as a single management interface for mobile, PC and other devices. It combines the management of multiple endpoint types in a single console. A UEM solution helps to unify the application of configurations, management profiles, device compliance and data protection, while enhancing efficacy of end-user support.
In this webinar, we'll be taking a look inside 42Gears UEM solution and some specific features that enabled our inclusion in the first ever Gartner Magic Quadrant report for UEM Tools 2018.
Date: October 11, 2018
Duration: 48 Minutes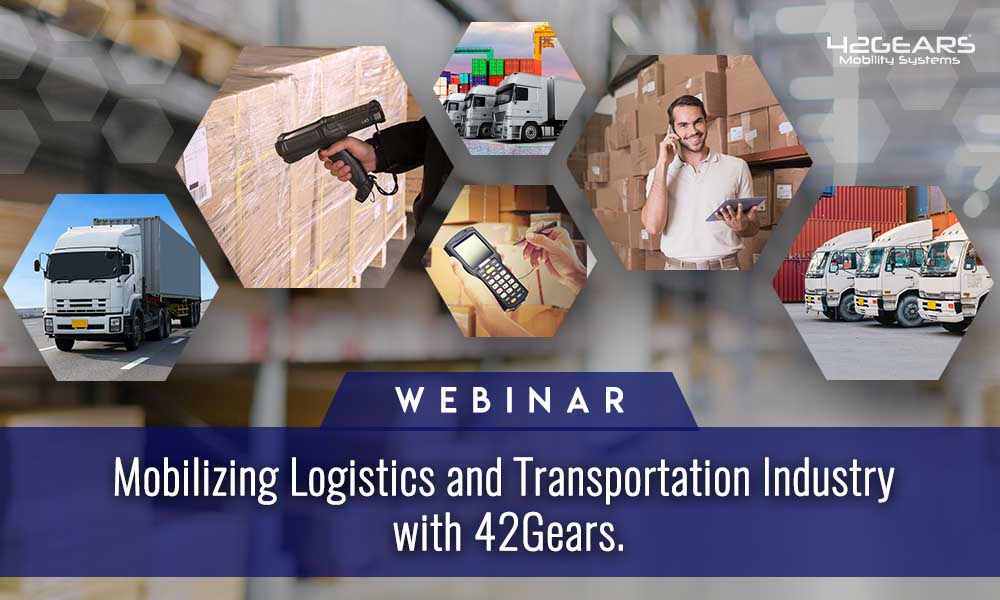 Mobilizing Logistics and Transportation Industry with 42Gears

Transportation and logistics companies face unprecedented challenges while managing their business activities. Many organizations from the industry have embraced enterprise mobility to gain critical insights on their people and assets by using location-based mobility services and IoT solutions. In this webinar, we take a look at 42Gears products being used in the logistics and transportation industry to offer device and app management solutions that help companies streamline their mobility strategies.
Date: August 14, 2018
Duration: 35 Minutes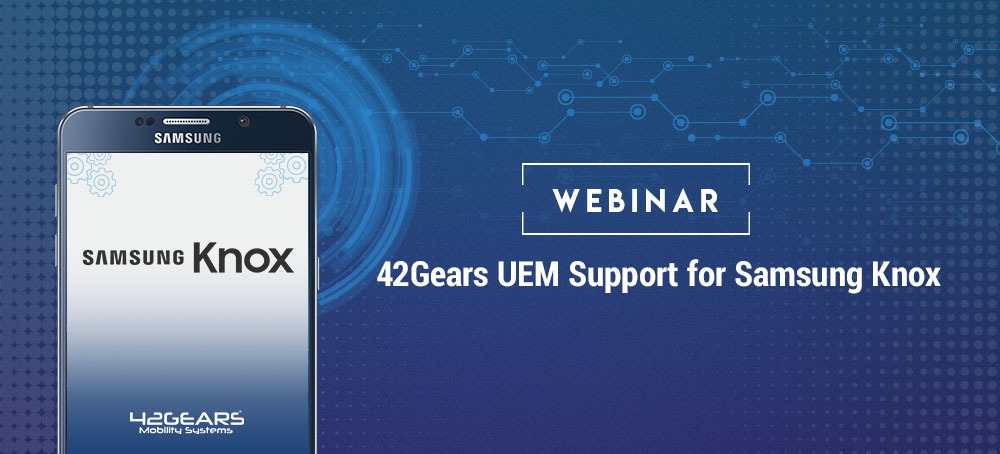 42Gears UEM Support for Samsung Knox

Samsung Knox security platform offers enterprise friendly features and layers of protection for corporate data on Samsung mobile devices. 42Gears is a SEAP Samsung Gold Partner and we have successfully harnessed and tweaked Knox features to provide customized enterprise mobility solutions. In this webinar, we deep dive into the Samsung Knox features supported by 'SureMDM' - 42Gears UEM solution.
Date: June 14, 2018
Duration: 35 Minutes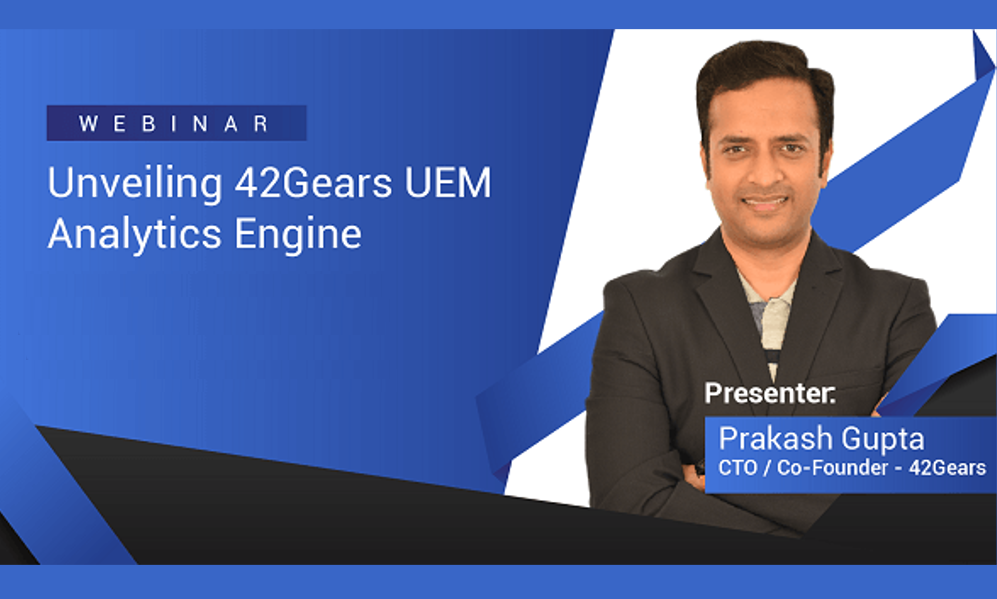 42Gears UEM Analytics Engine - Gain Business Intelligence with Mobile Device and Application Usage Analytics

 42Gears UEM Analytics Engine is capable of data capture, storage and analysis to help companies gain better insights and make informed decisions. It is based on big data technology and can perform Mobile Device, App Usage and IoT Data Analytics.
This webinar provides an in-depth look at the 42Gears Analytics Engine and how it can be used to derive actionable insights from specific data points gathered by managed mobile device and applications.
Date: 12th April 2018
Duration: 35 Minutes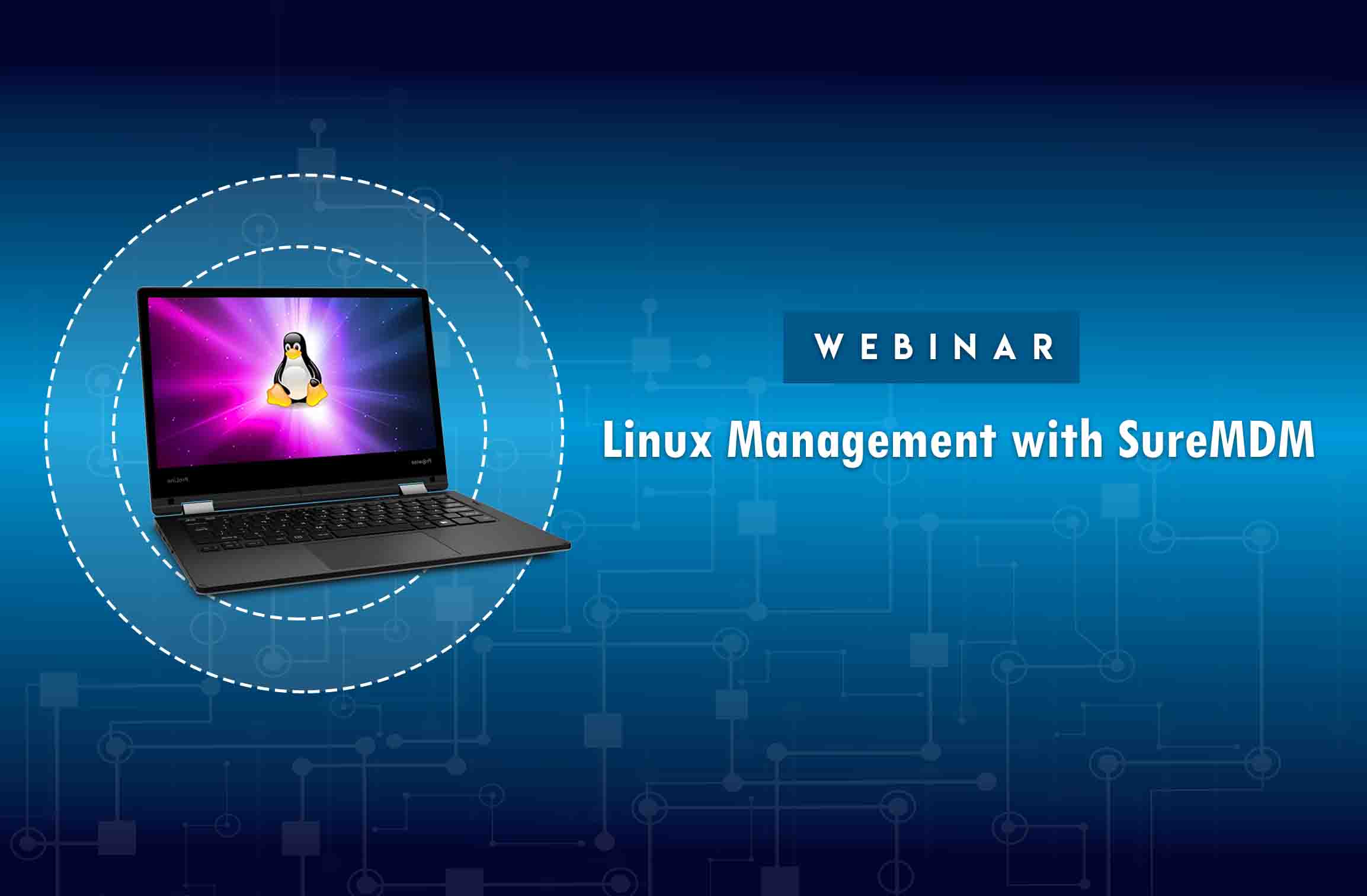 Linux Management with SureMDM

Being a free open-source operating system, Linux is used extensively by businesses. But there aren't many vendors offering Linux mobility management solution. 42Gears is the first enterprise mobility solution provider to offer Linux management under its UEM umbrella. This webinar will cover the latest uses cases for Linux that 42Gears supports and will also deep dive into SureMDM's features to manage Linux devices.
Date:  28th February 2018
Duration: 30 Minutes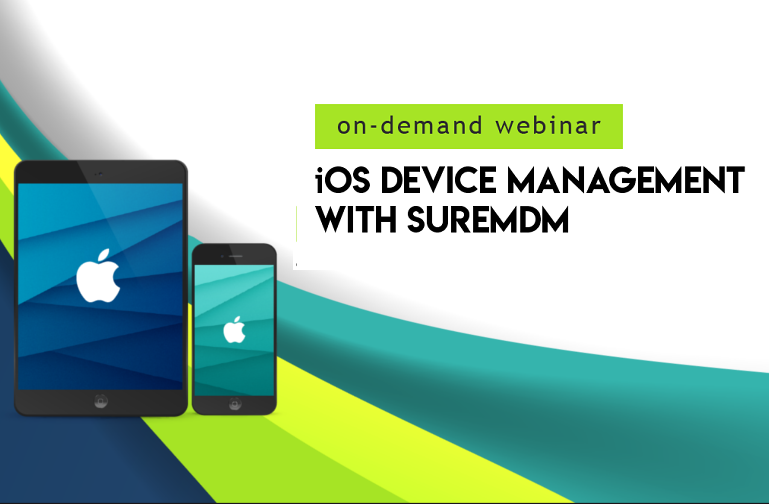 iOS Device Management with SureMDM

Apple devices are leading the enterprise use, with majority of Fortune 500 companies using iOS devices in their business networks and work processes. Intuitive and powerful interface coupled with beautiful designs and ease-of-use ensure the best user experience for both iPhones and iPads. 42Gears UEM - SureMDM offers mobility management solution for iOS devices.
This on-demand webinar covers the various SureMDM features for iOS device management. It also includes a detailed demo of the latest iOS management features to help enterprises monitor and secure iPhones and iPads used across different industry verticals.
Date:  23rd January 2018
Duration: 40 Minutes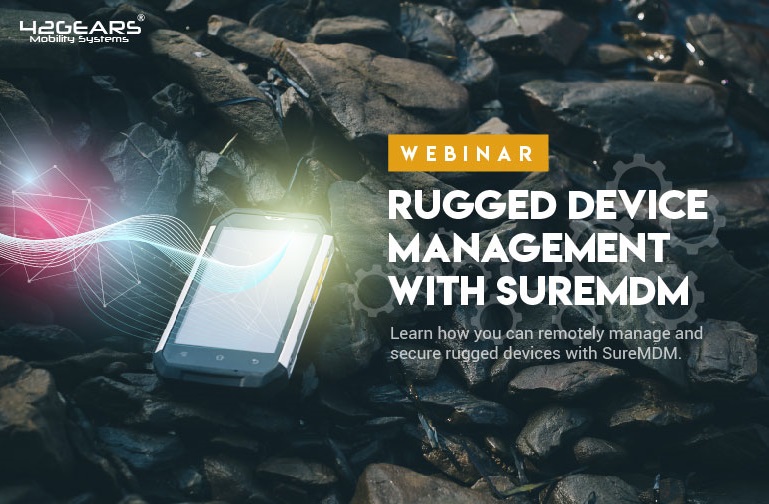 Rugged Device Management with SureMDM

Rugged devices are used extensively across industries like retail, logistics, shipping, construction and healthcare. But remotely tracking, managing and troubleshooting them are some of the common pain points for companies using the devices on a large scale. 42Gears' UEM solution - SureMDM offers mobility management solution to secure and manage rugged handhelds across all verticals. Right from their enrolment to remote management, SureMDM offers easy management of rugged devices through their lifecycle.
This on-demand webinar covers the various SureMDM features that support rugged device management. It also includes a detailed demo of the various console parameters that help enterprise monitor and secure ruggedizes devices used on-field.
Date:  20th December 2017
Duration: 40 Minutes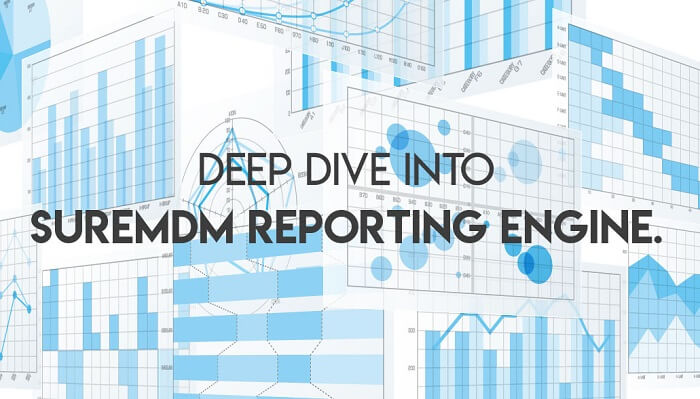 Deep Dive into SureMDM Reporting Engine

Everyone is talking about enterprise mobility solutions and their benefits. But the big question is how do you gauge the effectiveness of a solution? How can a company get insights from the data collected through the platform? SureMDM Reports allows enterprises to extract relevant data such as applied job/profiles, device health and application versions that can be analysed to make informed decisions.
This webinar will cover the benefits and types of SureMDM reports, and will also give a detailed demo on the various parameters that can be utilized by companies to extract specific data.
Date: 29th November 2017
Duration: 30 Minutes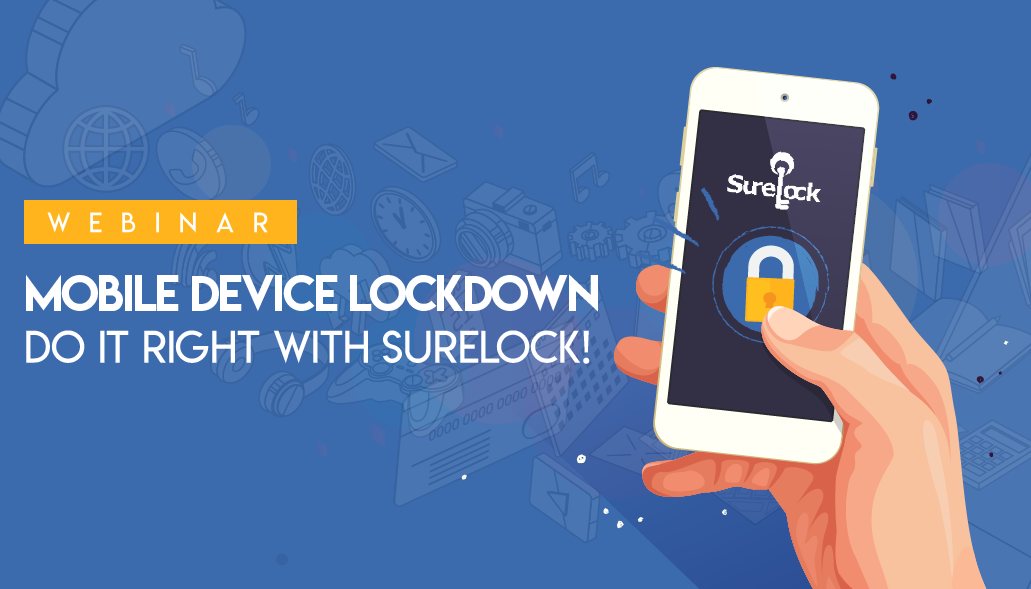 Android Mobile Device Lockdown - Do It Right With SureLock

SureLock offers a quick and easy way to lockdown Android mobile devices such as tablets, smartphones, smartwatches or even desktop computers to turn them into dedicated purpose devices. In order to achieve the best results with SureLock, we have consolidated a checklist that will allow accurate set up of SureLock on Android devices. This checklist will help to prevent deployment delays and operational problems due to obstacles that may prevent SureLock from functioning effectively.
This webinar will cover the specific points that should be followed by enterprises in order to ensure smooth deployment of SureLock on business Android devices.
Date: 26th October 2017
Duration: 35 Minutes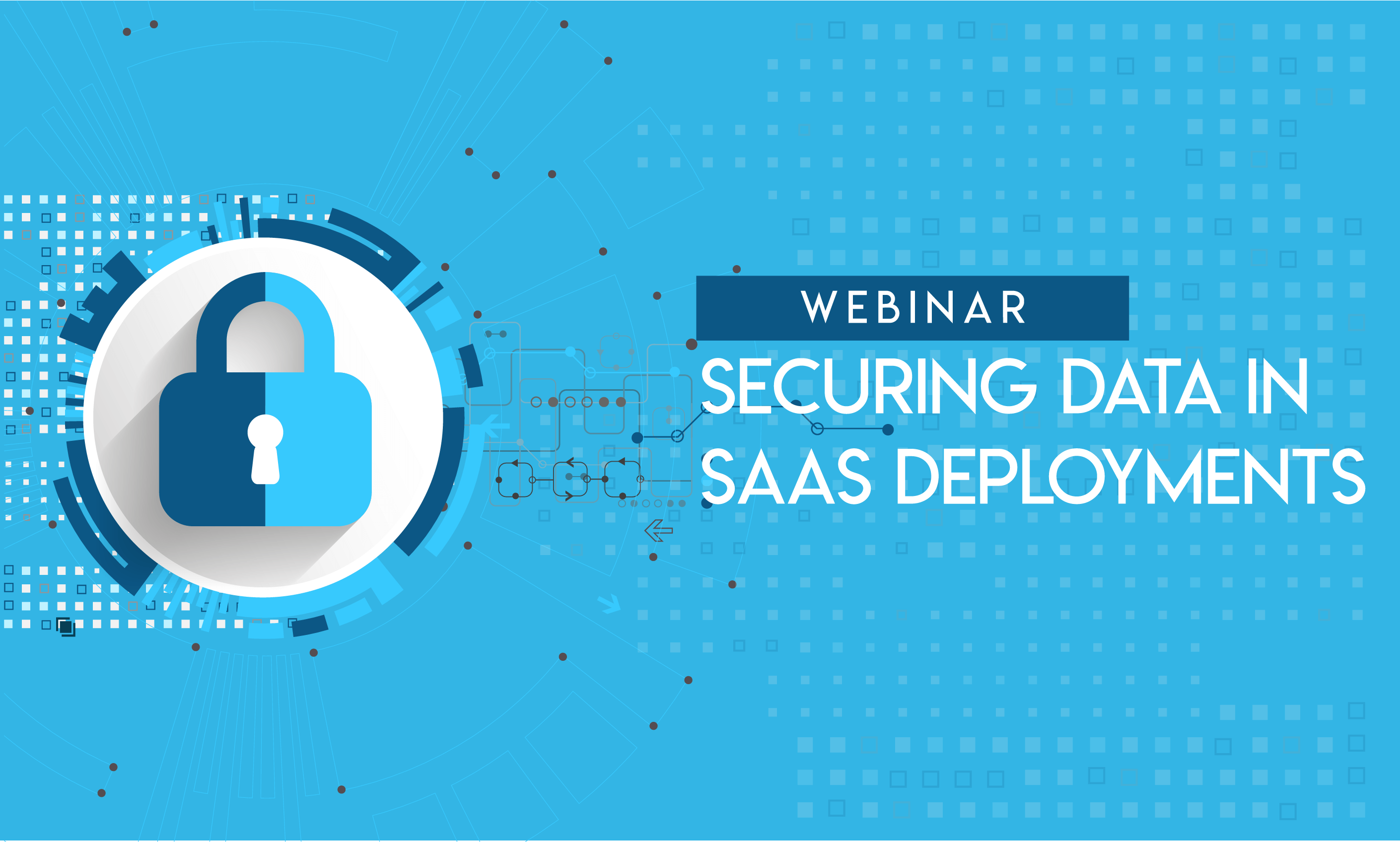 Securing Data in SaaS Deployments

42Gears offers a wide range of scalable SaaS products that help enterprises manage their mobile devices to enable workforce productivity and efficiency. With growing number of enterprises adopting mobility solutions, there has been a rise in security threats that can affect both business device and data. As an enterprise solution provider, 42Gears is always prompt to adopt security solutions which lower device and data risk while also catering to agile and seamless enterprise mobility adoption and management. The webinar will cover the security standards that 42Gears follow to ensure data and system privacy and confidentiality.
Date: 28th September 2017
Duration: 21 Minutes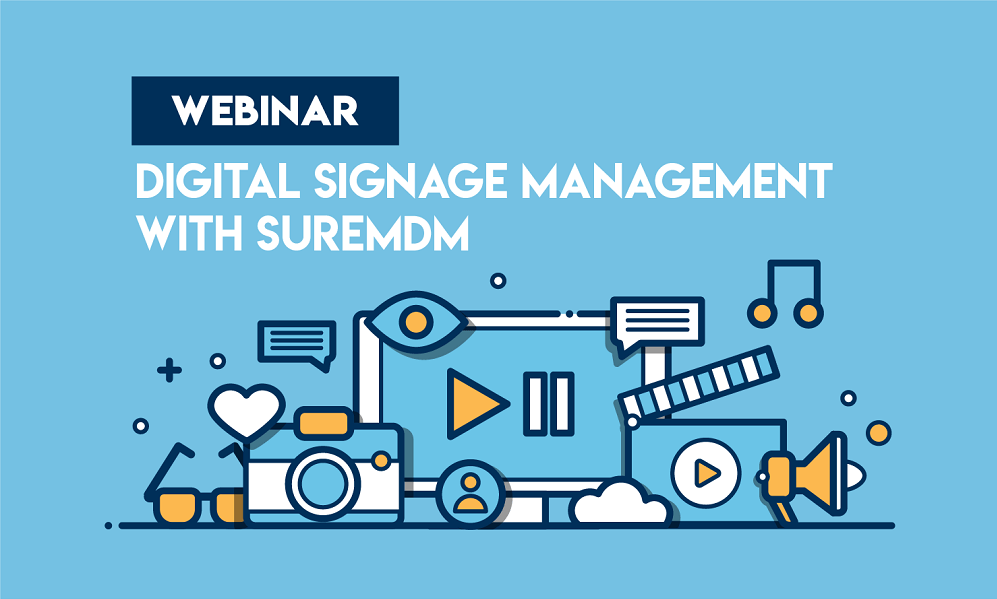 Digital Signage Management with SureMDM

An effective signage is a necessity for businesses to achieve higher visibility and create a recognizable brand. Digital Signage is an easy and effective way to drive in-store traffic, communicate with customers and remain competitive. Unlike traditional platforms, mobile devices are low-cost, compact, lightweight and low maintenance digital signage solutions. But putting them to effective use can be challenging. Learn how to incorporate, deploy tablet-based digital signage and manage, secure, monitor them remotely using SureMDM.
Date: 31st August 2017
Duration: 45 Minutes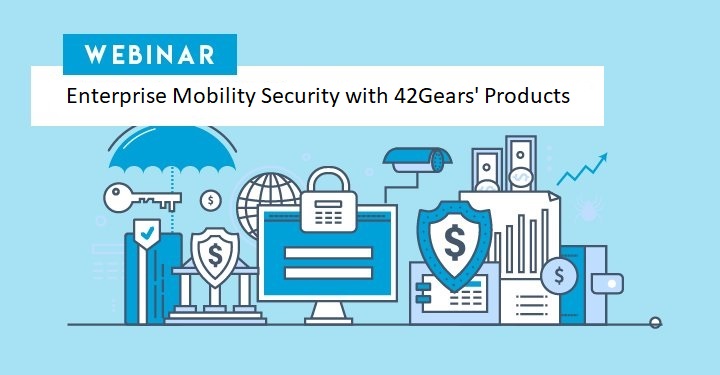 Enterprise Mobility Security with 42Gears' Products

Businesses are increasingly adopting mobile devices in daily business workflow due to benefits of convenience and improved productivity. However, it has also caused an increase in data and information security threats, making it necessary for enterprises to take proactive counter measures. As an enterprise solution provider, 42Gears takes necessary actions to not only lower the possibilities of device and data risk but also to ensure agile and seamless enterprise mobility adoption and management. The webinar will cover - how customers can keep their data/devices safe using 42Gears EMM products.
Date: 27th July 2017
Duration: 22 Minutes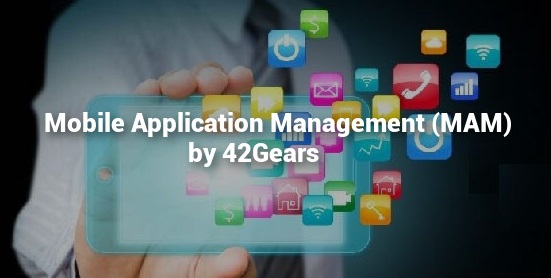 Mobile Application Management (MAM)

While MDM helps to push mobile applications, additional app level security is required to secure and manage them in the continuous evolving mobile deployment environment. Mobile Application Management (MAM) is the framework for securing, governing and distribution of enterprise mobile apps. 42Gears MAM solution offers app-level security along with a custom Enterprise App Store to help manage the complete app lifecycle and offer multiple app distribution methods.
Check out our next webinar on Mobile Application Management (MAM) by 42Gears where we'll talk about the following:
Application Distribution
Enterprise App Store
Application Management
Date: 15th June 2017
Duration: 35 Minutes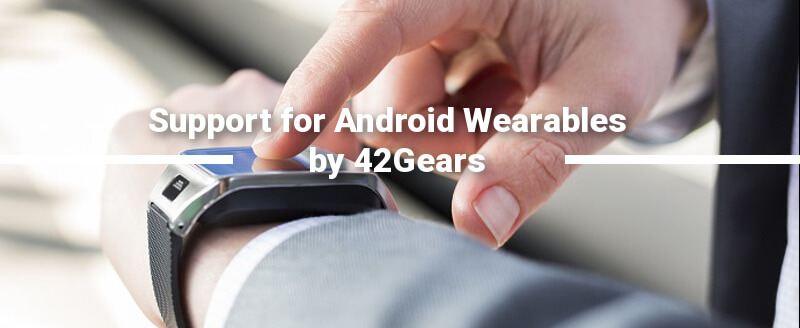 Support for Android Wearables

Mobility has become indispensable in business. Enterprises are striving hard to keep pace with new technologies entering the market every day. Several organizations across the globe have adopted wearable technology into their work process to benefit from its unique user experience. Like any other mobile technology used for enterprise use, it is necessary to secure and manage wearables with an EMM solution to make it compatible with business requirements. 42Gears EMM Suite for wearables makes them ready for the enterprise use.
Adoption of wearables into business

Use case scenarios

How 42Gears EMM solution helps optimize wearable device management for seamless adoption in business workflow.
Date: 11th May 2017
Duration: 35 Minutes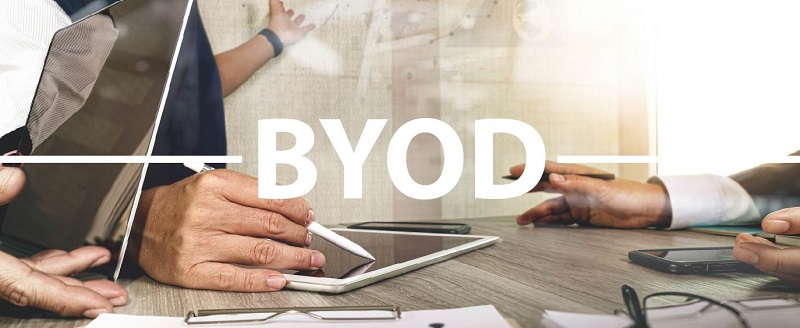 BYOD with SureMDM
Bring Your Own Device (BYOD) continues to grow as a key strategy to increase productivity and employee efficiency for organizations across the globe. It enables personal devices to access sensitive business data anytime, from anywhere, mounting pressure on IT admin to implement appropriate security policies. SureMDM is a flexible and effective solution securing employee personal phones for work. Check out our webinar to get in-depth look at how 'BYOD with SureMDM' can prove to be a potent solution for customers trying to secure critical data while adapting to the ever-changing business scenario of allowing employees to bring their own personal devices to work.
Date: 6th April 2017
Duration: 35 Minutes