No MDM or SureMDM? Calculate the ROI Now to Get Your Answer
May 24, 2022 | 42Gears Team
The pandemic has contributed to the creation of new work cultures that are based on remote/ hybrid model setups and modern workplaces where employees are distributed across multiple geographies.
Constantly-evolving workplaces and cultures pose two major challenges to organizations. First, organizations are struggling to find out ways to put all their already-deployed systems into use and second, they need to take data security more seriously. Are you facing a similar scenario?
If yes, then you should know that both the scenarios can be addressed simultaneously by having a practical mobile device management (MDM) solution in place. The deployment of an efficient MDM solution would enable you to remotely monitor, manage, and secure company's assets as well as employee-owned devices.
However, endpoint management becomes really daunting when your organization grows and several endpoints need to be managed. This is the point at which the deployment of an advanced unified endpoint management (UEM) solution becomes necessary.
By getting a UEM deployed, you can save on costs that you might otherwise end up spending on employee onsite visits. Mobile device management would become a lot more efficient with your IT team being able to remotely reset passwords, lock and unlock devices, install apps, and perform other operations simply with a few clicks, thereby saving time and increasing employee productivity. All these translate into enormous cost savings for your organization, boosting your overall returns on investment.
With an MDM solution, you can get all your devices utilized irrespective of the locations of your employees. By putting all your devices into complete use and by benefitting from remote-working setups in terms of overall cost savings and employee productivity, you can further boost your organization's ROI.
With a recent study revealing that 68% of organizations have experienced endpoint attacks that have cost them $8.94 million on an average, you may want to ensure that you adhere to global data security standards and stay compliant. By deploying an MDM solution, you can ward off security threats in network, application, and end-point levels, which will manifest as considerable cost savings and high ROI.
The SureMDM Edge: Calculate Your ROI
With 42Gears's flagship UEM product SureMDM, you will be able to make significant savings in the following areas:
Device provisioning: Without an MDM solution, the initial provisioning costs would be as high as $2,000 for 100 devices.
App installation and update: Without SureMDM, you may spend approximately $36,000 on app installation and update for every set of 100 devices.
Visibility into Software Inventory: With SureMDM, you can save every penny that you spend on unused licenses.
Automation of Technical Support:Technical support automation can help you reduce support volume by 75%.
Improvement of Worker Productivity: With an MDM, you can easily lock devices in kiosk mode, give access to required applications, and reduce productivity loss by 30%.
Efficient Asset Management: Without MDM, IT asset management might cost you as much as $2000.
Reduction in Hardware Loss Incidents: Reduce hardware loss by almost 50%.
Reduced Shipment Costs: Manage and secure devices remotely, reducing shipping costs that you might otherwise incur while getting replaced parts transported to different locations.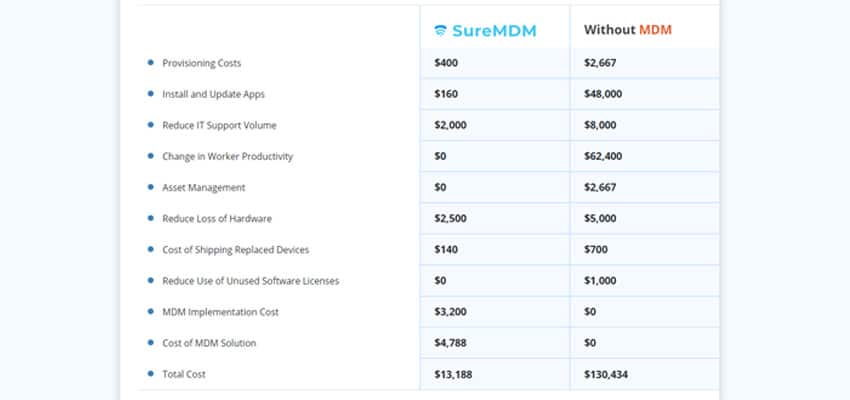 So how much savings can you make using SureMDM? Check out our ROI calculator to get your specific cost-savings report. Still having doubt? Call us or write to us if you have a query. We are always ready to explain the 'how', 'when', 'where' , and 'why' parameters of deploying SureMDM to you!
Looking for a modern mobile device management solution that can help you boost ROI?
Subscribe for our free newsletter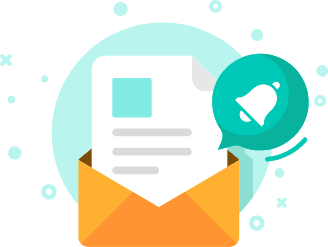 Exclusive News and Updates on Enterprise Mobility!
*

I consent to receive newsletters via email from 42Gears and its Affiliates.
Please agree
*

I have reviewed and agreed to 42Gears Privacy Policy and Terms of Use prior to subscribing and understand that I may change my preference or unsubscribe at any time.
Please agree
Please enter a valid official email