Be the First One to Get Your hands on the Latest Versions of SureMDM Agent
Mar 07, 2022 | 42Gears Team
In today's competitive business world, mobile device management (MDM) software vendors need to constantly upgrade and update their flagship products with new ideas to stay secure and ahead of the competition. However, implementing new releases by mere in-house testing isn't enough. It is important for organizations to test the efficacy of new, production-ready features at customers' site and ensure that the product doesn't crash or pop-up critical errors during or post deployment. As they say, fault prevention is always cheaper than the after effects of system failure.
And when that's the case, who better than customers to validate a product? As such, 42Gears has recently come up with the SureMDM Agent beta release program for the Android platform. Through this program, customers can test our products' new version on a few devices and provide their valuable feedback. Basically, it is a simple way to try pre-release versions of the SureMDM Agent, and test drive our new features on customers' selected devices.
Previously, when we would launch new versions of the SureMDM Nix Agent, it would go to the market directly. Even though it was thoroughly tested for bugs, customers would come back with new errors. So, to address these issues, 42Gears has created this beta release program. The early testing and feedback from customers will help us identify and address the issues that are specific to customer-specific deployments, and make the upgrades even better. All the devices registered under the program will automatically receive updates for the latest beta version of the SureMDM Agent.
How to participate?
Participation is very simple. You can either add the "SureMDMBetaAgent" tag to enrolled devices in SureMDM console or take a new device and enroll it using a Beta QR code or the Beta DPC identifier afw#suremdm-beta.
You can find more details on this by clicking on the "SureMDM Android Beta Program" link in enrollment section:
Log into the SureMDM console -> Go to "Enrollment" section -> Click on "SureMDM Android Beta Program" located at the bottom left corner.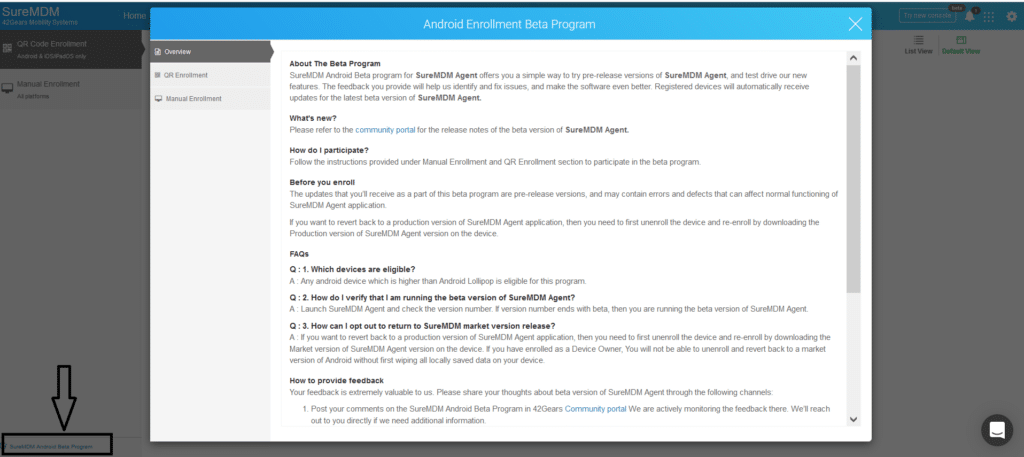 How does the Beta program help all of us?
We have set up auto monitoring at our side for these enrolled devices. All "SureMDMBetaAgent" tagged devices will be regularly monitored for different functionalities like device connectivity, data usage, job deployment, remote support etc. Any unusual activities/behaviors will be flagged and reported to our team. This will help us to minimize the impact of any critical deployment-specific issues before making a public release.
Also, since you get an opportunity to test the beta release, you can also report any issues (if found) to us so we can address them before making a public release.
Please note that the updates you'll receive as a part of this beta program are pre-release versions, and may contain errors and defects that can affect normal functioning of SureMDM Agent application.
How to provide feedback on the Beta Program?
Your feedback is extremely valuable to us. Please share your observations about the beta version of the SureMDM Agent through the following channels:
● Post your comments on the SureMDM Android Beta Program in the 42Gears Community portal. We are actively monitoring the feedback there. We'll reach out to you directly if we need any additional information.
● You can share your feedback by sending an email to techsupport@42gears.com
Terms and Conditions The Beta Software is provided to you "AS IS" without warranty of any kind and its usage is entirely at your own risk. In this regard, we highly recommend that you go through the "42Gears Beta Program Terms" in the SureMDM console that would be applicable to you once you enroll your device into the Beta Program.
Try new features and functionalities
even before they are released
to the marker
Subscribe for our free newsletter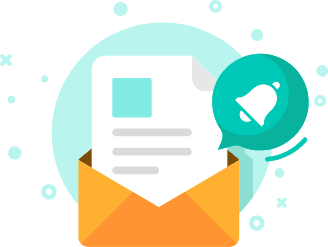 Exclusive News and Updates on Enterprise Mobility!
*

I consent to receive newsletters via email from 42Gears and its Affiliates.
Please agree
*

I have reviewed and agreed to 42Gears Privacy Policy and Terms of Use prior to subscribing and understand that I may change my preference or unsubscribe at any time.
Please agree
Please enter a valid official email