5 Benefits of Managing iOS Devices with 42Gears SureMDM
Dec 11, 2020 | 42Gears Team


Introduction
The number of iPhones, iPads, and Mac devices used in enterprises has grown considerably over the years. Enterprise admins must enable easy onboarding and secure access to apps and data on these devices through iOS device management. Unfortunately, there are very few tools that address the needs of modern businesses so seamlessly.
Still, admins don't have to worry. SureMDM, the iOS device management solution by 42Gears, provides essential features needed to manage Apple devices through a single portal. Whether admins want to personalize device configurations or remotely push apps and data, SureMDM can help.
Read on to learn why SureMDM should be your top choice for managing iOS, iPadOS, and macOS devices.
Why Choose SureMDM by 42Gears for iOS device management
Manages the entire lifecycle of iOS, iPadOS, and macOS devices
Organizations spend a lot of time and money trying to manage various aspects of their devices deployed in the field. Often, companies use separate tools to manage the devices throughout their lifecycle in the enterprise. This includes tools for enrolling devices, configuring devices remotely, managing applications and securing data, monitoring compliance, and more.
SureMDM iOS device management solution provides IT admins interface to automate the management of iOS, iPadOS, and macOS devices. Not only does this bring complete transparency to the device lifecycle management process, but it also helps to reduce costs and improve security.
Enables out-of-the-box configuration of Apple devices
In order to effectively manage, monitor, and secure Apple devices in an enterprise environment, IT admins must enroll Apple devices into Apple Business Manager (ABM) or Apple School Manager (ASM). ABM and ASM provide IT admins with a streamlined method to deploy enterprise-owned Apple devices and enroll them in an MDM solution remotely.
SureMDM's integration with ABM and ASM ensures that all devices are remotely configured with necessary software and settings. This makes devices ready to be used out-of-the-box.
According to Statista, Apple holds a 17% share of the global smartphone sales market.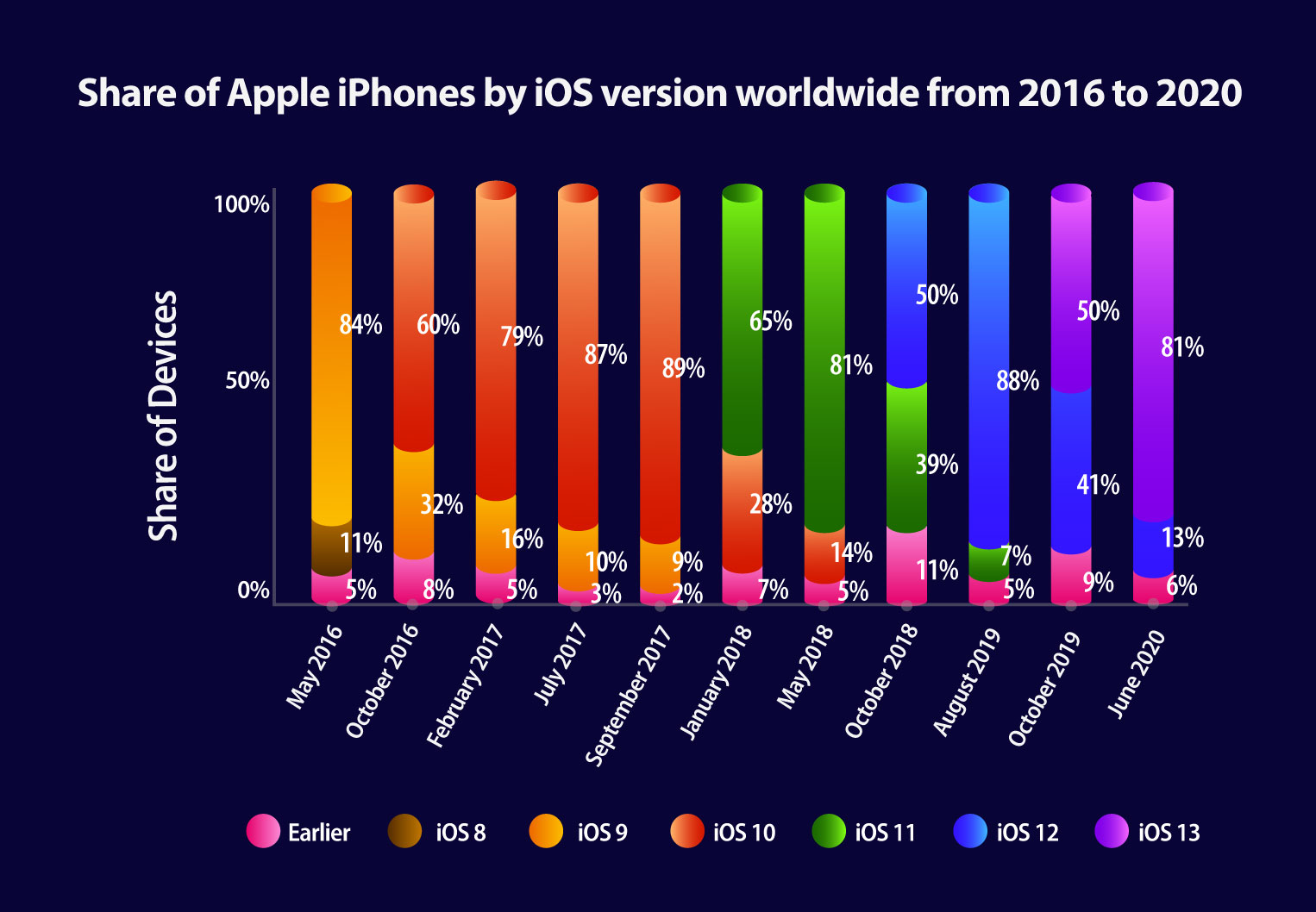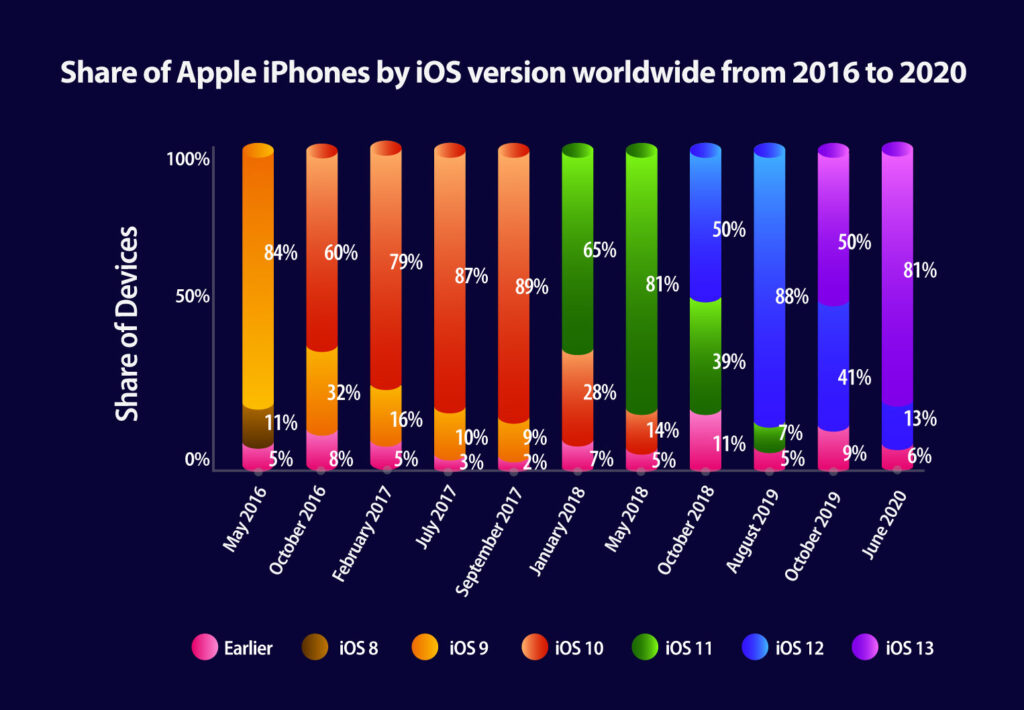 Improves operational processes or workflows and provides flexibility
Whenever devices are deployed across the globe, IT admins need to ensure routine device-related tasks are completed. These include distributing and updating firmware and applications, monitoring battery and data usage, generating analytics reports, and more. All these tasks can be quite time consuming and yet are necessary for effective iOS device management.
SureMDM improves operational processes or workflows and makes it easy to perform these tasks, especially for organizations with smaller IT teams. For instance, IT admins can schedule OS updates and enable compliance policies on Mac devices through SureMDM. Moreover, IT admins can trigger maintenance tasks automatically just by categorizing devices into different groups and scheduling them at intervals.
Ensures security and data loss prevention
If you have deployed Apple devices, you have likely encountered at least one of these challenges mentioned below. For example, users tampering with device settings or losing mobile devices. Even unauthorized users accessing company-owned devices, users connecting to unsecured public Wi-Fi networks, and users installing malicious apps from untrusted sources are very common. Any or all of these can compromise device security and result in data loss.
SureMDM includes important tools that help enterprise admins maintain the security and compliance of all Apple devices. Firstly, it helps admins restrict users from accessing device settings, and authenticate enterprise users before allowing access to corporate emails. Secondly, it allows admins to locate multiple lost iOS and iPadOS devices remotely. Thirdly, it prevents users from downloading unauthorized apps.
Provides real-time support
With COVID-19 forcing organizations to adopt remote working policies, IT teams now have to provide around-the-clock real-time support. With the help of right tools, IT admins can proactively identify and troubleshoot issues such as access software permissions and recover incorrectly configured device settings.
SureMDM by 42Gears offers one of the best robust remote support tools for Apple devices in the industry. IT admins can remotely troubleshoot iOS devices whenever users face any issue with devices, even in the most challenging environments. In other words, remote screencast and screen sharing allow IT admins to take control over devices to resolve issues remotely.
Conclusion
SureMDM supports the latest iOS releases and updates, including iOS 14 and iPadOS 14. So, enterprise admins can use SureMDM to push updates without having to worry about data loss or device downtime. Additionally, it enables IT admins to remotely deploy devices in bulk, push security configurations, and manage devices through their enterprise lifecycle. This makes devices ready to be used out of the box. Moreover, SureMDM's real-time support ensures that admins can quickly troubleshoot any issue with devices.
Use SureMDM as part of your mobile strategy to ensure that you have complete control over your mobile devices, apps, and corporate data.
Manage iOS 14 and iPadOS 14 devices
with SureMDM
Subscribe for our free newsletter
Thank you! you are successfully subscribed.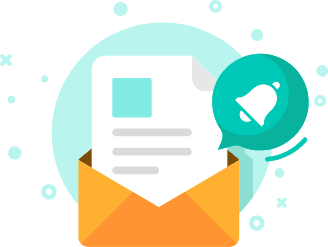 Exclusive News and Updates on Enterprise Mobility!
*

I consent to receive newsletters via email from 42Gears and its Affiliates.
Please agree
*

I have reviewed and agreed to 42Gears Privacy Policy and Terms of Use prior to subscribing and understand that I may change my preference or unsubscribe at any time.
Please agree
Please enter a valid official email