SureVideo Digital Signage Oplossing
HET CONVERTEREN VAN APPARATEN IN DIGITAL SIGNAGE-DISPLAYS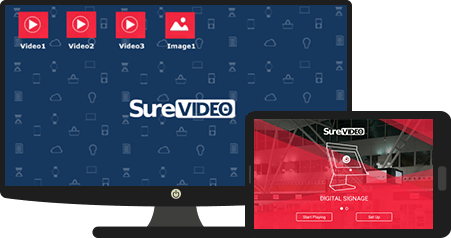 Digital Signage oplossingen zijn nuttig voor het leveren van gerichte content aan doelgroepen om hun aandacht te trekken. SureVideo kan worden gebruikt als een videolooper om advertenties, nieuws, productinformatie of alles wat uw bedrijf aan zijn klanten wil leveren weer te geven.
Installeer SureVideo op een tablet of TV-stick en configureer een afspeellijst die video's in een loop afspeelt. U kunt de afspeellijst eenvoudig op meerdere apparaten inzetten en op elk gewenst moment bijwerken.


SureVideo Kiosk werkt perfect. Er zijn een heleboel opties die u zult bevallen. Shout out naar de technische ondersteuning die me in een seconde heeft geholpen om mijn fout op te lossen. Zeer aanbevolen!


Bane Jovicic


Zeer goed voor single screen digital signage oplossing. Zeer gebruiksvriendelijk. Gewoon plug-n-play met eenvoudige kopiëren en plakken methoden. Heeft veel functies in zich en kan 24 uur per dag en 7 dagen per week zonder enig probleem draaien.


Ashik Haydari