UEM Market Opportunities and Forecast 2020
Dec 17, 2018 | 42Gears Team

The Evolution of enterprise technology offers us multiple devices and endpoints, such as IoT, Wearables, different OS', applications and their policies, such as BYOD. As the adoption of these modern trends grows, organizations struggle to manage these devices, their data, apps and software updates across heterogeneous OSs and platforms.
Unified Endpoint Management (UEM) solutions enable organizations to secure, provision and manage all mobile devices, desktops, laptops, tablets, applications and OSs used in mixed-use environments, such as BYOD, corporate owned/field devices and self-service kiosks. UEM makes it easy to manage multiple devices (from ruggedized devices to Internet of Things (IoT) from a single console. UEM solutions could be on-premise, cloud-based or hybrid.
UEM evolved from Enterprise Mobility Management (EMM) when EMM vendors started adding PC management capabilities to their EMM solutions. Additionally, UEM is based on the modern management concept of managing Windows PCs and macOS devices like mobile devices. With UEM, IT pros can install or update apps over-the -air and provision and setup Windows PCs and macOS devices right out-of-box effortlessly.
Functionalities of UEM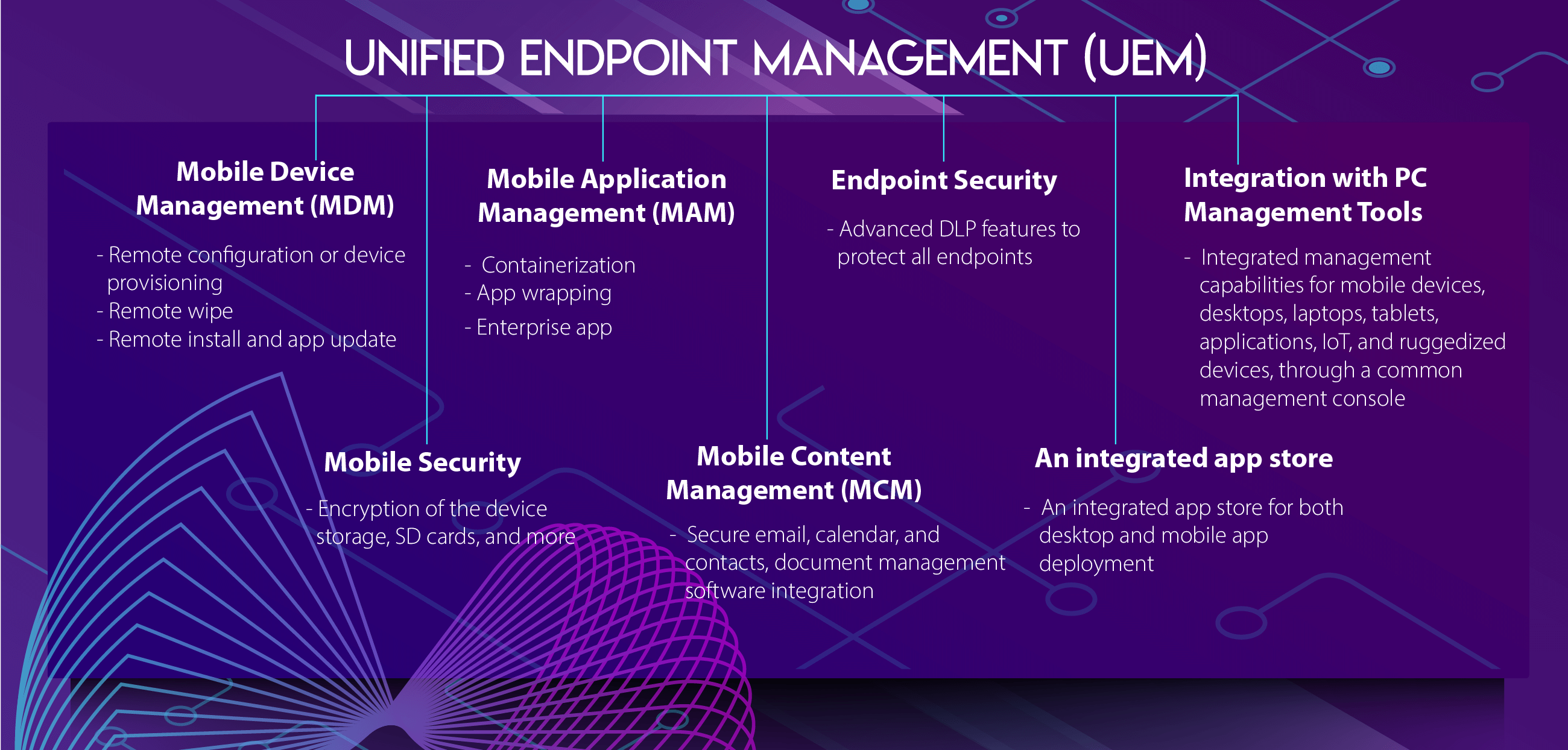 UEM includes all mobility aspects of EMM – such as MDM, MAM, MCM and additional endpoint security features:
As UEM covers a wide range of mobility aspects from provisioning, managing, controlling to protecting and safeguarding enterprise data and devices against cyber threats, the number of adoptions is steadily rising.
According to IDC's Enterprise Mobility Software Decision Maker Survey, 2018, "more than half of the U.S. enterprises are either piloting or actively migrating PC users to UEM platforms." Also, more than three-quarters of enterprises said "they expect to have their corporate PC deployments managed by UEM platforms, either a majority or all of them by 2023."
UEM Market Growth
According to Maximize Market Research Pvt. Ltd, the global UEM market was valued at US$900.80 M in 2016 and is estimated to reach US$ 21656.09 M by 2026 at a CAGR of about 41.09% during the forecast period.
The growth of UEM also depends upon the increase in the number of endpoints. As those numbers increases, the number of UEM solutions will automatically rise.
Growth of Endpoints
Key Factors Driving UEM Market Growth
Let's explore the key factors behind UEM adoption across enterprises:
1. UEM works on "single pane of glass" concept: UEM consolidates multiple endpoint management tasks such as policy creation, configuration, and security management for PCs and mobile devices, which helps organizations manage all endpoints easily and increases overall end-user productivity and efficiency.
2. Enhanced support for PC OSs: Many organizations work in environments where they require both PCs and mobile devices. This makes them look for solutions that can support PC operating system configuration, updates and patches, security management, control, policy creation and implementation.
3. UEM deployment can be on-premise, SaaS or hybrid: The flexibility to fit into any deployment model makes UEM more appealing. The SaaS-based model will be the future of UEM as it provides flexibility to businesses to deploy PCs and mobile devices with all EMM functionalities wherever they are. The hybrid model is also a very important aspect of UEM, as a majority of enterprises work on both models i.e. on-premise and cloud.
4. UEM offers a single management platform: While deploying PCs and mobile devices, enterprises would require specialists to plan and deploy devices. With devices enrolled under the UEM console, it will be easy to manage them all from a single management platform.
UEM is expected to be the dominant platform in future, managing a multitude of devices and endpoints from a "single pane of glass". UEM offers ease of management and cost-effectiveness in managing enterprise devices or endpoints. The worldwide revenue for UEM solutions is expected to increase from $2.1 billion in 2018 to more than $4.0 during 2018-2022, as reported by Radicati Group Inc.
Explore 42Gears UEM solution to manage your PCs, mobile devices and endpoints easily and cost-effectively.
Subscribe for our free newsletter
Thank you! you are successfully subscribed.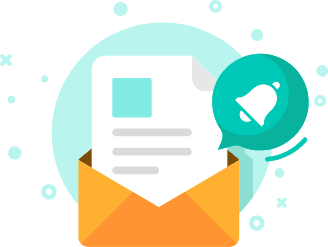 Exclusive News and Updates on Enterprise Mobility!
*

I consent to receive newsletters via email from 42Gears and its Affiliates.
Please agree
*

I have reviewed and agreed to 42Gears Privacy Policy and Terms of Use prior to subscribing and understand that I may change my preference or unsubscribe at any time.
Please agree
Please enter a valid official email