Gestion de mobilité d'entreprise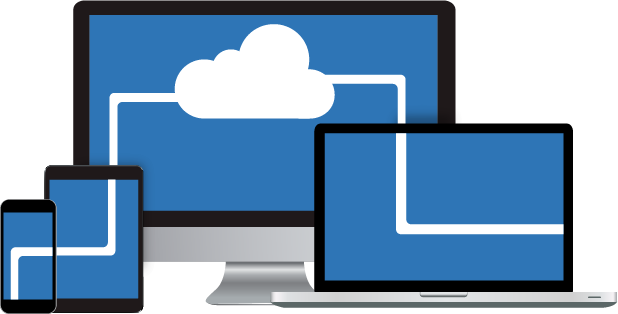 La solution Gestion de mobilité d'entreprise (EMM) offre une suite de politiques et d'outils de configuration pour la gestion du contenu et des applications sur les dispositifs d'entreprise. Les chefs d'entreprise prévoient les avantages à court terme et à long terme de l'adoption d'une stratégie d'EMM pour tirer parti de la mobilité pour les organisations en pleine croissance au milieu des changements rapides du marché. 42Gears EMM suite aide les entreprises à mobiliser leur main-d'œuvre afin d'obtenir un avantage concurrentiel, tout en respectant leurs cadres de sécurité et leurs cycles de vie technologiques.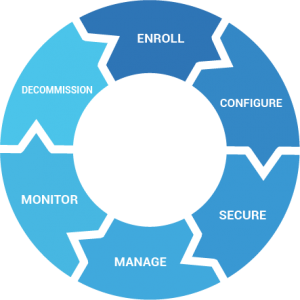 Adoptez une stratégie mobile sécurisée avec la gestion du cycle de vie des dispositifs mobiles de 42Gears
La Gestion de mobilité d'entreprise dispose de plusieurs composants à savoir la Gestion de dispositifs mobiles (MDM), la Gestion des applications mobiles (MAM), la Gestion des contenus mobiles (MCM). Les organisations peuvent utiliser une ou toutes ces fonctionnalités, en fonction de leurs besoins d'affaires :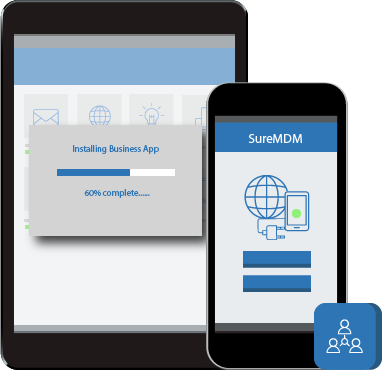 Mobile Device Management (MDM)
Une solution de gestion de dispositif qui configure les dispositifs selon les spécifications de l'entreprise, optimise leurs fonctionnalités pour une utilisation commerciale et sécurise simultanément les données et le réseau de l'entreprise. Il offre la fourniture de dispositifs et d'applications, la configuration du système d'exploitation, l'effacement et la visualisation à distance. MDM facilite également le dépannage à distance des problèmes techniques. Une solution MDM devrait inclure la gestion des applications, la synchronisation et le partage des fichiers, les outils de sécurité des données et le support d'un dispositif d'entreprise et personnel. Read More...
Mobile Application Management (MAM)
Une solution qui aide les administrateurs informatiques à gérer les applications sur les dispositifs enregistrés afin de maintenir l'intégrité de l'infrastructure mobile d'entreprise. L'administrateur peut afficher en noir ou blanc des applications et contrôler leurs droits d'accès. MAM offre également des fonctionnalités de contrôle des politiques pour gérer les applications d'entreprise qui peuvent être distribuées aux dispositifs via enterprise app stores et gérées via une console MDM. Une solution MAM permet une flexibilité à utiliser conjointement avec MDM et offre des fonctionnalités analytiques pour aider les administrateurs informatiques à comprendre les modèles d'utilisation des applications. Il fournit également des extensions d'application qui utilisent un kit de développement logiciel (SDK) ou un emballage pour appliquer les stratégies de l'entreprise pour une sécurité supplémentaire au niveau de l'application. Read More...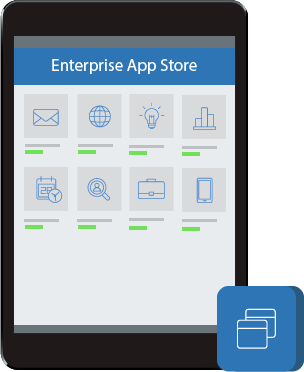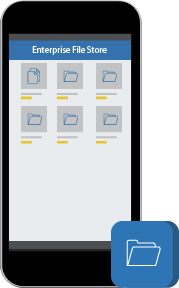 Mobile Content Management (MCM)
Une solution MCM permet aux utilisateurs d'accéder en toute sécurité au contenu d'affaires de leurs dispositifs mobiles. Il permet aux utilisateurs de visualiser et de stocker des données de manière sécurisée sur les dispositifs mobiles en utilisant l'authentification, le partage de fichiers et les politiques de restriction copier / coller. MCM offre des fonctionnalités de distribution, de remplacement et de suppression des fichiers par push. Read More...
Mobile Identity Management (MIM)
Mobile Identity Management (MIM) is a solution offered by SureMDM which allows enterprises to authenticate the identity of users and manage user activity on company network and devices. MIM offers the following features- Single Sign-on, Certificate Management and Device Enrolment. Businesses can leverage the benefits of Single sign-on feature which increases user productivity, enriches user experience and reduces the maintenance burden.
Read More...