Mobile Threat Defense
CONNECT, SECURE, COMMUNICATE - ANYTIME, ANYWHERE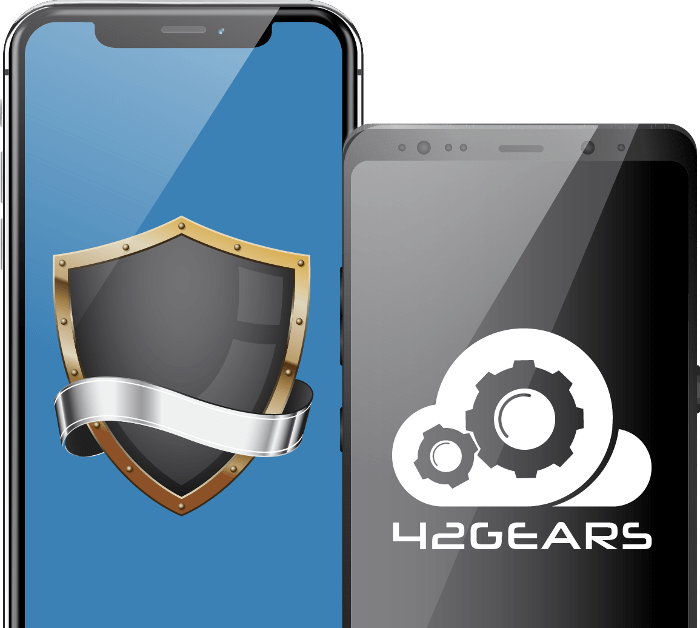 While mobile device management (MDM) solutions help organizations manage their business endpoints better, mobile threat defense (MTD) solutions provide mobile security by preventing, detecting, and remediating sophisticated cyberattacks using various techniques. Together, these solutions ensure integrated security management and policy enforcement.
Today, most enterprises opt for a mix of company-owned (COD) and employee-owned (BYOD) devices. As such, it is necessary to secure devices at different levels - application, network, and device. Mobile Threat Detection (MTD) monitors network connections, content, and devices to identify threats and ensure that any malicious activity is proactively blocked.
How SureMDM's Native Mobile Threat Defense Features Works
SureMDM's native mobile threat defense feature works at three different levels:

SureMDM's mobile threat defense feature identifies malicious apps that might jeopardize enterprise data through application sandboxing and code analysis using techniques such as anti-malware filtering, code simulation, application reverse engineering, and static and dynamic app security testing. In addition to safeguarding devices against both known and unknown malware, SureMDM MTD also provides protection against dynamic threats.

SureMDM's mobile threat detection capabilities are built to check if devices are connected to secure or open/public networks.  As such, it provides protection against network attacks by disabling suspicious connections.

Security flaws may arise due to vulnerabilities in operating systems, behavioral anomalies in devices or both. SureMDM's native mobile threat defense feature tackles such issues by tracking usage patterns (acceptable or abnormal) and inspecting device configurations for weaknesses that might compromise security. It monitors OS and security update versions, system parameters, device configurations, firmware, and system libraries to identify device vulnerabilities and malicious activity. SureMDM MTD also checks for modification of system libraries, configuration, and jailbreak or rooting. It's mobile threat detection capabilities can also track files stored on the device memory and check them for any malicious files.
What SureMDM's Mobile Threat Defense Offers
Android
Malware Detection: Identifies and protects against different kinds of malware.

Protection Against Anti-Phishing & Anti-Fake Apps: Blocks access to malicious and other undesirable websites, applications and files

Application Monitoring - Scans apps and analyzes application code for any risks

Secure Connectivity — Protects internet connections using Wi-Fi analyzer 

Anti Spam -

Detect calls and messages from unsolicited and unwanted contacts block them
Windows
Scan - Scanning

archived documents, emails, network files, and drives at regular intervals

Real-time Protection - Allowing or disallowing real-time monitoring of app behaviour, files (incoming & outgoing), and access to device settings

Exclusions - Defining the extensions, paths, and processes to be excluded from scans

Signature updates - Checking antivirus signature updates for interval, sources, and fallback.

Exploit Guard - Providing intrusion protection for users with

Windows 10

Advanced Features: Define advanced activities:

Report any problems from the connected cloud

Define the frequency of file sample submission

Set the duration for which suspicious files should be blocked while being scanned in the cloud

Allow or disallow script scan

Allow or disallow user access to the MTD user interface

Define default actions to be taken based on threat severity

Define the duration for which quarantined items should be stored after cleanup
iOS (coming soon):
Anti-Phishing: Blocking malicious and phishing websites

Jailbreak Detection: Detects if a device has been jailbroken

Secure Connectivity 

WiFi Analyzer: Checks the safety of the WiFi Access Point that the user is connected to

Certificate Validation: Validates the authenticity of the SSL certificate presented by a website
What You Achieve Through SureMDM Mobile Threat Defense
BYOD Management: Effective management of vulnerable employee-owned devices (BYOD)

Threat Response & Mitigation: Quick response to and elimination of threats before they pose any challenge

Risk Analysis: Analysis of risks posed by different types of threats

Policy Compliance: Ensure data on both company-owned and employee-owned devices is safe and the device is policy compliant