Manage Zebra Enterprise Devices At Scale
Provisioning, Management, and Security - Powered by SureMDM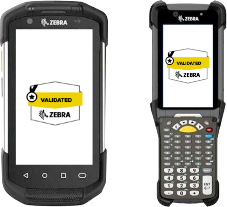 Zebra devices are an excellent choice for any organization that relies on frontline workers. Zebra's rugged devices are easy-to-use and enable frontline workers to complete tasks more safely and quickly than otherwise possible.
SureMDM, the Unified Endpoint Management solution from 42Gears, integrates seamlessly with Zebra devices and simplifies device management. With SureMDM, IT Pros can easily deploy Zebra devices without worrying about device security, management, or maintenance.

Zebra OEMConfig
Zebra enterprise devices can be easily configured using Android Enterprise APIs and SureMDM.

StageNow
Quickly enroll and provision devices in SureMDM by scanning a barcode or tag on new devices.
Zebra Technologies' Validated Program enables eligible channel partners to test the interoperability of their software solutions with select Zebra devices to ensure they meet user application-specific needs, and reduce both the risk and the deployment time for the user.
SureMDM successfully completed the Zebra Technologies Enterprise Validation Program on the list of validation parameters mentioned below.
StageNow - for enrollment and configuration management
OEMConfig - for configuration management
LifeGuard OTA - for firmware management
Remote Control - for troubleshooting
Things Management - for peripheral device management
42Gears worked closely with Zebra to test SureMDM for Zebra's TC51 and TC52 handheld computers.
SureMDM is the first device management solution approved by Zebra to offer support for LifeGuard OTA 2.0.