Firmenmobilitätsverwaltung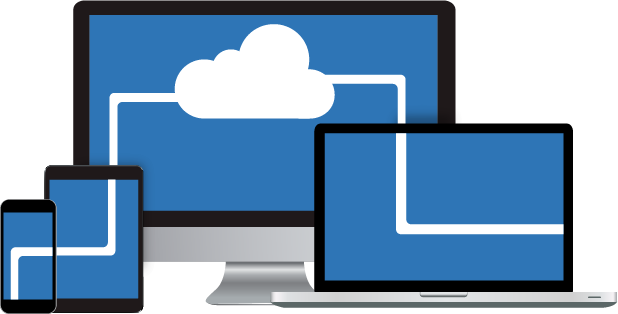 Die Firmenmobilitätsverwaltung- (EMM) Lösung bietet eine Suite von Richtlinien- und Konfigurationstools für das Verwalten von Inhalt und Anwendungen auf Firmengeräten. Geschäftsführer sehen die kurzfristigen und langfristigen Vorteile des Annehmens einer EMM-Strategie voraus, um die Mobilität für wachsende Organisationen vor dem Hintergrund von schnellen Marktänderungen zu nutzen. Die 42Gears EMM Suite hilft Unternehmen dabei, Ihre Arbeitskräfte zu mobilisieren, um einen wettbewerbsfähigen Vorteil zu erzielen, während sie an ihren Sicherheitsrahmen und Technologie-Lebenszyklen festhält.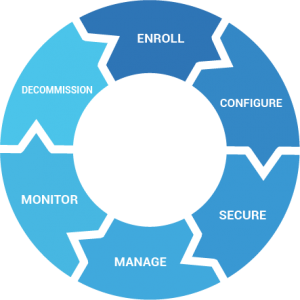 Nehmen Sie eine mobile Strategie mit der Lebenszyklus-Verwaltung für mobile Geräte von 42Gears an
Die Firmenmobilitätsverwaltung hat mehrere Komponenten, namentlich Mobilgeräteverwaltung (MDM), Mobile Application Management (MAM), Mobile Content Management (MCM). Organisationen können eine oder alle Funktionen verwenden, das ist abhängig von ihren Geschäftsanforderungen: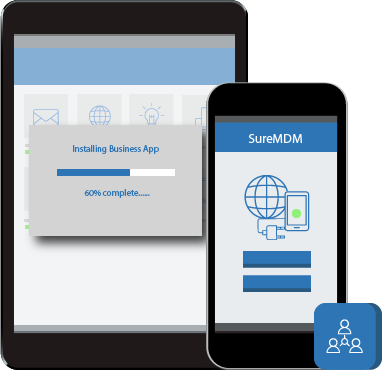 Mobile Device Management (MDM)
Eine Geräteverwaltungslösung, die Geräte auf Firmenspezifikationen konfiguriert, optimiert deren Funktionalität für die Geschäftsnutzung und sichert gleichzeitig die Unternehmensdaten und das Netzwerk. Es bietet Geräte- und App-Bereitstellung, OS-Konfiguration, Löschen und Ansehen aus der Ferne. MDM ermöglicht auch die Lösung von technischen Problemen aus der Ferne. Eine MDM-Lösung sollte eine Anwendungsverwaltung, Datensynchronisierung und Freigabe, Datensicherheitstools und Unterstützung für Firmeneigene Geräte und die im persönlichen Besitz beinhalten. Read More...
Mobile Application Management (MAM)
Eine Lösung, die dem IT-Admin dabei hilft, Anwendungen auf eingetragenen Geräten zu verwalten, um die mobile Infrastrukturintegrität der Firma aufrechtzuerhalten. Der Admin kann Anwendungen auf die schwarze oder weiße Liste setzen und ihre Zugriffsberechtigungen kontrollieren. MAM bietet auch eine Richtlinien-Kontrollfunktionalität, um die Firmenanwendungen zu verwalten, die über die Firmen-App-Stores an die Geräte verteilt werden und diese durch einen MDM-Konsole verwalten. Eine MAM-Lösung bietet Flexibilität, um in Verbindung mit MDM verwendet zu werden und bietet analytische Fähigkeiten, um den IT-Admins zu helfen, die Nutzungsmuster der Anwendung zu verstehen. Es bietet auch Anwendungserweiterungen, die ein Software-Entwicklungskit (SDK) verwenden oder das Umhüllen, um Unternehmensrichtlinien für zusätzliche Sicherheit auf der App-Ebene anzuwenden. Read More...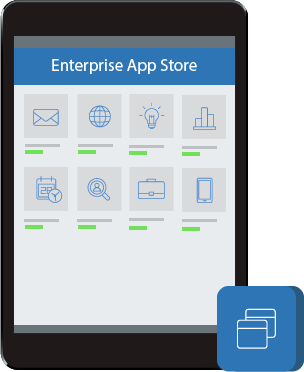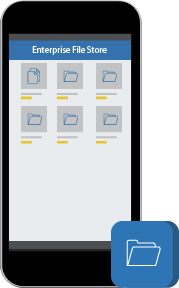 Mobile Content Management (MCM)
Eine MCM-Lösung erlaubt den Nutzern auf ihren Mobilgeräten sicher auf Geschäftsinhalt zuzugreifen. Es erlaubt den Nutzern, Daten sicher auf Mobilgeräten anzusehen und zu speichern, indem Authentifizierung, Datenfreigabe und kopieren/einfügen Einschränkungsrichtlinien verwendet werden. MCM bietet Push-basierte Datei-Verteilung, Ersetzen- und Löschen-Fähigkeiten. Read More...
Mobile Identity Management (MIM)
Mobile Identity Management (MIM) is a solution offered by SureMDM which allows enterprises to authenticate the identity of users and manage user activity on company network and devices. MIM offers the following features- Single Sign-on, Certificate Management and Device Enrolment. Businesses can leverage the benefits of Single sign-on feature which increases user productivity, enriches user experience and reduces the maintenance burden.
Read More...