Wearables in Enterprise Mobility: Facts that every business must know today!
Wearables are the next wave in Enterprise Mobility Management (EMM) industry. As we step in to 2017, wearables are all set to support businesses by strengthening communication, enhancing workforce mobility and productivity, especially in challenging industries like hospitality, real estate and construction, transportation, healthcare and mining.
Today, fitness trackers are very popular in consumer market, and even smart watches and smart glasses are not far behind. However, to utilize their true potential in an enterprise realm, there are legitimate security and privacy concerns which needs to be addressed first.
A  comprehensive Wearables EMM solution empowers an organization to secure and manage wearables, no matter whether they are employee-owned or corporate-provided. Technically, all the reasons valid to use an EMM solution for handhelds are also applicable for wearables. So, its high time enterprises must start planning to integrate wearables into their EMM strategies.
Market growth and projections- Its skyrocketing!
Multiple analysts are quite optimistic in their unique projections on future market revenue and growth in different wearable technologies. According to a Deloitte analysis, wearables market will touch $3 billion in the current year with a sales projection of ten million units. Moreover, McKinsey & Company forecasts that the market's net worth will be $33 trillion by 2025, while Gartner predicts it to touch $2 trillion by 2020. Apparently, fraudsters and hackers see this optimism as a giant opportunity, so any setback in scaling your EMM infrastructure widens the window of risk.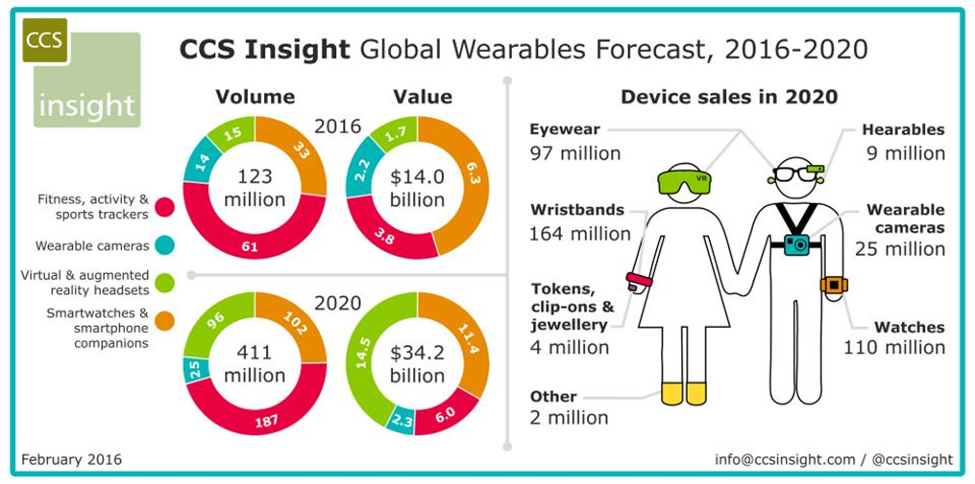 As market scales up, so do threats!
Recently, Google Glass saw public resentment on its dubious use, and numerous folks were concerned about being recorded surreptitiously. These issues get magnified in enterprises where classified business data is laid out in open or available on screen.
Moreover, there are critical situations and locations inside corporate periphery where cameras are restricted. So, when deployment of wearables on a companywide basis is considered, whether, they are well tested and employed or sneaked through with a BYOD tag, security policy needs to be strong enough to avoid any data privacy breach.
EMM features like containerization and remote wiping are playing key roles in mitigating security gaps in current infrastructure but integrating wearables in the current EMM program will need thoughtful actions.
Benefits Are Limitless!
To manage and establish seamless communication with remotely located workforce, wearables provides  many more features than just voice communication and instant messaging.
On a construction site, wearable sensors like gyro, accelerometer, heart rate monitor, altimeter, ambient light, barometer etc. will receive and transmit information automatically. Workers can alert crew members about any emergency or accident and alert the doctor by sending information about victim's real time condition.
In the same context, wearable technology in healthcare industry can help staff access patient's medication record by scanning NFC tags or QR codes on IDs. Google Glass is already popular among surgeons for training and validating data, like patient's vital signs while surgery, without peeping at a monitor or asking a nurse.
In a transportation vertical, tracking driver fatigue on a smartwatch can avoid serious accidents. Workforce in energy and chemical industries is subjected to harsh and sturdy environment, therefore, hands-free communication is always a safe bet.
Another eminent example can be the Virgin Atlantic's Heathrow Airport where staff is armed with smart watches and smart glasses so that they can greet passengers by name and provide white-glove service.
Recently, BFSI sector have started to offer wearables to their customers to amplify their general process, for example, Barclays has provided smart wristbands to its customers to pay for their daily commodities in a fast and efficient way without using cards or cash.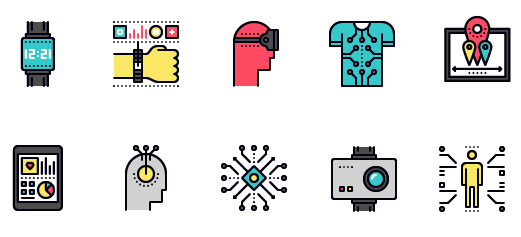 42Gears Inference
Today, wearables like FitBit, Google Glass, Samsung Galaxy Gear Smart watch are pretty ubiquitous in consumer market. But their deployment at work makes numerous enterprises quite skeptical on privacy and security grounds. But, however, it's pretty early to forecast exactly how the wearable landscape will look like.
With growing popularity of wearables in workplaces, numerous solution providers are busy developing end-to-end wearable products. 42Gears being one of the key players in the industry is all set to plunge into the segment with its innovative technicalities. The product team is already prepared with their products SureMDM and SureLock for Android wearables and have triumphed in deploying the same for multiple global customers. These deployments comprise of prominent features like Lockdown, Location Tracking, Geofencing, Application Whitelisting, etc.
Recently, 42Gears got an opportunity to work with one of Europe based healthcare clients and cater to their Android wearable requirements. Currently, the wearable serves as a companion that allows its user to get real time data when it comes to monitoring personal fitness levels. The smart sensors monitor the fitness levels and transmit a relevant message to the user. Moreover, the Android wear also triggers an emergency alert whenever it undergoes a jolt. 42Gears product SureLock for Android wearable allows access to only required applications, preventing naive users from making unintended changes in the solution. This Android wearable will not help just patients but also healthcare professionals.
For a fact, 2017 and beyond will see abundance of wearables in mobility industry and will witness newly evolved use cases that will disrupt the usual management and data access, as it did in the initial days of smartphones. Therefore, mass adoption will need a judicious approach and industries need to remain equipped to embrace the technology which is gearing up to invade the EMM realm.