BYOD Strategy – Optimising Enterprise Mobility by Securing Employee Personal Devices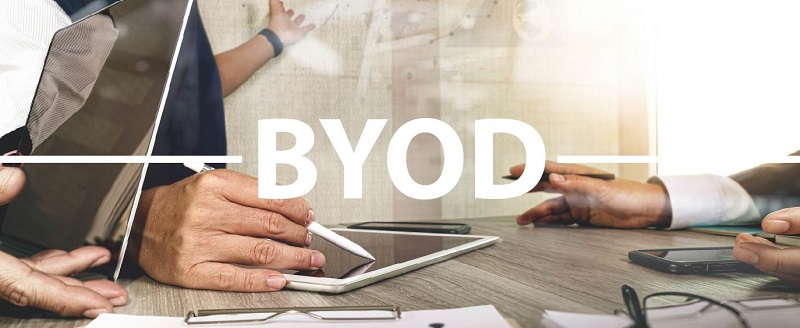 The business world is a far cry from what it was a decade ago. Companies that slacked off on onboarding an EMM strategy are now scrambling to find ways to secure their corporate data. With the advent of BYOD, companies have to work on keeping critical data secure while employees continue to adopt the ever-changing business scenario of bringing their own personal devices to work. Adopting a strong BYOD strategy has become vital for organizations the world over.
It is necessary to understand that a BYOD approach is not something that has been thrust on organizations. Most companies recognize that the concept offers tremendous potential for business revolution and growth. By allowing employees to access corporate apps and data on personal devices such as mobile phones, tablets, wearables and laptops, businesses can reduce their costs, increase productivity and improve job satisfaction. Over the years, BYOD has become more of a tool utilized by organizations the world over to drive mobile accessibility, improve IT supervision and enable employees to complete tasks promptly.
As per Gartner report, by 2017 half of organizations around the world will ask employees to bring their own device for work purposes. Enterprises that offer Dedicated Devices (formerly called Corporate-Owned Single-Use or COSU) programs will soon become obsolete. While BYOD is being adopted by various companies and governments, it is mostly predominant in midsize and large organizations, with employee strength ranging from 500 to 5,000 employees.
But despite the benefits, BYOD programs can present some challenges in terms of user experience, privacy issues and functionality. However, technology is slowly catching up to the potential of BYOD. More than half of the global organizations are employing highly effective measures for security of corporate data for company-owned mobile devices. This confidence passes on to support BYOD as well, reflecting the efficiency of mature MDM tools and services that are today available in the security area. Outlined below are some points on the best practices to be followed to develop a strong BYOD strategy.
Objectives
Get a clear understanding of why the company needs a BYOD strategy. Define the objectives of your program so that the next set of step to be implemented can be defined. The most strategic objectives for an organization would include saving costs, increasing productivity, and gaining job satisfaction for employees.
Security Measures
The first and foremost criteria of a BYOD strategy is to set a minimum level of device security measures like passcodes, certificates and setting restrictions to keep corporate data safe without affecting the user's personal applications. While passcodes and certificates will deny unauthorized access to the device, restrictions on making changes to settings can prevent access to unwanted features or services. These are the basic steps that need to be in place to minimize unofficial access to corporate networks and prevent security breaches.
Target Audience
Before implementing a successful BYOD strategy, it is vital to understand the audience. Businesses have to take the mobility quotient of their employees into account: are they fully mobile, do they work in-office or on field, etc. Organizations also have to figure out if the strategy would extend to consultants, contractors, partners and more.
User Experience
While charting out a BYOD strategy, the company has to ensure that it incorporates a simple user experience. This will also increase the chances of employees recommending the program to other employees.
Applications
Official email and corporate applications are two of the most valuable components of a BYOD program. These are the programs most used by employees on their mobile devices to perform their daily tasks. Organization looking to secure such functionalities will have to mitigate access from unregistered devices, elect which applications would be allowed to open and edit email attachments, and also select self-service or admin ministered application access.
Risks
For any organization, the risk of security breach is always the most important thought in mind while adopting a BYOD strategy. It becomes necessary to understand the level of confidentiality they wish to maintain when it comes to data. Accordingly, varying security measures may have to be implemented depending on the type of data that would be accessed by employees. Understanding the data sensitivity will help in setting appropriate security measures to ensure that the company's intellectual property is not affected.
While scoping the procedures and policies of a BYOD strategy, it is also important to avoid some common mistakes made by enterprises:
Monitor Limits – Many companies establish usage thresholds on device expense. But it is also necessary to monitor the thresholds to know when an employee is exhausting it. Constant monitoring is necessary to prevent increased cost on business. Enterprises should employ a mobile device management solution that would offer real-time update on usage and provide automatic alerts when a limit is being approached.
User Passwords – Though most mobile devices feature password protection capabilities, they won't be of much use unless the password usage is being overseen by IT admins. BYOD users will usually opt out of password controls which they may find cumbersome. A strong enterprise mobility management program should provide IT the ability to make passwords a necessary requirement.
Enforce Specific Device Requirements – Even the best BYOD strategy will not work without a proper policy in place to monitor real-time end user behaviour. This would include the ability to block inappropriate usage of the devices being used to access company assets and data. IT admin should be able to ensure that BYOD devices can only access the system if the device management program is installed on the device.
Follow Up – In order to avoid unnecessary business costs, it becomes necessary to centrally administer and manage BYOD devices. It is important to generate monthly reports on active devices so that they can be matched with reimbursements made to employees for device expense.
In addition to a strong BYOD strategy, a flexible mobile device management solution is also essential for any organization. 42Gears offers support for all major device types and platforms to ensure universal enrolment with your BYOD strategy. Its SureMDM solution can provide remote support for all major device types and operating systems. It features a single console, allowing IT administrators to manage, control and secure all devices, including corporate-owned, BYOD and shared. It is a multitenant platform that offers IT admin limited and full control on BYOD devices corporate-dedicated devices respectively.