Introducing Samsung Knox features in SureLock
Sep 18, 2014 | 42Gears Team
Applies to:
Product

SureLock

Platform

Samsung Android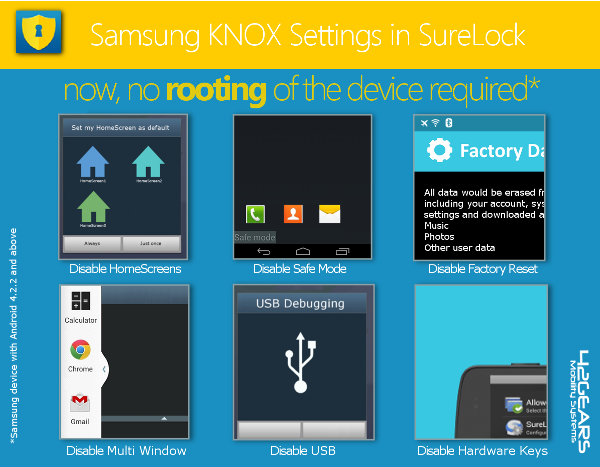 SureLock for Samsung Devices with Android 4.2.2 and above now is powered by Samsung KNOX. This means, for the mentioned devices, there is no rooting required to enable advance lockdown features like:
Disabling Other Home Screen
Disabling Safe Mode
Disabling Factory Reset
Disabling Multi Window
Disabling to default USB
Wipe Recent Apps
Disable S Voice
Disabling Hardware Keys
With an inbuilt option – Enable Samsung Knox, you can enable following lockdown features without rooting:
Features

Details

Disable other Home Screen
Disables all other installed Home Screen along with device's Default Home Screen.
Disable Safe Mode
Disables users from entering Safe Mode using hardware keys on the device.
Disable Factory Reset
Disables users from resetting device to factory settings. This is much helpful if you have allowed Settings as an allowed application and do not want the users to factory reset the device to come out of lockdown. Once this option is enabled, Factory Reset option gets grayed out.
Disable Multi Window
Disables multi-window multitasking option on the devices.
Disable to default USB
Disables USB usage of the device for following two uses:
–Mass Storage – restricts access to stored files on the device
–USB Debugging – restricts access to device using Command Prompt
Wipe Recent Apps
On launch of SureLock, the recent applications accessed by the user on the device get auto wiped.
Disable S Voice
Disables S Voice feature on Samsung devices.
Disable Hardware Keys
Disables all the hardware keys of the device.
Note: Hide Bottom Bar is also one of the function that is available for devices with Samsung Knox devices. This feature will completely hide the bottom bar of the device which has options to go to Home, go Back and access Recent Apps. This option is available under SureLock Settings.
To access Samsung Knox options in SureLock follow below mentioned steps:
1. Access SureLock Settings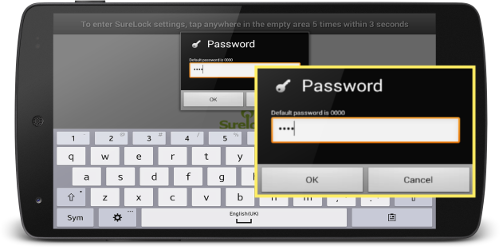 2. On SureLock Admin Settings Screen, tap on Enable Samsung Knox option to enable the lockdown options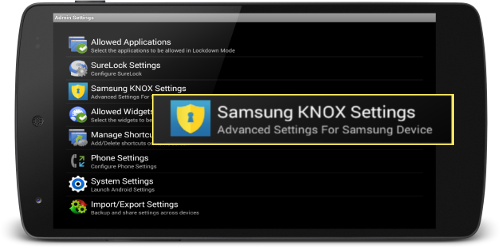 To know more about Samsung Knox, click here.
To download a trial version of SureLock, click here.
For any question, please write to us at techsupport@42gears.com.
Subscribe for our free newsletter
Thank you! you are successfully subscribed.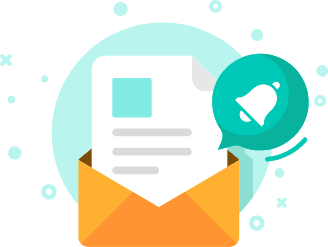 Exclusive News and Updates on Enterprise Mobility!
*

I consent to receive newsletters via email from 42Gears and its Affiliates.
Please agree
*

I have reviewed and agreed to 42Gears Privacy Policy and Terms of Use prior to subscribing and understand that I may change my preference or unsubscribe at any time.
Please agree
Please enter a valid official email