How IoT is changing retail industry
May 16, 2019 | 42Gears Team
Thanks to the Internet of Things, over the past few years, the retail industry has transformed radically, gaining new insights on customer psychology and enhancing work experiences by offering innovative ways to work.
With IoT, retailers will not only be able to augment sales, but also empower the workforce to act in a way that will help enrich customer experience and manage store inventory effectively. A report by Verizon says that 77% of retailers strongly believe that IoT solutions can greatly improve customer experience.
Global Market Insights reports that IoT in retail sector will help achieve new heights which will surpass the $30 Billion mark by 2024.
Impact of IoT on Retail
IoT establishes a connection between various physical objects, sensors and electronic devices, through which information and data can be shared without human intervention. This, reduces dependency on manpower, helps get data in real time, receive prompt information on inventory in store and much more.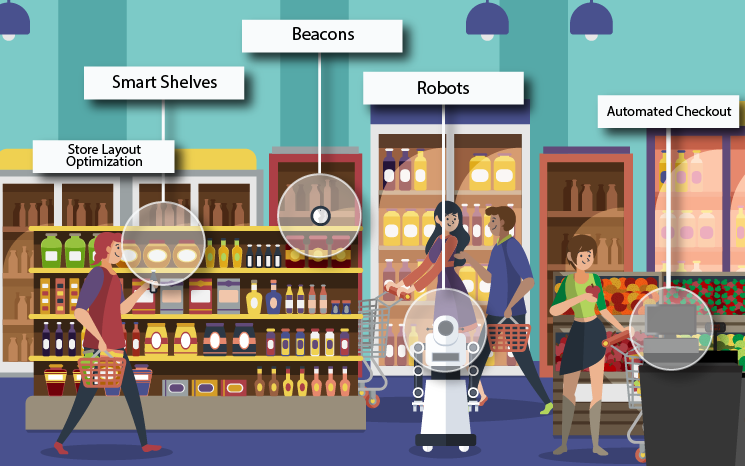 Beacons
Beacons work as a key component of IoT. Beacons, first introduced by Apple in 2013, are bluetooth radio transmitters that use low energy bluetooth connections to automatically send push notifications to smartphones based on location proximity. Customers can be informed about discounts, attractive offers, special events etc. as they approach a store. Retailers can put these small devices anywhere in the store and get the better ROI.
Smart Shelves
For years, inventory management has been a time-consuming task for employees. They have to ensure they are never out of stock,check items are not misplaced/stolen, and do a lot more. The concept of Smart shelves helps them track inventory and be informed whenever they are running low or an item is placed on a shelf incorrectly. Smart shelves depends on three key elements: RFID tags, RFID readers and Antennas.
An RFID tag can be found on a product which transmit data to an RFID reader. The Information collected from RFID tags is sent to the IoT device. Later, the data is stored and analysed. As each product has an RFID tag, which is connected to an RFID reader, it can detect in-store theft, which in turn can save the money businesses spend on security personnel and cameras.
Automated Checkout
Spending hours at store checkout counters has always been a pain point for customers. For managers, it's unprofitable to pay multiple employees engaged at checkout counters during busy hours. IoT can help set up a system that reads tags on products when customers are leaving stores. The system could then verify the items and automatically deduct the cost from the customers' mobile payment app. It would make customers happy and they would be more willing to visit the store again. Also, it will help retailers save money being paid to cashiers.
McKinsey estimates automated checkout can reduce cashier staff requirements by up to 75%, resulting in savings of $150 billion to $380 billion a year in 2025.
Store Layout Optimization
A store's layout can be optimized for a retailer but not for customers. It is possible for the least popular product to be placed at the front or the product most in demand to be placed at the back. Using IoT technology can help improve the layout of retail outlets. This it can be done by deploying aisle-analytics software with infrared sensors that help retailers place products as per the customers' behavior.
Robots
Robots are replacing humans in stores, saving costs for retailers and saving store staff the trouble of dealing with menial tasks.
According to a report by Business Intelligence, about 2.8 million robots are expected to be shipped within the next five years.
In Lowe's, store a robot named OSHbot is being used to help customers find specific products and to provide information on inventory and promotions. Another retail store, Target, is using robots to move the store and collect information on misplaced items or items that are running out of stock.
IoT will significantly impact the retail businesses whether it's traditional brick-and-mortar stores or online businesses. IoT will help expand their reach, better supply chains, optimize store management, and improve user experience. In future, more numbers of retailers will leverage IoT to their benefit.
With more IoT deployments, retailers will need UEM solutions to manage and control connected devices inside and outside their stores. 42Gears Mobility Systems offers a robust and reliable UEM solution that is capable of managing connected devices.
To know more about 42gears Things management solution click here.
Subscribe for our free newsletter
Thank you! you are successfully subscribed.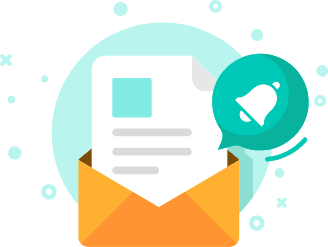 Exclusive News and Updates on Enterprise Mobility!
*

I consent to receive newsletters via email from 42Gears and its Affiliates.
Please agree
*

I have reviewed and agreed to 42Gears Privacy Policy and Terms of Use prior to subscribing and understand that I may change my preference or unsubscribe at any time.
Please agree
Please enter a valid official email