App Wrapping – An Enterprise MAM Solution Going Out of Business
Feb 23, 2017 | 42Gears Team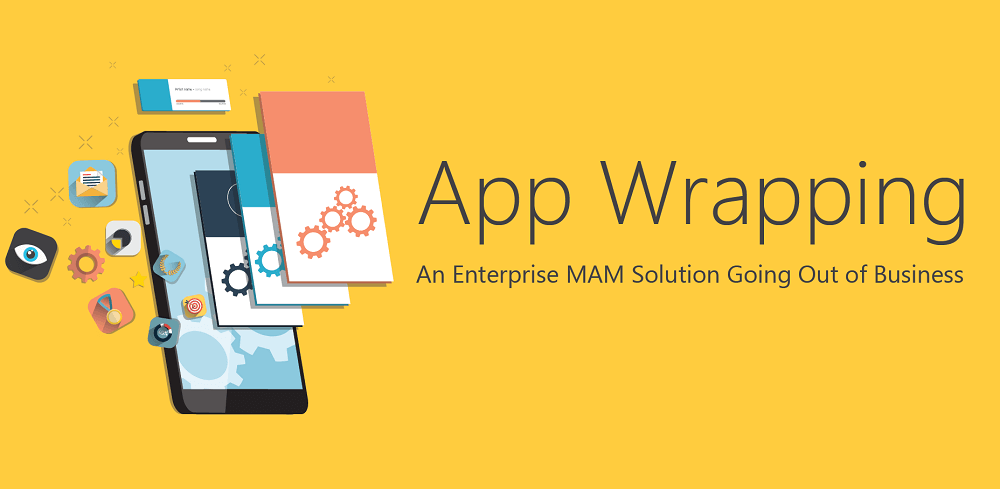 For years, app wrapping has been used for implementing enterprise policy on apps as part of Mobile Application Management (MAM) solution. In order to secure, manage and deploy their apps through an EMM solution, developers have used proprietary SDKs or app wrapping tools. App wrapping works with an existing binary that is used to govern certain features of an application. Its use case can include updating an app to demand an authentication passkey, intercepting a message and forcing it to use the company's virtual private network (VPN) or preventing the communication from accessing any particular app that could hold sensitive data.
But the solution has its share of complications. Adapting the entire OS to work with multiple wrapped apps would require each application to be modified, which means administrators would need access to the apps' binary code. This in turn also makes app wrapping likely not to work with apps that come preinstalled on iOS or Android phones. Also, getting the binary codes for iOS apps sold via the App Store may not be the easiest of tasks, making wrapping tools unsuitable for many iPhone apps. This traditional model has created quite a number of challenges for developers, IT administrators and end users as well.
Challenges of App Wrapping
Developers are required to configure and secure apps for every separate EMM vendor.
Developers have to create multiple code branches for each Independent Solution Vendor (ISV) app which would make it difficult to update them during time-sensitive OS updates.
Feature lag between the end user app and the EMM-specific app often created a degraded user experience.
Multiple versions of the app would be visible on the public app store creating confusion for the end user. A wrong version downloaded would eventually result in a call out to IT support.
Basic security controls like prevention of iOS screen capture is not possible in a standalone MAM approach.
But over the years, there has been a shift in attitude towards the concept of app wrapping. Companies like Apple and Samsung have started slowly moving away from using app wrapping as a MAM solution. Additionally, the inability of wrapped apps to perform without MDM have made them quite unpopular in the app stores as well.
In the last couple of years, mobile operating systems have come up with their own mobile application management controls to contest with app wrapping use cases. As more and more iOS devices were introduced in the workplace, Apple expanded on its native features offered for management and security purposes, with Google soon following suit. The arrival of Apple iOS 7, Samsung Knox 2.0 and Android for Work by Google allowed IT admins to make sure that management policies such as restrictions on data sharing were applicable to almost any application. Previously, those features could be made available only via app wrapping or SDKs. These updates allowed developers to create apps that were less reliant on SDK integration or app wrapping. 42Gears offers comprehensive support for Android for Work program to help businesses adopt Android devices into their workflow.
AppConfig Community
The formation of the AppConfig Community is a testament to the fact that enterprise mobility management (EMM) vendors are moving away from app wrapping. Led by the industry leaders in EMM: IBM MaaS360, MobileIron, VMware AirWatch and JAMF Software, the community is striving to help developers create enterprise apps that can be controlled and managed by an EMM platform, allowing easier adoption of mobiles in enterprises. This will also result in development of a much bigger ecosystem of business apps, an improved management practice for IT administrators to follow, and an enhanced end-user experience. In December 2016, 42Gears Mobility Systems joined the AppConfig Community, striving to provide best practices with regards to configuration, management and deployment of enterprise apps, enabling quick adoption of mobile devices by businesses.
When organizations develop apps for business professionals, they are usually going to contain confidential corporate data or would require access to enterprise systems. The AppConfig Community defines tools and commandments using native frameworks that developers can follow easily to secure, manage and control such apps. They won't require EMM-specific integrations for most enterprise use cases.
42Gears & AppConfig
42Gears implements AppConfig compliant set of controls in its products, ensuring secure user access to vital business processes as per open enterprise standards. This would allow AppConfig compliant apps to be controlled and managed by 42Gears' EMM solutions. It will also help reduce individual development cycles to create independent EMM software development kits (SDKs) for every single enterprise mobile app.