Android Screen Pinning – Turning Consumer Devices into Single Purpose Tools
Apr 26, 2018 | 42Gears Team
Screen Pinning or App Pinning feature was introduced by Google for Android devices (Lollipop and above) to lock them down into single application mode. The feature allows the user to lock the device screen and show only a specific app, automatically restricting access to all other functions of the Android device.
Once an app is pinned, the device user will not be able to access other apps, navigate to phone setting, or receive notifications. Only the whitelisted (pinned) app can be accessed. If the device owner no longer wants the device to be in screen pinning mode, they can exit a pinned app by holding the back and overview buttons on the device simultaneously. After a couple of seconds, the device will switch back to the overview screen. If the device owner sets a PIN, pattern or password before unpinning, it will have to be entered before the app is unpinned.
At the time of its release, the screen pinning or app pinning feature was considered a useful update for commercial use. But over time, the feature has also been adopted by businesses to get Android phones ready for field work.
Use cases for Screen/App pinning
Let's take a look at some of the use cases for screen/app pinning feature:
For personal use devices – App pinning is an ideal feature for parents who wish to restrict their children's' access to only one application or game on their phone. It can help ensure that children don't open unwanted apps or accidentally delete important files on their parent's phones.
For business use devices – Android devices are also popular as single-purpose devices. They are increasingly being used as Point-of-Sale terminals, electronic menus for restaurants, tablets at retail stores and museum guides. Using app pinning mode, business owners can pin POS app, digital menus or guide apps on screen to convert mobile devices into customer facing interactive hardware.
Without a doubt, Android Screen Pinning has its benefits. But it's not failproof. Anyone who is tech savvy and has basic mobile operations knowledge can easily exit the screen pinning mode.
Pros and Cons of Screen/App pinning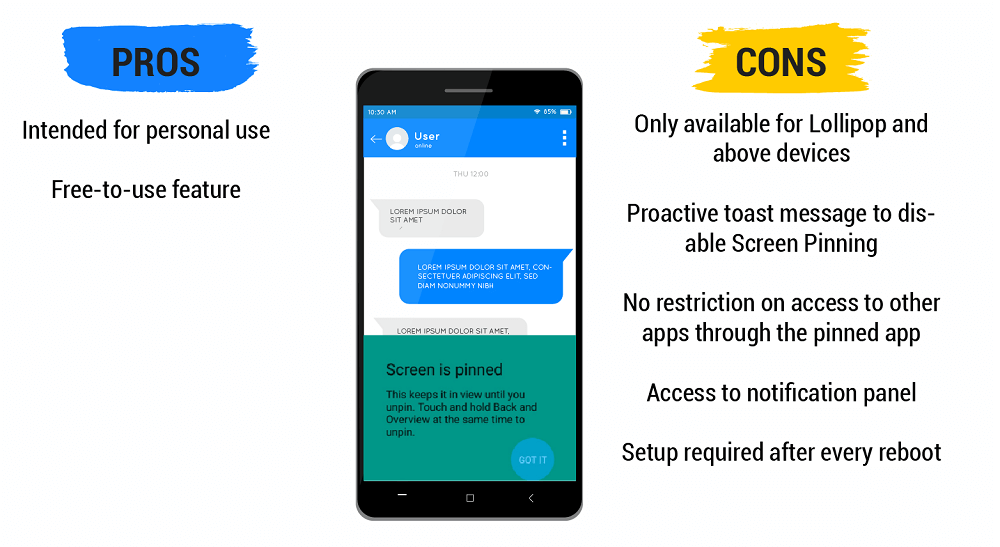 Let's take a look at the pros and cons of basic Android Screen Pinning:
Pros:
1. It was mainly intended for personal use, especially to restrict children from using any unwanted apps.
2. Free-to-use feature
Cons:
1. Only available for Lollipop and above devices
2. Proactive toast message to disable screen pinning
3. No restriction on access to any other application that opens from a pinned app
4. Easy access to Notification Panel when app is in background
5. Setup required by authorized admin after every reboot
Alternatives for Screen/App pinning
Enterprises that wish to ensure that users can't exit the single application mode must opt for a stronger alternative. SureLock, an enterprise mobile lockdown solution, offers a quick and easy way to lock down off-the-shelf mobile devices into Single Application Mode. It can turn tablets, smartphones, smartwatches and even desktop computers into dedicated-purpose devices by allowing access to only a single whitelisted application.
By default, SureLock won't allow any non-whitelisted applications to launch on the device, even from within a whitelisted app. It also offers Suppress Notification Panel feature to ensure users do not get access to any other app notification.
Businesses can also take advantage of secured screen pinning functionality by enrolling devices under Dedicated Devices (formerly called COSU or Corporate-Owned Single-Use) using the SureMDM solution. For example, if a business requires a single application to run on their company-owned devices, they can create and apply a respective profile to their devices using SureMDM. This will ensure that the end users will not have the option to exit the kiosk mode.
Read how to enable Single Application Mode on Android here.
To convert a consumer Android device into a dedicated-purpose device, try SureLock and SureMDM today!
Subscribe for our free newsletter
Thank you! you are successfully subscribed.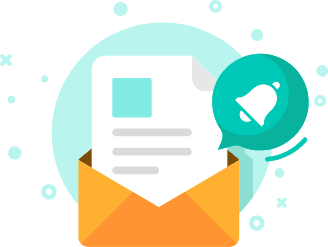 Exclusive News and Updates on Enterprise Mobility!
*

I consent to receive newsletters via email from 42Gears and its Affiliates.
Please agree
*

I have reviewed and agreed to 42Gears Privacy Policy and Terms of Use prior to subscribing and understand that I may change my preference or unsubscribe at any time.
Please agree
Please enter a valid official email