Introducing ChatGPT Integration with SureMDM: A Futuristic Mobile Device Management Experience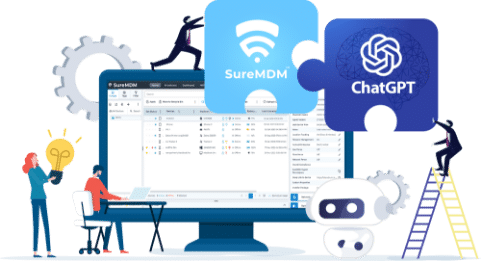 Streamline your mobile device management (MDM) processes with the power of conversational AI. We are excited to announce the integration of ChatGPT, a cutting-edge large language model, with SureMDM, our industry-leading MDM solution. This integration brings a new level of intelligence, accessibility, and ease-of-use to SureMDM, empowering administrators and users like never before.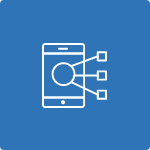 Conversational Interface for Seamless Interaction
Say goodbye to complex commands and technical jargon. With ChatGPT integration, SureMDM now features a natural language interface, allowing you to interact with the MDM platform using everyday language. Simply communicate your requirements, ask questions, or seek guidance in a conversational manner. Experience a more intuitive and user-friendly way to manage your mobile devices.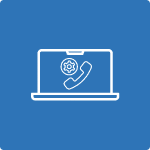 Contextual Assistance for Effortless Management
Navigating through the intricacies of MDM has never been easier. ChatGPT's contextual assistance provides real-time guidance and support within SureMDM. Whether you need help with device enrollment, configuration management, application distribution, or troubleshooting, ChatGPT understands your queries, interprets their context, and offers relevant suggestions or step-by-step instructions. Maximize your productivity with hassle-free device management.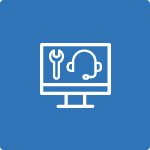 Intelligent Troubleshooting and Support
Simplify issue resolution with intelligent troubleshooting and support. ChatGPT, powered by its vast knowledge base, analyzes error messages and user-reported issues to generate practical solutions. Whether you are an administrator or an end-user, ChatGPT provides real-time assistance, helping you address common problems swiftly. Say goodbye to frustration and hello to efficient problem-solving.
Policy Recommendations based on Best Practices
Make informed decisions when implementing device management policies. With ChatGPT's expertise, SureMDM offers intelligent policy recommendations tailored to your organization's requirements. By understanding your context and industry standards, ChatGPT suggests optimal policy configurations. Enhance security settings, define device restrictions, and optimize application whitelisting with confidence.
Monitor your devices easily
Configure devices and apply policies quickly
Secure devices through conversational commands
Generate insightful reports
Tailor the plugin to meet your needs
Unlock the true potential of SureMDM with ChatGPT integration. Experience a revolutionary way to manage your mobile devices, simplify administration, and enhance user satisfaction. Take control with natural language interaction, contextual assistance, intelligent troubleshooting, policy recommendations, and streamlined training. Upgrade your mobile device management experience today.
Interested in trying out this amazing technology?
×
Join the Waitlist
Please enter a valid official email
Please enter a valid SureMDM Account ID