Control Mobile Data Spending with 42Gears UEM Suite
Feb 23, 2018 | 42Gears Team

Businesses are constantly adopting new set of cloud-based services and mobility solutions to streamline their operations. This has resulted in the growth of a bigger expense category which is wireless data. Managing wireless or cellular data requires automating operational processes to achieve complete visibility, cost reduction and enhanced efficiency.
Earlier, Telecom Expense Management (TEM) practice was incorporated by large enterprises which had huge fleet of mobile devices to manage. But today, with the proliferation of mobile workforce across businesses of every size, TEM helps organizations by not only increasing accountability and increasing transparency in mobile data usage but also reducing fraudulent usage.
Built-in data management features present in mobile devices are not enough for businesses to monitor and control mobile data usage. SureMDM offers an effective solution to manage the data usage with its Telecom Management feature.
While SureMDM's Telecom Management feature is useful for Corporate-owned devices, it's also very useful in a BYOD scenario where the organization shares its telecom expenses with employees or reimburses employees for their mobile expenses.
Here's a list of different actions which can be performed under Telecom Management feature of SureMDM: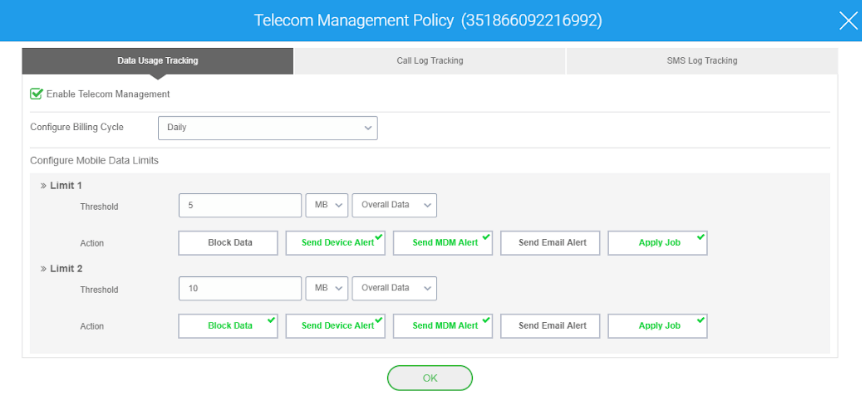 Send alerts to the device – This feature allows the admin to send an alert to the device when the user reaches the specified data threshold.
Block data – Block mobile data on the device when user exceeds the set data limit.
Note: This feature is supported only on Samsung Knox/ Platform Signed / Rooted devices.
Send alerts to the admins – This feature allows the admin to configure the device to send an alert mail to his inbox when the user reaches the data threshold on overall data and roaming data.
Send email alert – This feature allows the admin to configure the device to send email alerts to specific email addresses.
Apply Job – This feature allows the admin to configure and apply jobs/profiles on the devices when the user reaches the specified data threshold.
Admins can utilize Data Usage feature to get a comprehensive and graphical view of Mobile Data and WiFi Data consumption by enrolled devices. They can customize the graphs on monthly, weekly or daily basis. It also helps the admins to analyze data used by different apps on the devices.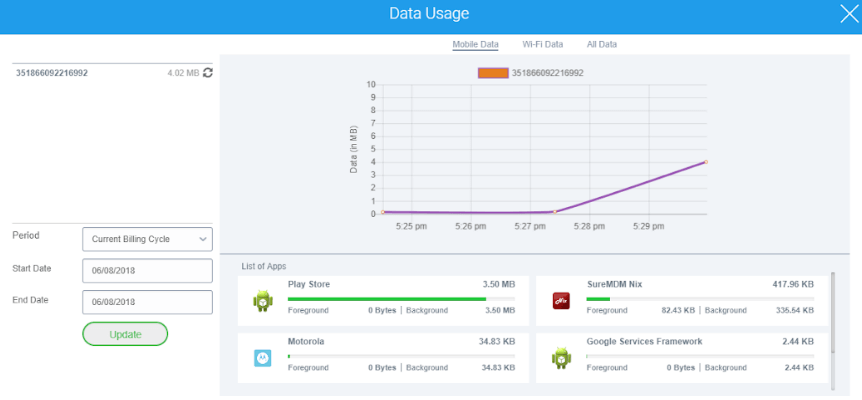 How Telecom Management feature can help enterprises
With a huge surge in the use of mobile devices at workspaces, enterprises are changing the way they operate. Different industry verticals such as BFSI, transportation, logistics, healthcare, pharma and hospitality have started using smartphones and tablets to conduct business. For example, the BFSI industry employs these smart devices to demonstrate products, fill up forms, capture e-signatures from customers, cross sell financial products and as self service information kiosks. Unsupervised usage of mobile devices in the field with access to non-business apps can distract the staff and tempt them to engage in unwanted activities.
Occasionally, field workers carry these devices out of work for personal use which may result in overage of cellular data and costs. Enterprises can use TEM feature to ensure that their staff are not misusing the mobile devices or downloading any unauthorized applications. When the user crosses the data threshold, an alert mail can be sent to the user from SureMDM. The GPS feature in the devices can provide more visibility and control over the mobile devices. Enterprises can also generate usage based reports on the data consumed in order to keep the expenses in check.
IT must enforce role-based policies when allowing employee-owned devices to connect to the company network. For example, a manager can be allowed to use more data than a salesperson.
Enterprises must take a structured approach to define their mobility strategy. They must consider the factors such as security, network, devices, costs and user-expectations when formulating the mobile policies. SureMDM can help the enterprises to get the best results out of telecom expense management program and ensure optimum results from it.
The Telecom Management feature is available in SureMDM for both Android device and iOS devices.
Interested to try out SureMDM's TEM feature? Click here for a free trial.
Subscribe for our free newsletter
Thank you! you are successfully subscribed.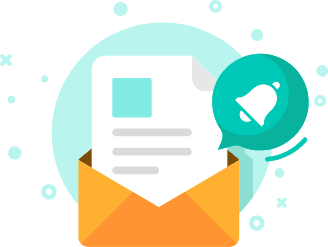 Exclusive News and Updates on Enterprise Mobility!
*

I consent to receive newsletters via email from 42Gears and its Affiliates.
Please agree
*

I have reviewed and agreed to 42Gears Privacy Policy and Terms of Use prior to subscribing and understand that I may change my preference or unsubscribe at any time.
Please agree
Please enter a valid official email