Manage Mobile Data Usage with SureMDM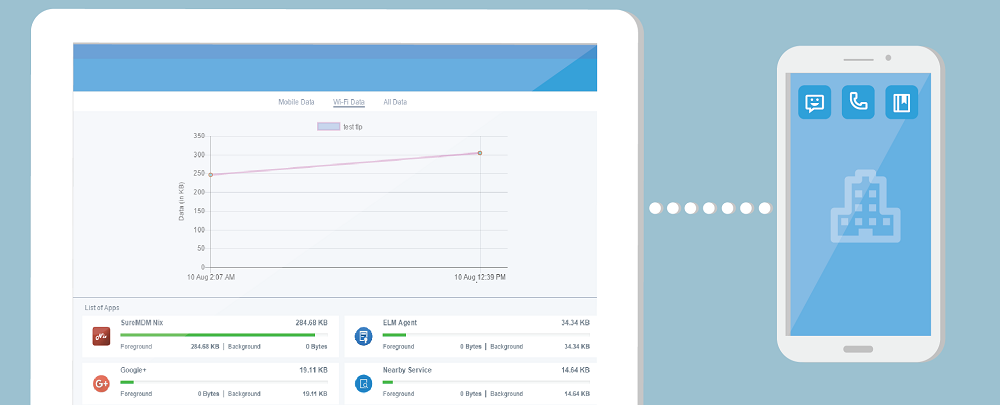 When you have entrusted your mobile staffs with mobile devices loaded with apps and unmonitored mobile data supply, you can be sure that all the data consumed would not be just for work related activities. There are lists of engaging game to social media apps that can distract your workforce and engage them in unwanted activities. This could not only affect their efficiency but also would add to the cost with higher mobile data usage.
SureMDM allows you to track and control mobile data costs. These capabilities have been enhanced with the following two new features.
Alerts and Limitation
Data Usage Report: Mobile Data/WiFi Data/App wise Data Usage
Alerts and Mobile Data Limitation
The Telecom Management Policy option allows you to set alerts by specifying Data Usage thresholds for a mobile device for a specific period of time. The options to create allowed levels of Data Usage and set alerts give you the ability to be well notified before you have to completely block mobile data on a device.
For example, you can configure SureMDM to notify you through an email when the user has reached 10 MB threshold of mobile data usage per day. You can then block mobile data usage with an alert when the user reaches the 20 MB threshold.

To create Telecom Management Policy, follow the steps mentioned:
Login to SureMDM Web Console

On home screen, click Jobs and then New Job

On Telecom Management Policy prompt, give a name to the job, check Enable Telecom Management and enter the following details:

Billing cycle – Monthly/Weekly/Daily/Custom
Billing Start date if Monthly/Weekly/Custom selected

Next, under Configure Mobile Data Limits create Limit 1 profile with following details:

Threshold in MB/GB
Action – Block Data/Send Device Alert/Send MDM Alert/Send Email Alert

Create Limit 2 profile with following details:

Threshold in MB/GB
Action – Block Data/Send Device Alert/Send MDM Alert/Send Email Alert

Click OK to complete
Note: Policy to block mobile data is available only for KNOX / Rooted / Enterprise Agent Enabled devices. Blocking mobile data can stop device from connecting to SureMDM server. This can prevent you from managing and controlling this device from SureMDM.
Data Usage Report: Mobile Data/WiFi Data/Appwise Data Usage
With the new Data Usage feature, you can view the total data used by a device for a specified time period. This features also allows you to separately view Wi-Fi Data or Mobile Data and also see a list of applications with their respective Foreground or Background data consumption details.
To view data usage details for a device, follow the below-mentioned steps:
SureMDM's Data Usage Screen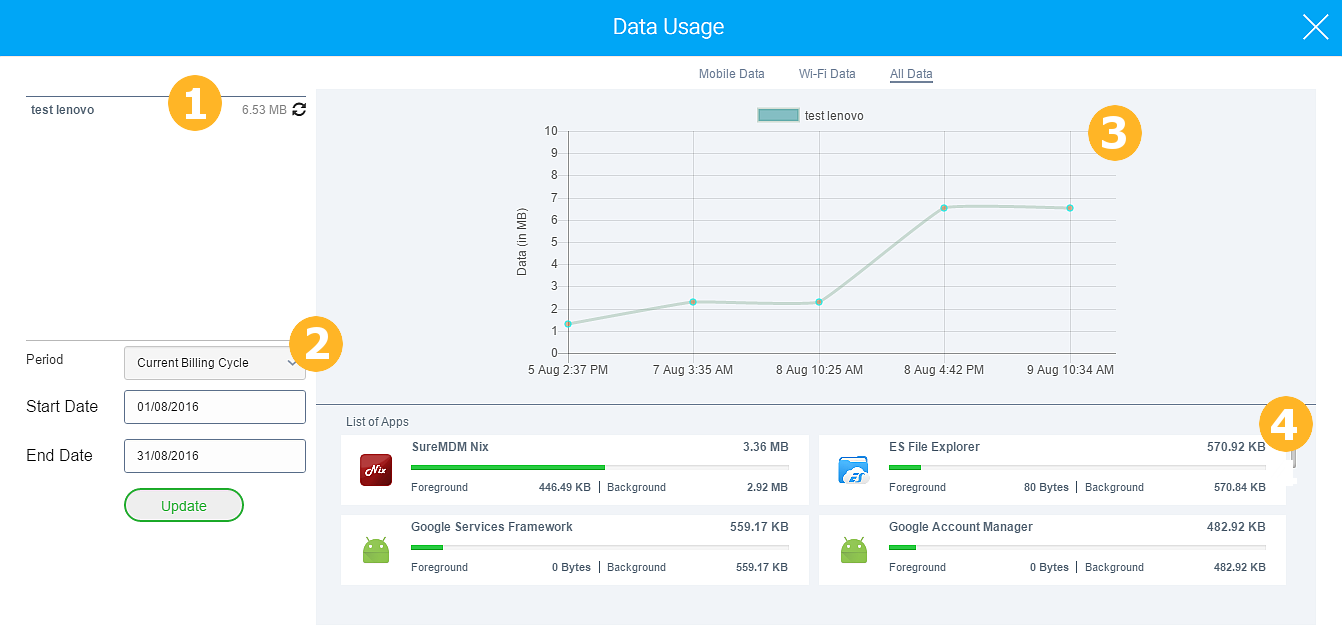 Total Data Usage for the specified period
Billing Cycle – Period/Start and End Date
Mobile Data/WiFi Data
List of Apps – Apps and respective data usage; Foreground and Background
Note: Foreground Data usage will not work for Lollipop and above devices if usage access for SureMDM Nix option on the device is not enabled.
For any organisations who want to get more than just device and application management from MDM solutions would benefit immensely from this features. The ability to remotely view and manage data usage will equip them in not only keeping track of data usage by mobile workforce but also help them in identifying the apps which are consuming higher mobile or WiFi data. To know more about similar cost saving or time-saving features in SureMDM, click here.
Please note, Network provider data usage calculation may differ from your device.
SureMDM has few new features for iOS devices, click here to explore.
For free 30 day trial of SureMDM, click here.
For any technical questions or immediate assistance, click here.