SureLock for Android
Quick Android Kiosk Lockdown Solution
Lock down Android devices into Kiosk Mode

Restrict users to Allowed Applications only

Block users from accessing Home Screen

Block user from changing System Settings

Track Statistics using built-in Analytics Engine

 
Benefits of Android Kiosk Lockdown Mode
Lockdown your Android Smartphones & Tablets into Kiosk Mode
Restrict users to Allowed Applications only
Password Protected SureLock Admin Settings
Hide or Disable Bottom Bar on Android 3.x or higher (might require a minor change in your application)
Display selective Widgets on SureLock Home Screen
Reposition app icons using drag and drop
Create app shortcuts on SureLock Home Screen
Block users from accessing device Home Screen
Prevent users from playing games, browsing or installing unapproved applications
Block user from changing System Settings
Selectively allow or block individual child windows of allowed applications
Per application password control
Brand SureLock with your own wallpaper
Auto launch application(s) at startup
Custom title for allowed applications on Home Screen
Hide icon of an allowed application on Home Screen
Peripheral Lockdown (WiFi, Bluetooth, Auto-Orientation, Flight-mode, Sound)
Set Custom Wallpaper on SureLock Home Screen
Import/Export Settings to xml
Remotely deploy SureLock configuration (over http download  or by using an MDM such as SureMDM)
Supported Android Versions
6.0 Marshmallow
5.0 Lollipop
4.4 KitKat
4.3 Jelly Bean
4.2 Jelly Bean
4.1 Jelly Bean
4.0 ICS
3.X Honeycomb
2.3.X Gingerbread
2.2 Froyo
2.1 Eclair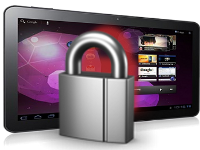 Lockdown your Device
Turn your device into a full-fledged kiosk by locking down the device. Take total control over device by allowing the applications of your choice.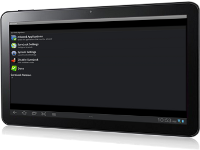 Highly Customizable UI
SureLock lets you customize each and every aspect of your device. Disable Home Screen, Configure your Apps, Launch applications on startup, Full Screen view, Allow selective child windows of particular applications and many more
In-App Peripheral Locking Ability
Define settings for your Device within SureLock - Control WiFi, Bluetooth, Airplane Mode, Sound, Screen Orientation. You name it, we provide it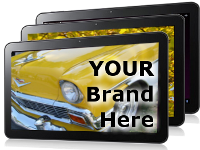 Branding SureLock
SureLock helps your brand garner the attention it needs. Apply customized wallpapers, logos or may be a banner of your choice. It is really easy.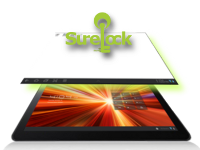 Free your device from hardware casing!
Still using ugly looking, rough casing to hide hardware buttons and menu bar of devices? Worry no more! Reveal true beauty of your devices by freeing your device from hardware jackets. SureLock disables everything that is not required.