Lock Android Tablet or Smartphone to a Single Application or Single App Mode
Dec 30, 2020 | 42Gears Team

Applies to:
Product
SureLock
Platform
Android
---
People often ask how to run only one app on Android devices, or how to lock an Android device to run only one app. Google searches like "Android allow only one app" and "Android tablet lock to one app" are very popular, which shows that everyone wants an easy way to secure their devices. The answer is Android Single Application Mode or Single App Mode. As the name implies, Android Single Application Mode only allows one application to run at a time. The single app mode prevents Android device users from quitting the app while using it, and if the device reboots, the app launches automatically.
How to set up Single Application Mode (Single App Mode) on Android
The easiest way to set up Single Application Mode Android devices is to use SureLock.
Install SureLock and follow the steps below to enable Single Application Mode and run only one app on Android devices you own:
1. Launch SureLock
2. On SureLock Home Screen, tap 5 times within 3 seconds to launch the password prompt
3. Enter your default password – 0000 (four zeros) and tap OK
4. On Admin Settings screen, tap Allowed Applications
5. On Allowed Applications screen, use Add App option to add your desired application in Single Application Mode
6. Tap Done to go back to Admin Settings
7. On Admin Settings screen, tap SureLock Settings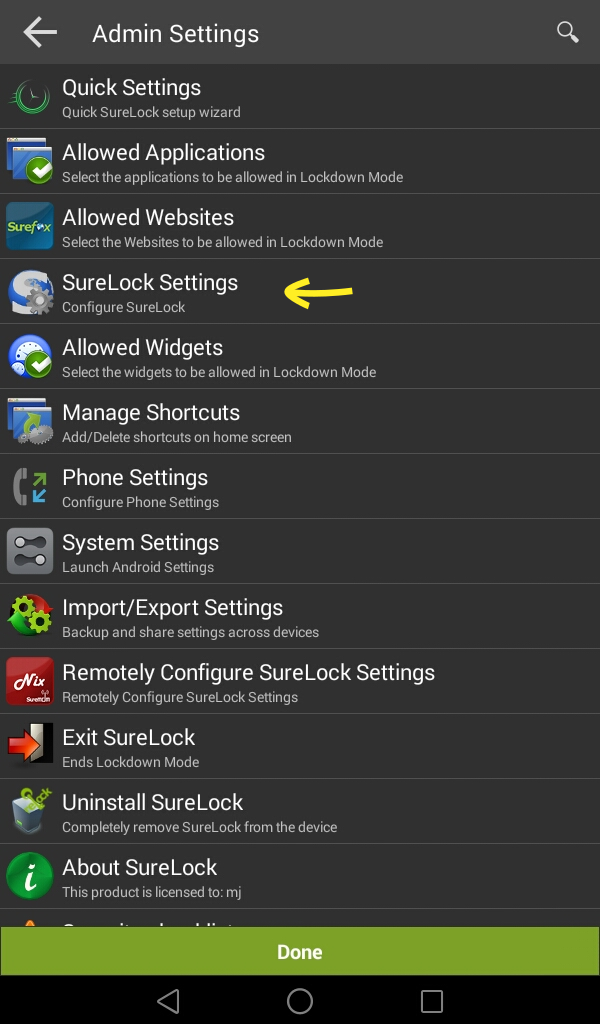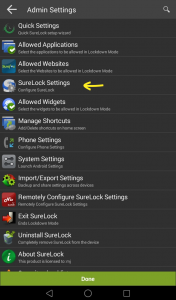 8. On SureLock Settings screen, tap Single Application Mode and enable Single Application Mode option
Note: Please read the information message before you tap on OK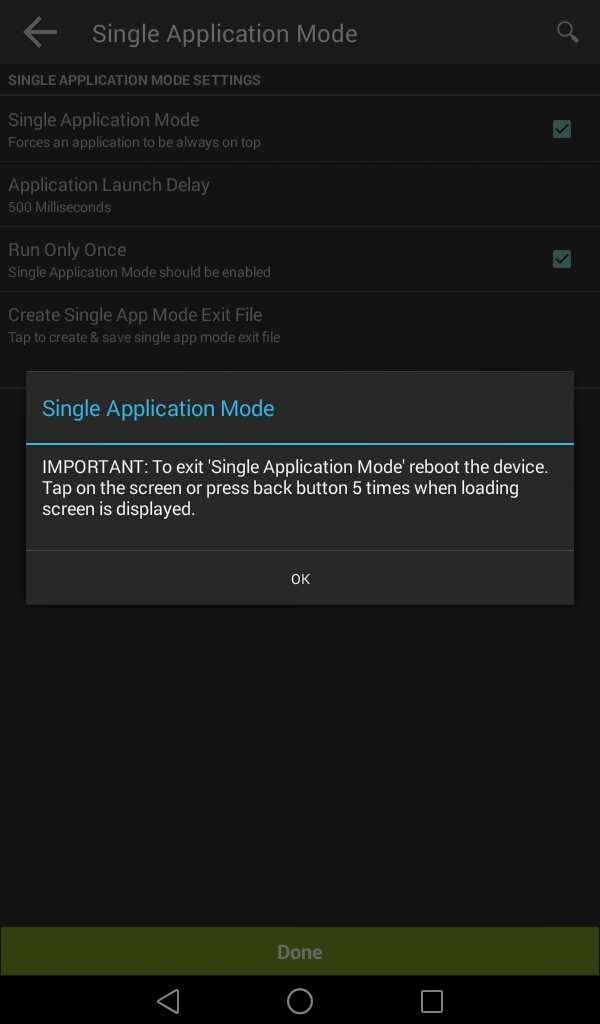 9. Return back to SureLock Home Screen. Your application will now run in Single Application Mode, also known as Android Single App Mode.
Note: For Single Application Mode to be enabled, only one application can be visible on SureLock's Home Screen. If you need to run more than one app internally, you can add other apps to the list of allowed applications as well and mark them as hidden. These hidden applications can be launched when accessed via the application visible on SureLock Home Screen when Android Single App Mode is active.
Watch the video – Lock Android to a Single Application or Single App Mode using SureLock
To learn on how to exit from Single Application Mode, click here
Conclusion
The popular search query "Can Android run only one app?" now has an answer: SureLock by 42Gears. SureLock can be used to set up Single Application Mode or Single App Mode on your Android tablets, Android smartphones, or Android rugged devices if you want to run only one custom app on Android and prevent users from running anything else. It's the simplest solution for anyone who needs to know how to run one app on Android devices.
Run Your Fleet of Android Devices in Single
App Mode
Subscribe for our free newsletter
Thank you! you are successfully subscribed.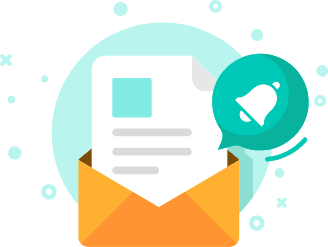 Exclusive News and Updates on Enterprise Mobility!
*

I consent to receive newsletters via email from 42Gears and its Affiliates.
Please agree
*

I have reviewed and agreed to 42Gears Privacy Policy and Terms of Use prior to subscribing and understand that I may change my preference or unsubscribe at any time.
Please agree
Please enter a valid official email