Why am I unable to uninstall some application from my android phone?
There are few applications available on Google Play store (aka Android marketplace) which gives error message like below when you try to uninstall them.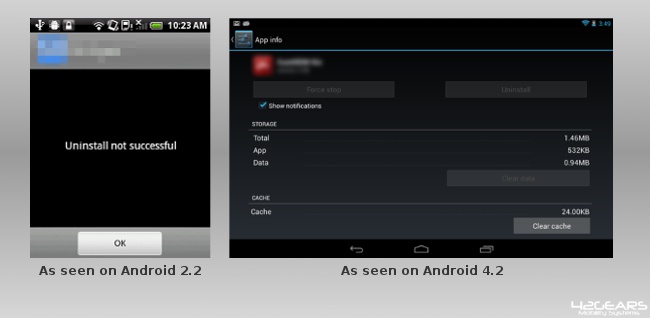 The error message above is totally unintuitive and leaves user with little or no idea as to what went wrong and what can possibly be done to successfully uninstall the app from the device. I hope Google puts in better error reporting in future for such situations.
Why it happens:
Some applications, especially the ones under business administration category, require device administration privileges. Usually during install or during execution, these apps prompt the user to grant "Administrator" privilege. Once granted, these applications become capable of performing privileged tasks like locking the device, erasing data on device, reset the password on device, etc.
In addition, Android doesn't allow direct uninstall of such application. Any attempt to uninstall such apps would result in screen similar to above. I guess this is to make sure that user doesn't remove such vital privileged apps accidently (a better error message wouldn't have harmed 🙂 ).
Solution:
In order to uninstall such apps, we first need to deactivate it as a device administrator.
The Device Administrator settings is located under Location and Security settings mostly. However it might vary depending on the OS you are using.
For devices running Android GingerBread, HoneyComb and IceCream Sandwich, Go to to Settings ->Location and Security->Device Administrator screen.
For devices running Android JellyBean, Go to to Settings ->Security->Select device administrator screen
Once done, now you can go back to "Manage Applications" and uninstall the application.