Why 42Gears' New Multi-Tier Multi-Tenant Licensing Model Benefits Everyone
Jan 23, 2020 | 42Gears Team


42Gears has recently adopted a multi-tier, multi-tenant model for providing licenses to partners. This model improves the efficiency with which 42Gears and its partners can distribute, share, and license software.

What exactly does this mean? Read on to find out!
An Introduction to Licensing Models

In a single-tenant set-up, the software provider stores the data for each customer in a separate database; as a result, each database must run a separate instance of the software. In a multi-tenant set-up, a software provider stores many customers' data within a single database, so the company only needs one instance of their software to interface with every customer's data. As long as the database is encrypted, this multi-tenant model is significantly more efficient.
In a single-tier licensing set-up, the software provider offers only one kind of license. In a multi-tier licensing setup, the software provider offers several kinds of licenses to its customers, partners, and resellers based on their specific needs.
Why Does This Matter for 42Gears?

42Gears Multi-Tenant Approach

42Gears' multi-tenant set-up provides its partners and resellers with flexibility in how they structure their offerings. Partners and resellers can build their own infrastructure to host their customers' data, or they can ask 42Gears to host it for them.
Here's an example of when this might be useful: say that a device manufacturer (also known as an original equipment manufacturer, or OEM) provides mobile device management to its customers as a way to add value to its offerings. The OEM can make a single account with 42Gears, and then take advantage of the multi-tenant structure to create multiple users (in this case, customer accounts). Each customer will have its own MDM console with personalized branding and other customized features, and the OEM can rely on the privacy and security of 42Gears' products.
The OEM can now::
create individual, isolated users under one admin account
segregate and customize access to MDM functions
define user permissions
personalize the MDM console with custom branding options
customize license allocation and accounting
42Gears Multi-Tier Approach

42Gears offers several license types (including Standard, Premium, and Enterprise), each suited for the needs of different customers. When 42Gears utilized a single-tier model, a customer could only buy just one type of license for any given account. If the customer required two types of licenses, they needed two separate accounts. With the Multi-Tier model, OEM Partners and Resellers can buy global (valid for any tier) licenses from 42Gears and offer the appropriate licenses for their customers based on their needs. As the partner or reseller has made just a single account with 42Gears, the logistics of counting licenses and charging customers also becomes easier.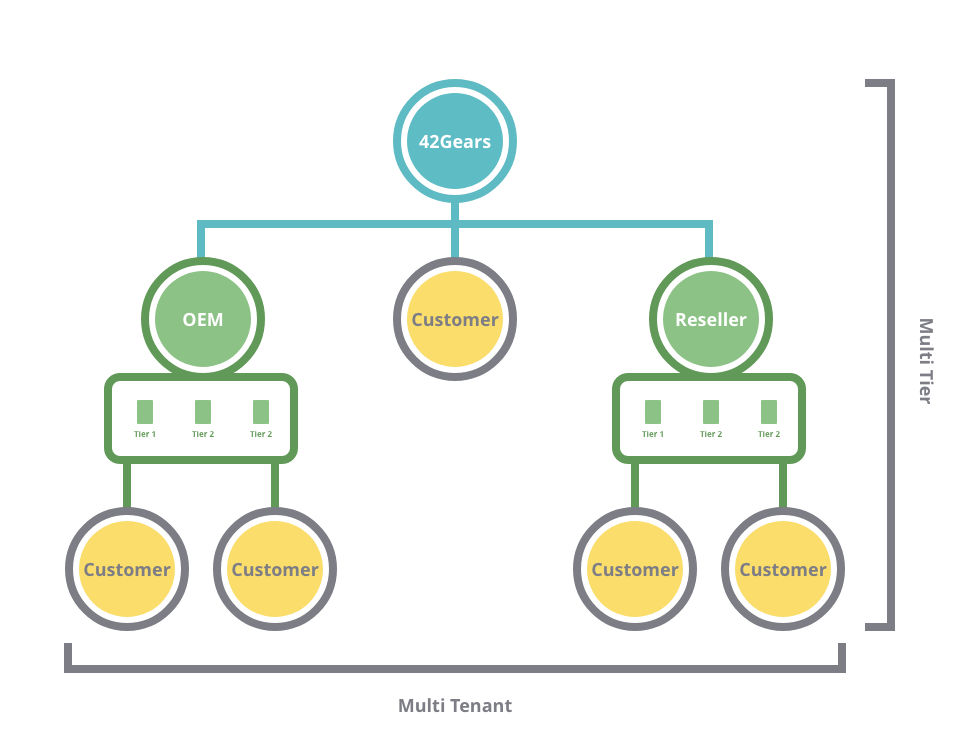 The Power of the Mobile Device Management-as-a-Service Model

42Gears' multi-tier and multi-tenant structure allows resellers and OEM partners to provide Mobile Device Management-as-a-Service to their customers.
This means that resellers and partners can offer the following to their customers:
Shared server infrastructure hosting
An individualized branding and personalized MDM console
Easy license management, distribution, billing, and tracking
If you would like to learn more about 42Gears' Multi-Tier, Multi-Tenant architecture, reach out to our technical support team at techsupport@42gears.com.
42Gears UEM Solution
42Gears UEM represents the cutting edge of mobile device management
Subscribe for our free newsletter
Thank you! you are successfully subscribed.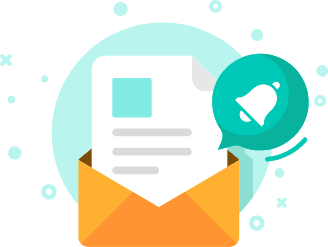 Exclusive News and Updates on Enterprise Mobility!
*

I consent to receive newsletters via email from 42Gears and its Affiliates.
Please agree
*

I have reviewed and agreed to 42Gears Privacy Policy and Terms of Use prior to subscribing and understand that I may change my preference or unsubscribe at any time.
Please agree
Please enter a valid official email