iOS 12 and its impact on enterprises
Aug 29, 2018 | 42Gears Team

The upcoming release of iOS 12 is creating a lot of buzz among Apple users. Scheduled to release in September 2018, Apple has decided to exclude major feature additions into the new release. Instead, iOS 12 will be packed with robust feature enhancements that will boost performance, ensure stability, and enhance the security. Previous iOS devices from iPad Air, iPhone 5s and above, will still be able to enjoy these stellar features. These feature updates will be of great  benefit to IT pros since iOS devices have a strong footprint in the enterprises ., Business owners will also appreciate iOS 12 updates because it will minimize the massive investments required to replace older devices due to the latest additions to performance and security features.
A very crucial announcement of the release event included Apple enterprise device management program designed specifically for the IT Administrators  also known as, Apple Business Manager. Apple Business Manager allows IT pros to manage iOS devices, their iCloud accounts and apps.
Using a comprehensive UEM solution will enable IT pros to assign and , manage policies, and remotely manage features on business devices.
It is also being predicted that eventually, Apple Business Manager may replace Apple Device Enrollment Program (DEP) and Volume Purchase Program (VPP).
Here are a few enterprise-critical features of iOS 12: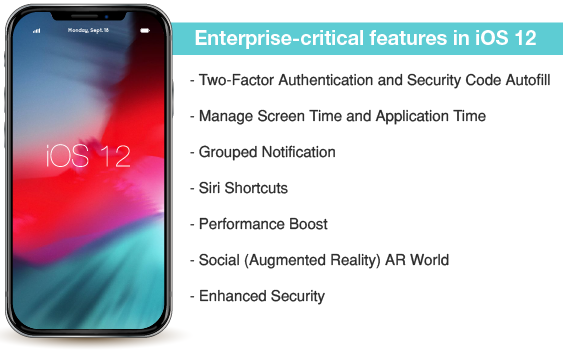 Two-Factor Authentication and Security Code Autofill:
Two Factor Authentication or 2FA is no longer an option, but a necessity due to the rise in hacking and other malicious activities . It provides an extra layer of protection against malware often carried out by third-party apps and websites. Before 2FA, users had to jump to the messages to retrieve the code, memorize it, go back into the payment gateway and enter it. With iOS 12, this process is streamlined and simplified. iOS 12 enables auto-fill when entering passwords, thus eliminating the need to copy/ paste or to memorize the code from the text message. Additionally, user can also store passwords through the iCloud Keychain service, and share with their other iOS devices.
Managing Screen Time and Application Time:
While Google has introduced its own Digital Wellness function in the latest Android Pie, Apple decided to fight smartphone addiction with the Screen Time feature. iOS users will now have specific information about the time spent on each app, the number of times a device is unlocked per day and the notifications received for each app. Users will now have the ability to limit or manage the screen time for a specific app,  including also by app category. For enterprise users, this feature will come in handy when IT pros want to monitor the app usage by employee devices using iOS' remote management.
Grouped Notification:
iOS 12 will allow users to easily club together notifications. Currently, notifications in iOS versions 11 and below make the panel too cluttered and difficult to be found. Grouped notifications will not only ease the process to search for recent alerts from each app but will also be organized by the respective topic and thread.
IT pros can use this feature to keep a track of incoming alerts and assign priority levels based  on their preference with the help of a UEM solution.
Siri Shortcuts:
Siri will get smarter in the new iOS 12 release, with intuitive capabilities to automate certain workflows. This improved version of Siri uses machine learning to sense work and personal routines, allowing users to create custom workflows. For example, users can automate specific tasks on third-party applications such as payment gateway or travel app to minimize touch interaction.  Enterprise users will be able to use Siri as a business assistant, enabling the AI to suggest actions that can be taken to improve everyday workflow. For example, if the user is late for a meeting, Siri can suggest texting the meeting organizer to let them know of the delay.
Performance Boost:
iOS 12 has been designed to overcome the performance gaps of its predecessor – iOS 11. With iOS 12, users can expect apps to launch 40% faster, keyboard to come up 50% faster and camera will open 70% faster. Even older Apple devices will experience a boost in performance which is again a huge benefit for any enterprise users because it eliminates the need to  replace old iOS devices.
Social AR (Augmented Reality) World:
iOS 12 has extended its AR capability to support multiple  users wherein several users can collaborate together using a single ARKit scene. Users will also be able to add AR objects inside Mail or Messages.
ARKit2 will be a significant update for enterprises such as real estate and retail. For example, the ability to detect objects will enable retailers to create augmented reality scenarios wherein products can be virtually placed in people's homes to get a feel of the final look.
Enhancing Security:
iOS 12 will introduce new security enhancement to block third-party cookies which allow multiple websites to recognize users as they browse through them. Safari will block share buttons and comment widgets to track the users, and prevent advertisers from changing the device's settings. Mojave, the upcoming macOS, can protect user privacy by blocking potential hackers from tracking users through social media.
All the above mentioned features in the upcoming iOS 12  will prove to be beneficial for businesses concerned about device and data security. Overall, iOS 12 definitely seems to be something to look forward to.
Click here to read more about 42Gears UEM suites' iOS Management Capabilities.