5 reasons why enterprises must upgrade to Android Marshmallow from Android Lollipop
Apr 16, 2016 | 42Gears Team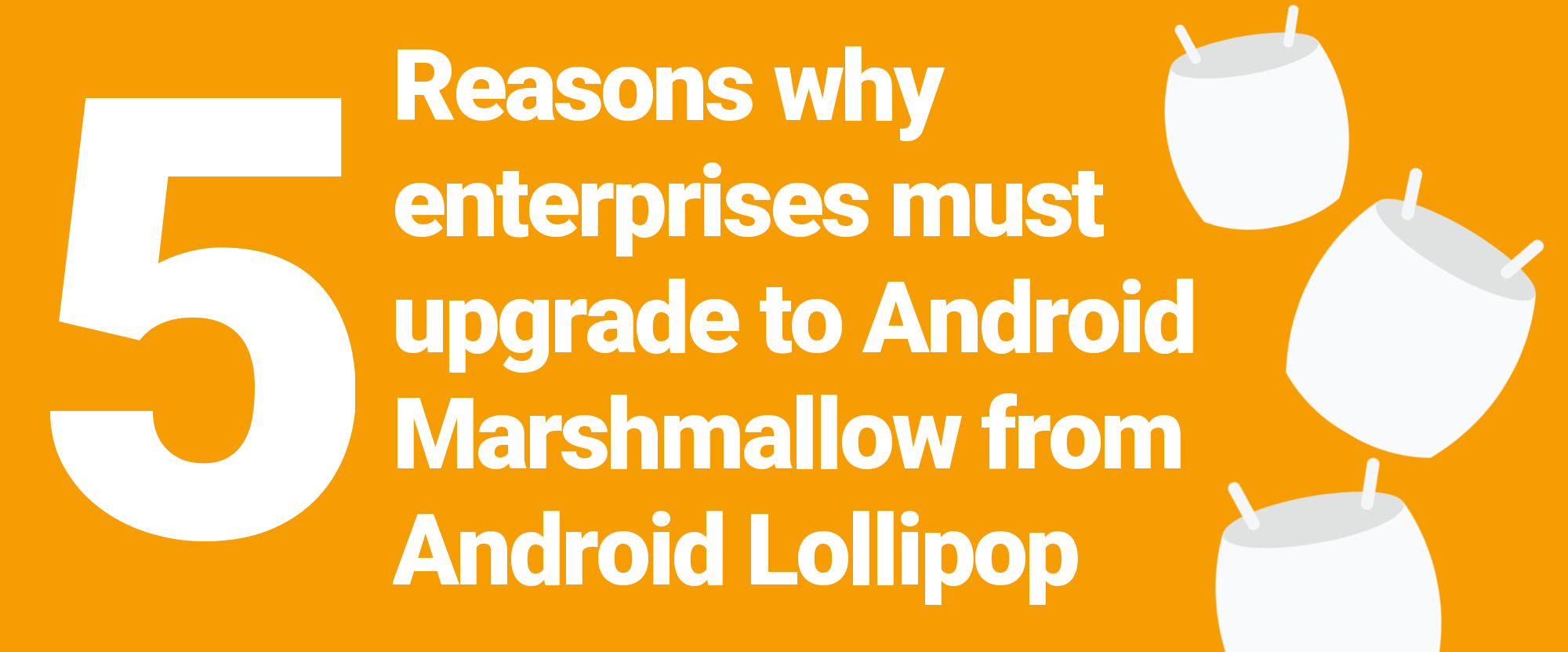 Android is the largest smartphone platform with more than a one and a half billion users across the world. Android mobile devices are also preferred by employees and employers to improve efficiency and productivity at work.
After the launch of Android Marshmallow, Enterprise Mobility Management or EMM companies including 42Gears started offering support for it. Android Marshmallow comes with a number of new features, both for individual Android users and employees.
Here are five Android Marshmallow features that improve privacy, security and management capabilities of Android devices:
1. Power-saving app optimizations
A device enters doze mode if kept unused for a long period of time. With App Standby feature, the OS determines whether an app is idle or not when users are not using it actively.
2. Integration with Android for Work
Android for Work, the containerized platform of Google is updated with improved features such as remote update management, Dedicated Devices (formerly called Corporate-Owned Single-Use or COSU) for superior mobility management across an enterprise. As part of the integration with Android for Work, users are clearly notified whether a particular application is a work-related or personal. The briefcase icon on the status bar of an application states that it is a work-related app.
3. Enhanced security
Earlier, fingerprint scanning and biometrics were features of specific Android-powered phones such as Note 4 and Galaxy S6. Google, now has incorporated superior security management options in Android Marshmallow like factory reset and safe boot controls into all handsets.
4. App Linking
With the App Linking feature in Android Marshmallow, applications would handle links for domains without the dialog box popping up. With this feature, devices have become more responsive as to which applications can open what links. Earlier, when users clicked a link, a dialog box popped up with multiple access options. That's now been modified to make things smoother, and links now open in the appropriate apps without the dialog box.
5. VPN apps 
The VPN apps are now visible in notifications, specific to how that VPN is configured. For a profile owner, the notifications are specific to whether the VPN is configured for a managed profile, a personal profile or both. For a device owner, the notifications are specific to the VPN configured for the entire device.
These Android Marshmallow features, when combined with lockdown and mobile management solutions from 42Gears, offer a simplified approach to securing and optimizing mobile devices for enterprise use.
To read more about locking down Android, iOS, and Windows devices to only allowed applications and websites, click here.
To read more about securing and remotely managing mobile devices, click here.