Enhance User Accessibility with AstroFarm's SSO Login Feature
Sep 25, 2023 | 42Gears Team
Testing platforms deal with critical data amidst a constant cycle of new feature releases and bug fixes. Additionally, as numerous admins/testers access these platforms, the process of manually adding each member becomes cumbersome. Streamlining access through a secure and user-friendly login method not only saves time but also enhances security by preventing unauthorized access. This is where adding an SSO (Single Sign-on) can be beneficial.
What is SSO?
Single sign-on (SSO) is an authentication method that permits users to use a single set of credentials to access multiple applications, combining security and convenience. For instance, you can employ your Google credentials to access various platforms.
Streamline Access with AstroFarm's New SSO Login Integration
AstroFarm has introduced Single Sign-On (SSO) logins, allowing users to access the platform using a single set of credentials that they would use in their workspace. To achieve this, we employ the OAuth 2.0 protocol, which facilitates the establishment of SSO authentication from third-party sources. These third-party sources, where we establish this authentication, are referred to as identity providers. On the other hand, the platforms we integrate with are known as service providers. For instance, AstroFarm serves as a service provider, and in the case of integration with Google Suite, Google Suite acts as an Identity Provider.
Among various protocols available, OAuth 2.0 stands out for its user-friendliness and seamless integration with third-party applications and services.
Benefits to Users
Enhanced Security: SSO Authentication can protect against unauthorized access, reducing the risk of breaches and malicious activity.
Access Control: The protocols grant specific user privileges, safeguarding sensitive data and application integrity.
Personalization: SSO Authentication can also help users to personalize their login experience.
Efficient Automation: The auto-add user and contributor option will automatically assign the respective roles, eliminating the need for manual intervention.
How does it work?
In the 'Account Settings' section of the console, select the 'SSO configuration'. Admins and Super Admins can select the SSO type from the dropdown menu. Following this step, simply include the base URL, space URL, client ID, and client secret ID (obtained from the identity provider). It's as straightforward as that.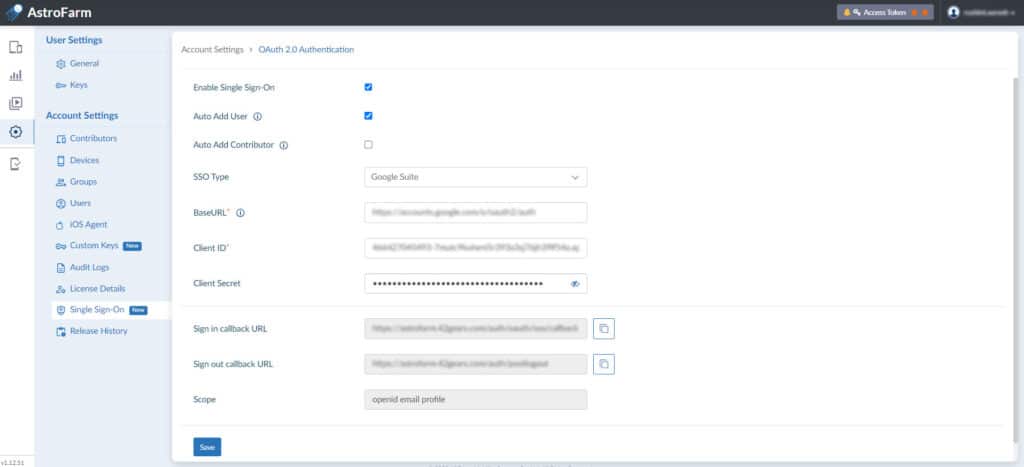 AstroFarm currently supports three SSO types: Google Suite, AWS Cognito, Azure AD, and Okta. The SSO configuration feature allows one configuration per user or customer account.
For a demo of this feature, check the video here.
Discover the ease of access firsthand – try out the new SSO login feature today!
An enhanced testing experience awaits
you!
Subscribe for our free newsletter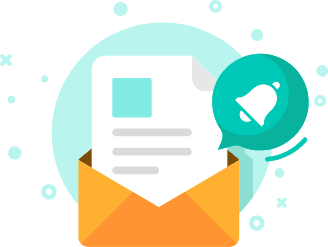 Exclusive News and Updates on Enterprise Mobility!
*

I consent to receive newsletters via email from 42Gears and its Affiliates.
Please agree
*

I have reviewed and agreed to 42Gears Privacy Policy and Terms of Use prior to subscribing and understand that I may change my preference or unsubscribe at any time.
Please agree