Digital Signage Solution for HealthCare Organizations and Hospitals
Jan 23, 2018 | 42Gears Team
The proliferation of new technology in healthcare is increasing and one of the main trends in healthcare currently is the use of digital signage, basically because it offers several benefits like improved visitor engagement, training and real time alerts.
As per Grand View Research report "global digital signage market is predicted to reach USD 31.71 billion by 2025, which prominently include retail and healthcare".
Off-the-shelf devices like tablets, TVs and smart displays can be converted into eye-catching digital signage displays and can be instantly updated with multimedia content. Hospitals can also make sure the displayed information is always up to date.
Let us take a look at some of the used cases and benefits of digital signages in hospitals.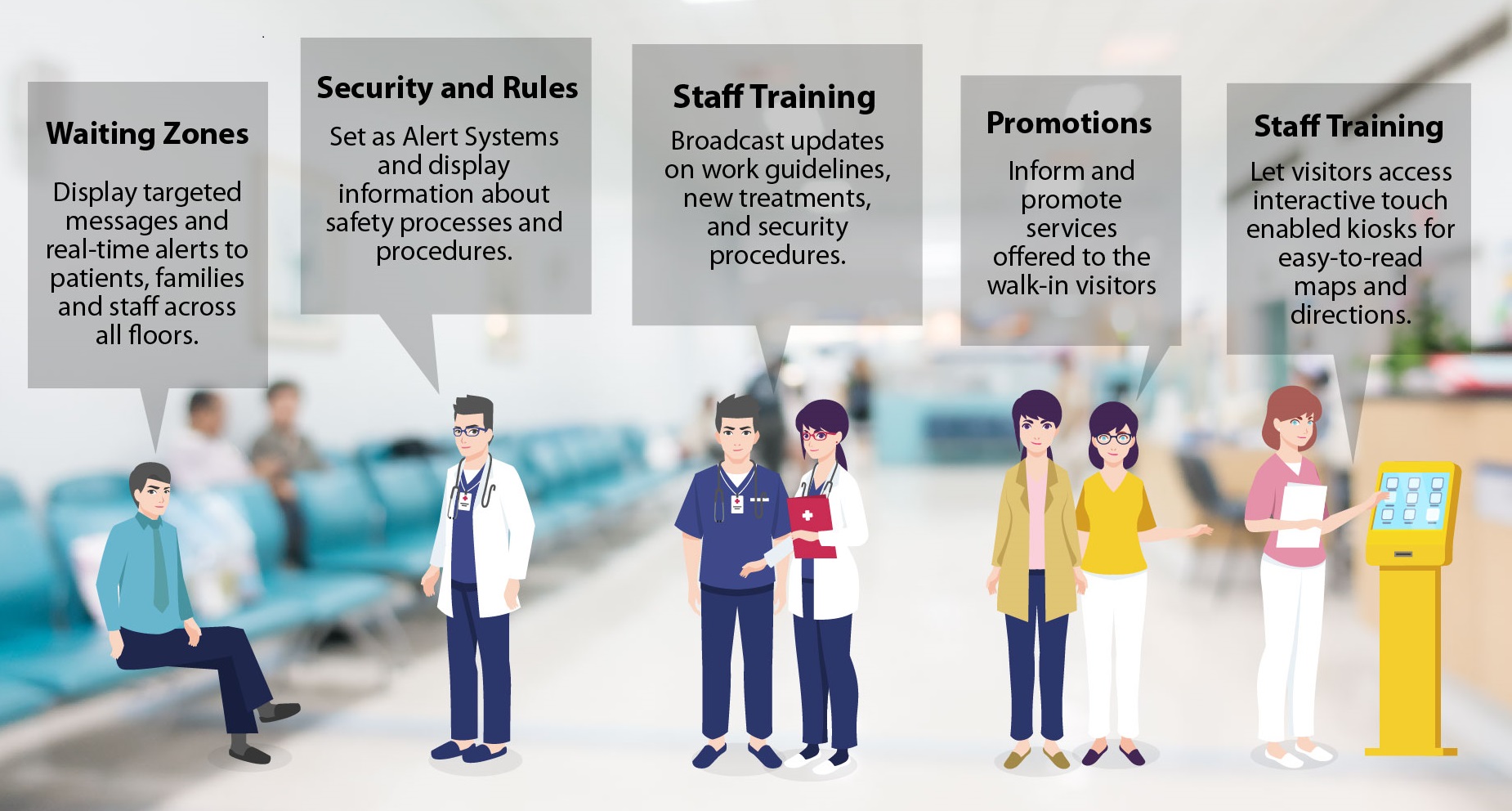 Waiting Zones
Many times visitors/patients wait in a hospital's waiting area/lounge. The display screens in the waiting area are an effective tool to describe hospital services, facilities and to give updates on appointment queues. Hospital can display targeted messages and real-time alerts to patients, families and staff across all floors or in individual departments like Radiology.
Kiosk Check In & Facility navigation
TV screens can be used to show the way to the ER and admission areas. In hallways, lobbies and lounges, visitors can access interactive wayfinding touch-screen kiosks for easy-to-read maps and directions.
Security and Rules
In times of necessity, digital signage can act as a backup alert system. In emergency situations, visitors can be instructed on how to exit the premises. Hospital staff can also be informed about safety processes and procedures. This is a very useful application for digital signage in any health institution.
Staff Training
Hospitals can play presentations in break/staff rooms where staff members spend a lot of time. Digital signage can be used to offer updates on work guidelines, new treatments, and security procedures.
Promotion of Hospital Services
By using smart digital signage, it has become easier to inform and promote the services offered  by the healthcare organization or hospital to the walk-in visitors.
42Gears Digital Signage Solution – SureVideo offers hospitals, clinics and healthcare organizations the flexibility to use photos, movie files, presentations or relevant health news feeds to interact with patients and visitors. SureMDM can centrally control and manage all the devices in the hospital network across multiple locations.
Benefits of EMM Enabled Digital Signage Solution:
– A cloud-based platform with centralized control for message consistency and branding.
– Real-time communication with patients, guests, and hospital staff team.
– Manage content, schedules across multiple screens from a single console.
– Multi-user access supports teamwork, while role-based and user-based permissions let administrators allot tasks to different users in the same account.
– Scalable deployment.
– Compatible with any kind of tablet, TV or digital display screen.
– Configure playlists to play content at scheduled times.
Try SureVideo and SureMDM for free!
Read another use case for SureVideo here.