Linux Device Management
Remote Management of Linux-based Computers and IoT Edge Devices
Remotely Access Linux Desktop | Install Apps | Run Shell Commands and some more.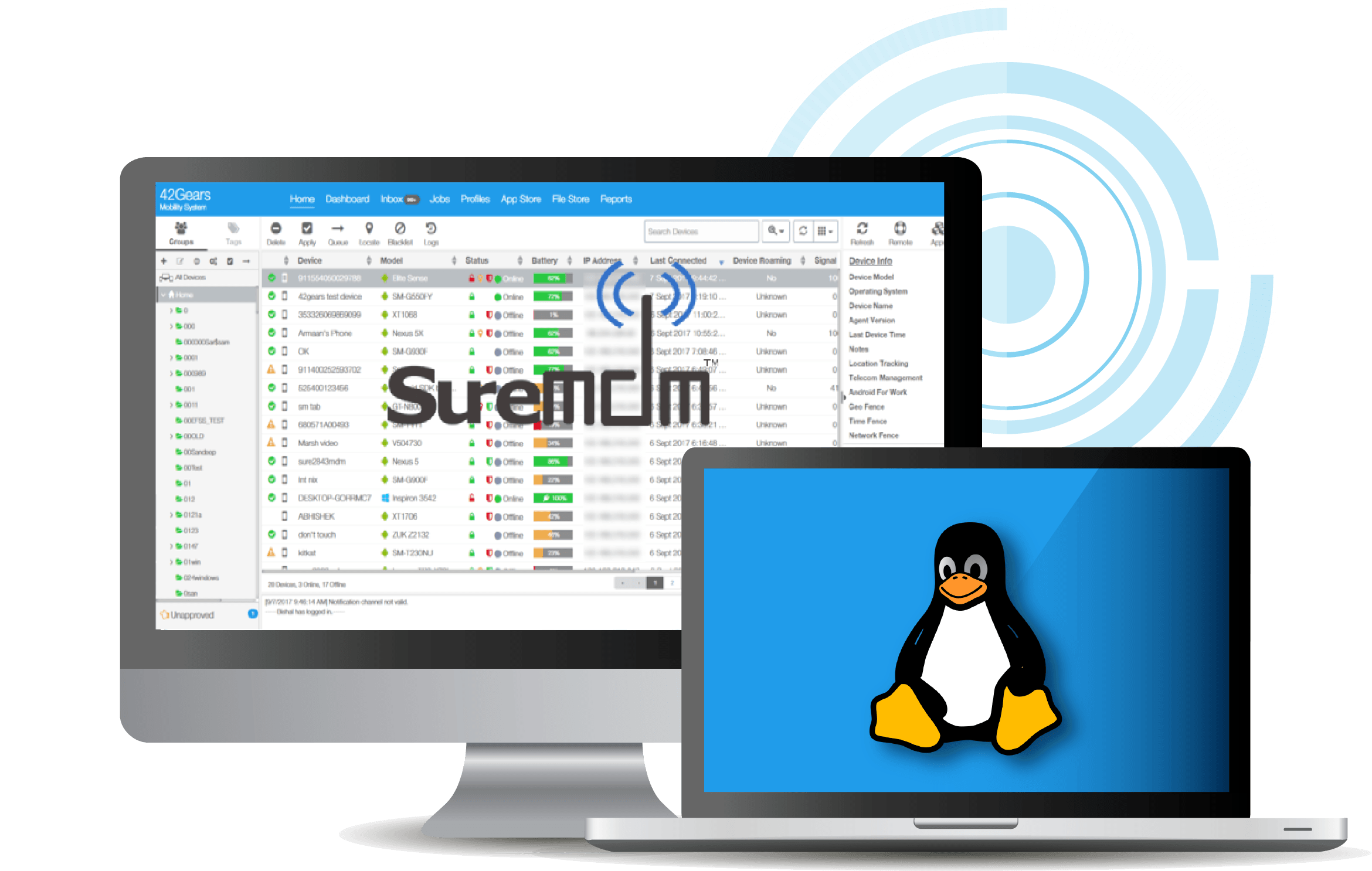 Linux has always been a platform of choice for serious computing demands. Security and stability of the Linux operating system have made it a favorite among businesses for deploying server apps as well as for powering Industrial IoT Edge devices.
Linux device management solution enables full Linux device lifecycle management that includes Enrollment, Provisioning, Deployment, Management, and Decommissioning. With the power of a remote Linux device management tool, your IT organization can ensure consistent security compliance and improve remote troubleshooting of operation issues on Linux devices.
Linux Device Management Capabilities
Following are some of the important Linux device management capabilities and features of 42Gears SureMDM.
Centralized View
Deploy and Install applications of multiple Linux devices at once, Track and analyze app status using reports. 
Application Management
Deploy and Install applications of multiple Linux devices at once, Track and analyze app status using reports. 
Kiosk Mode
Turn your Linux device into a dedicated Kiosk by allowing specific applications. Access to the rest of the system and other unallowed apps is completely blocked.
Remote Linux Desktop Tool
Linux MDM is one of the best tools to access remote Linux desktop which can be used to troubleshoot issues remotely. You can remotely view the Linux desktop screen from your browser from a Windows computer, from another Linux machine, or even from a mobile device such as Android or iPhone. You can interact with the remote Linux device using your computer mouse and keyboard. This feature is especially useful for fixing configuration issues on headless devices with no external display or input devices.
OS Update
Use Linux MDM solution to install kernel and OS updates remotely. OS patches can be pushed to all Linux devices at once ensuring they all receive the latest security updates with minimal user intervention.
Easy File Distribution
Remotely distribute files to multiple devices.
Remote Shell Scripting
Remotely execute Linux shell commands to perform any operation on the devices. See more details here.

User Management
Add/Remove/Manage users on Linux devices
Assign/Revoke Admin access
Enable login access rules to allow users to login in specific days and time
Remote System Configuration
Linux device management tool (SureMDM) can help you perform the following IT admin tasks on Linux devices remotely. 
Wi-Fi Settings

Disable Clipboard

Block USB 

Force Wi-Fi Whitelisting
Block Website Access
The capability to block unapproved websites is a powerful feature of the Linux device management solution. This feature ensures users are not distracted and the security of corporate data is not compromised.
Linux Distributions Supported by MDM
SureMDM Linux Device Management supports all major Linux distributions (CentOS, SUSE, Linux Mint, Ubuntu, Fedora, Redhat)
Supported Linux Mint Versions

version 18.1

version 18.2

version 18.3

version 19.3
Supported Ubuntu Versions

Version 16.04 LTS

version 18.04 LTS

version 19.10

version 20.04 LTS