Kiosk Mode on Android with SureLock
SureLock locks down Android based tablets and smartphones to prevent unwanted device misuse. You can control which applications and device features can be used by the end-user. For e.g. you can block access to games such as Angry Bird, social media apps such as Facebook, Twitter or browsers etc. In most cases you may allow access to just one or two apps and SureLock will ensure that the user cannot access anything other than those allowed applications.
Trial version of SureLock for Android is available on our website as well as on Google Play.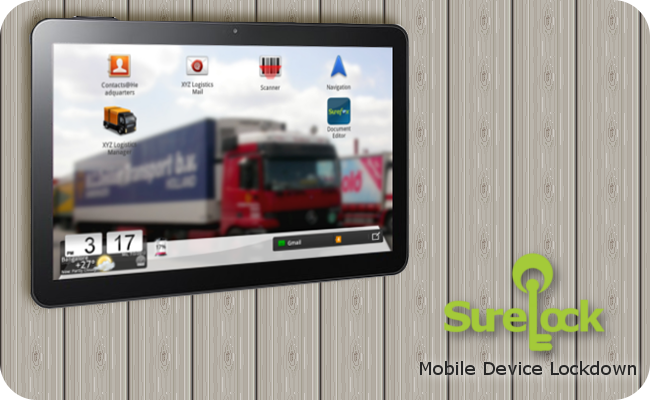 Core Features:
Lockdown your Android Smartphones & Tablets into Kiosk Mode
Restrict users to Allowed Applications only
Password Protected SureLock Admin Settings
Hide or Disable Bottom Bar on Android 3.x or higher (might require a minor change in your application)
Display selective Widgets on SureLock Home Screen
Reposition app icons using drag and drop
Create app shortcuts on SureLock Home Screen
Block users from accessing device Home Screen
Prevent users from playing games, browsing or installing unapproved applications
Block user from changing System Settings
Selectively allow or block individual child windows of allowed applications
Per application password control
Brand SureLock with your own wallpaper
Auto launch application(s) at startup
Custom title for allowed applications on Home Screen
Hide icon of an allowed application on Home Screen
Peripheral Lockdown (WiFi, Bluetooth, Auto-Orientation, Flight-mode, Sound)
Set Custom Wallpaper on SureLock Home Screen
Import/Export Settings to xml
Remotely deploy SureLock configuration (over http download  or by using an MDM such as SureMDM)
If you have any specific requirements and would like to know how SureLock can help, please contact us.
Check out more details on our website at https://www.42gears.com/surelock/
---

Read more about our products: