Implementing Digital Signage in BFSI Industry
Feb 19, 2018 | 42Gears Team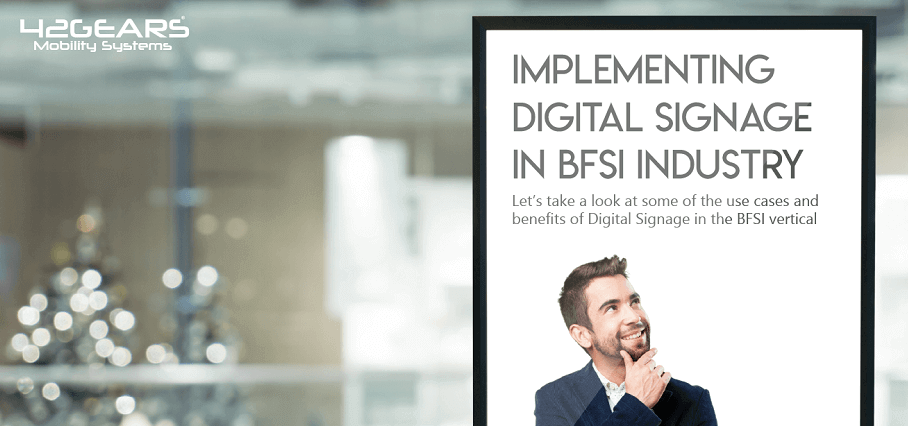 Customer experience is one of the biggest driving factor in the banking industry. In fact, several banks consider it to be more powerful than price-value perception when it comes to acquiring customer loyalty. This belief is reflected even in traditional banks as they continue to adopt measures to improve customer experience. Digital practices are being embraced to keep customers happy and re-invent the banking experience when they visit a branch or other financial institution.
Digital Signage is one of the most easy-to-adopt solutions designed specifically to attract customers attention. It has the power to foster and create customer loyalty by establishing an emotional connection and improving the bank's relationship with the customer. Digital Signage not only enhances in-branch customer experience, it also serves as an effective communication tool to display targeted information to customers while they wait in bank queues. It can be used to promote new products and services to match with customers' interest in different branch areas. Displaying rich media content through Digital Signage can persuade patrons more convincingly as they think about financial decisions by triggering need recognition. And it also effectively reduces perceived wait times and customer annoyance by entertaining them with video clips or TV feeds.
Benefits of Digital Signage in the BFSI vertical
Let's take a look at some of the use cases and benefits of Digital Signage in the BFSI vertical:
Improving In-Branch Experience
Banks and financial institutions have shifted a majority of their banking and transaction tasks to the online space. Keeping up with the trend, many of them are also trying to update their brick-and-mortar experience for customers. Being in the digital age of consumerism, institutions are now adopting digital signage to create a similar experience for their screen-obsessed customers. Using Digital Signage to implement token-number-based queue management systems and also keep customers engaged with useful and relevant information is commonly seen across banks and financial centres.
Branding and Promotions
Banks can use digital signage to display dynamic visual content that generate customer interest and raise awareness about their financial services. It can also enhance customer communication by easily integrating with in-house CRMs and marketing automation tools. Banks can show interesting content in the form of videos and digital banners that are informative and effective.
Offering Customer Updates
For a long time, banks and other financial centres have made use of static posters and banners to reflect latest bank rates, equity portfolios and other related financial data. Not only is this process time consuming, it also involves huge costs. Digital Signage can help minimize this costs by allowing easy content update to reflect the latest rates and information. The data can also be easily customized for specific branch requirements.
Easy Scheduling
Digital Signage platforms can allow banks to schedule content delivery weeks or months in advance. This will not only keep content fresh, but also allow managers to focus on more important operations. They can schedule seasonal offers on mortgage or loan rates to play on screens during festivals or important dates.
Internal Training
Digital Signage can also be an excellent tool to improve internal communications, policy updates, training and for reporting purposes. It can be used to display HR policies, leaderboards, and other important information such as quarterly or yearly performance goals, KPIs and more.
Self-help and Feedback Kiosks
Digital signage solutions can turn smart devices into touch-screen kiosks where customers can access their account details. They can also be used as feedback kiosks to collect appreciation or complaints from customers on the services offered.
SureVideo by 42Gears is a digital signage solution for smartphones, tablets, desktops and Android TV sticks that allows easy configuration of media files (videos/audio/images), powerpoint presentations and other forms of content to be played in a loop. SureVideo also allows the content to be branded with the company's official logo as watermark.
The playlist can be deployed to multiple devices and can be remotely updated at any time using an UEM solution like SureMDM.
Interested to learn how SureVideo can help to digitize content promotion in your bank? Click here for a free trial.
Subscribe for our free newsletter
Thank you! you are successfully subscribed.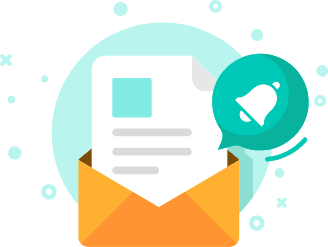 Exclusive News and Updates on Enterprise Mobility!
*

I consent to receive newsletters via email from 42Gears and its Affiliates.
Please agree
*

I have reviewed and agreed to 42Gears Privacy Policy and Terms of Use prior to subscribing and understand that I may change my preference or unsubscribe at any time.
Please agree
Please enter a valid official email