Enterprise Mobility Management Solution for SMBs
Manage Tablets, Smartphones and Rugged devices

Remotely Install Applications and Transfer Files

Remote Screen Capture

Real-time Location Tracking

Remote Lock and Wipe
and more...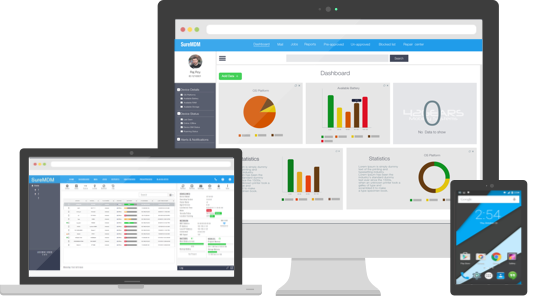 Device Security
Remote Locking
Remote Data Wipe
Enforce corporate password policies
Detect rooted devices
Software Distribution
Push applications and software patches
View installed applications
Remotely uninstall unwanted applications
Location Tracking
Real-time location tracking on map
Location History
Uses GPS and Network-based Location
Export location data
Device Health Monitoring
Battery status
Memory and Storage status
Network signal strength
Messaging
Send messages to mobile users
Broadcast messages
Two-way messaging
Get read and delete notifications
Works on WiFi and Cellular networks
Remote Helpdesk
Remote Control
View Remote Screen
Remote File Explorer
Remote Registry Editor
Copy files to and from remote devices
Device Lockdown
Block installation of third-party apps
Password protect Unauthorized apps
Device Grouping
Hierarchical Grouping of devices
Manage devices from multiple customers
Groups devices based on geography, departments etc
Branding Support
Brand the solution as your own
Use your company logo and theme
Frequently Asked Questions
Q: How can I purchase SureMDM?

A: You can purchase SureMDM cloud subscription or on-premise licenses from here.

Q: What platforms does SureMDM support?

A: Currently SureMDM supports Android, iOS, Windows, and legacy systems based on Windows Mobile and Windows CE.

Q: Can I have multiple administrator users for my company account?

A: Yes, you can create multiple administrators for your company account with role based privileges.

Q: Can I generate reports?

A: Yes, you can generate reports and export them in Excel, PDF, or Word formats.

Q: Can I perform bulk device/user enrollment?

A: Yes, bulk enrollment is available for Android and Windows.