Things Management Technologie
HET BEVEILIGEN VAN AANGESLOTEN APPARATEN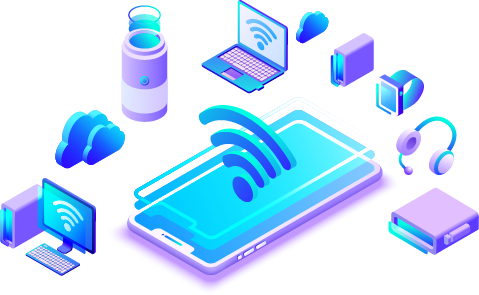 Traditioneel is het beheer van apparaten beperkt tot het beheren van apparaten op basis van besturingssystemen die toegankelijk zijn voor ontwikkelaars, zoals Windows, Android, iOS en Linux. Als OS-leveranciers een grote en krachtige set API's publiceren, is het mogelijk om apps te schrijven die kunnen helpen bij het beheer van "slimme" apparaten en eindpunten, zoals smartphones, tablets en pc's.
Aan de andere kant zijn er verschillende soorten ingebouwde apparaten, sensoren en apparatuur die draaien op zeer rudimentaire hardware die niet in staat is om apps te draaien die zijn gebouwd met behulp van programmeertalen voor algemene doeleinden. Deze apparaten voeren zeer specifieke functies uit met een beperkte connectiviteit met de host machine via USB, Bluetooth en WiFi.
42Gears heeft een framework ontwikkeld dat u in staat stelt om deze "niet zo slimme" eindpunten te beheren door de introductie van "slimme" logica op het niveau van de host machine, die de rol van een proxy voor deze eindpunten vervult.
Bijvoorbeeld, een printer die is aangesloten op een netwerk kan worden opgesomd en geregistreerd in de 42Gears UEM Web Console, waar het verschijnt net als elk ander "slim" apparaat. Een beheerder kan dan de printer op afstand controleren en beheren vanaf één enkele console.
Voorbeelden:
Handbediende Scanners, Kassa's, Slimme Batterij, Oplaadstations, Bluetooth Controllers, Label Printer, Card Reader, Smart Bulb, Smart Plug enz.
Een Logische Weergave

Een "Things Connector" is een softwaremodule die een Thing of een IoT-eindpunt logisch verbindt met SureMDM Nix Agent die op de host machine draait. De Things Connector kan worden ontwikkeld door de leverancier van het Thing apparaat of door elke ontwikkelaar die de technische kennis heeft om te communiceren met het Thing apparaat over het gemeenschappelijke transport mechanisme zoals USB, BT, Wifi etc.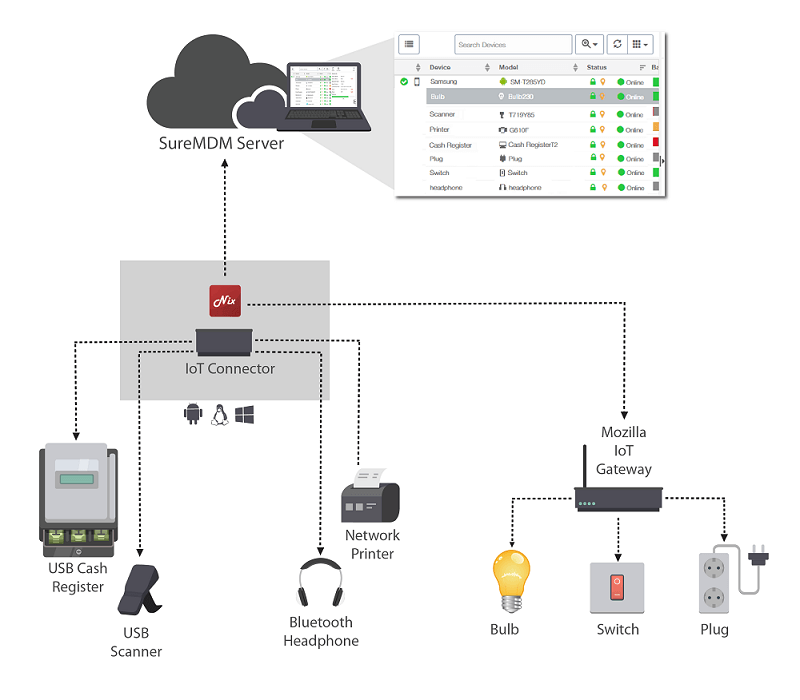 Things zijn zichtbaar op de 42Gears UEM Web Console zoals in de afbeelding hieronder:

Voor Ontwikkelaars
Als u geïnteresseerd bent in het ontwikkelen van een Things Connector voor uw apparaat, gelieve uw verzoek hier . in te dienen. Ons ontwikkelaar ondersteuningsteam zal u voorzien van een developer kit, inclusief API-documentatie en voorbeeldcode, om aan de slag te gaan.