Manage Mobile Data Usage on iPads and iPhones
Apr 27, 2017 | 42Gears Team
Mobile devices can now practically do anything with the wide range of apps available in the market. Be it checking weather forecast every morning or counting calories of your food. All you need is a steady internet connection.
This trend of dependence on mobile apps for almost everything could be a concern for enterprises whose business is driven by the mobile-equipped workforce. There is always a good chance of unexplainable and excessive data usage problem by these mobile devices. One of the common solutions is to make use of inbuilt data utilization tool, but when your active efforts to decrease data usage seem ineffective, you can consider Mobile Device Management (MDM ) solution like SureMDM.
With SureMDM, IT Admins can create different levels of Data Usage thresholds and define consequent actions. For example, you can set up two Data Usage thresholds for users per day; 5 MB and 10 MB, and specify to get an email alert when the first threshold of 5MB is reached and block data completely when the second threshold of 10MB is reached. This offers a very flexible and convenient way to monitor data usage for a specific time period without interfering with device settings and overall native experience.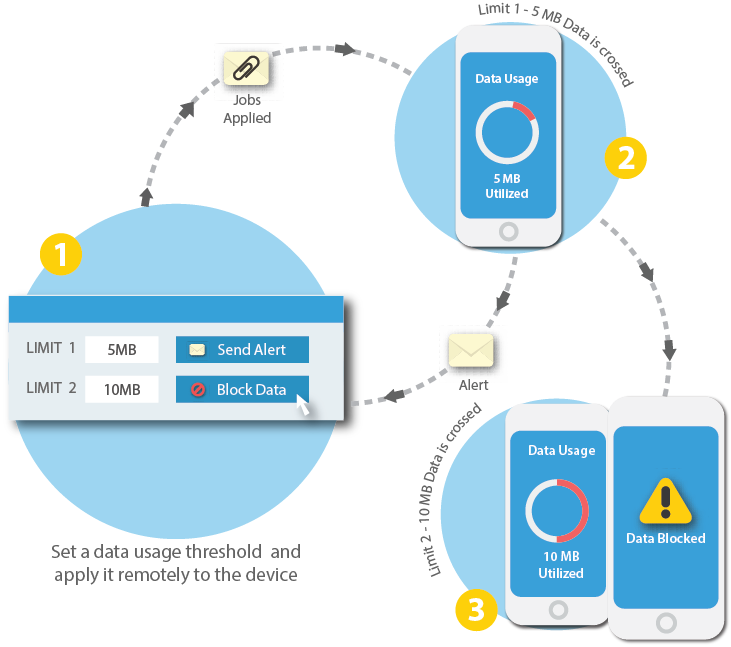 To create Data Usage Policy and apply it to enrolled iOS devices, follow below-mentioned steps:
1. Login to SureMDM Web Console
2. On SureMDM Home, click on Jobs
3. On Jobs screen, click on New
4. On Select Operating System screen, click on iOS
5. On Create Job screen, click on Data Usage Policy
6. On Data Usage Policy prompt, gave a name to the job and enter following details:
– Configure Billing Cycle – Monthly/Weekly/Daily/Custom
– Limit 1 Threshold in MB/GB
– Action – Send MDM Alert/Send Email Alert/Apply Profile/Block Data
– Limit 2 Threshold in MB/GB
– Action – Send MDM Alert/Send Email Alert/Apply Profile/Block Data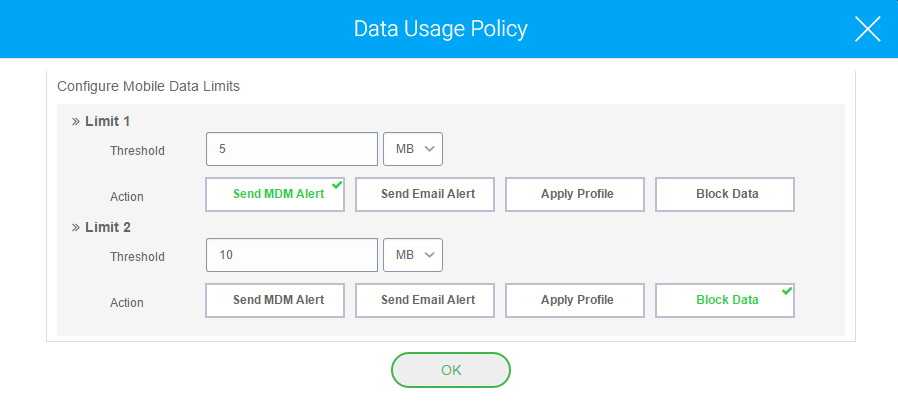 6. Click on Save to complete
7. Go back to SureMDM Home, select the desired iOS device and click on Apply
8. On Apply Job To Device screen, select the Data Usage job which was created and click on Apply
Please note, data blocking on iOS devices using Data Usage Policy profile becomes effective only after 24 hours after the job is applied.
Once Data Usage Policy job is successfully applied, you can be assured that excessive data usage is not only monitored but is proactively avoided. Data Usage Policy feature is also available for Android devices, you can learn about it here.