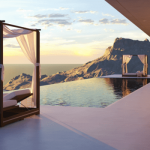 Leading Hospitality Firm Makes Cabana Rentals Easy with 42Gears
Business Overview
A leading Florida hospitality firm helps hotels offer cabanas for their guests. Customers can book cabanas using a smartphone app. Once in the cabana, guests can call on VIP services to provide food, towels, and other necessities throughout the day.
Background and Challenges
In order to ensure that the cabana staff responded promptly to guest requests, the firm equipped staff with smartwatches and tablets. However, this introduced some new challenges.
The firm needed to make sure employees did not get distracted while on the job. This would appear unprofessional and damage the firm's reputation among guests. 

Some device features that workers did not need (such as camera and Bluetooth functionality) significantly lowered device battery life. 

If devices went missing, it would be very difficult for the firm to find them in busy beach and poolside areas.
Industry: Hospitality
Location: Florida, USA
Product: SureMDM and SureLock
Operating System: Android and Wear OS
Devices: Samsung Tablets and LG Smartwatches 
Deployment Size: 800+
Challenges: The firm gave its workers tablets and smartwatches to provide better service for cabana guests. However, these devices distracted workers and were hard to manage. 
Solution: SureMDM by 42Gears and SureLock by 42Gears allowed the firm to track devices, and lock them down to keep workers focused.
The Solution
SureMDM and SureLock by 42Gears
42Gears had the tools that the hospitality firm needed to secure and manage its devices. In particular, 42Gears helped the firm implement SureMDM (a device management solution) and SureLock (a device lockdown solution). 
The firm overcame its device-related challenges quickly with the help of SureMDM and SureLock.
The firm could update the company app remotely at any time using SureMDM. Then, the company could lock down devices with SureLock so only the company app is available. 

SureMDM and SureLock made it easy to turn off Bluetooth and camera functionality, saving battery life. Plus, employees would receive alerts if device battery fell below 20 percent. This made sure they would never have a device lose power mid-shift. 

SureMDM's location tracking feature allowed the firm to maintain a continuous device inventory. If devices went missing, admins could find them quickly with the help of SureMDM.
Benefits
Guest satisfaction has improved, as evidenced by larger tips for cabana employees. 

The time required to complete each guest's requests and move on has decreased, on average, by more than 30 percent. 

Workers can handle larger crowds than before without being overwhelmed.