Using SureMDM Web Console with Google Chrome
Applies to

:
Product

SureMDM

Platform

All
SureMDM Web Console works best with Firefox 26.0+ or Internet Explorer 9+ and we strongly recommend all users to use these browsers to make maximum use of the features.
However, if you want to use SureMDM Web Console with Google Chrome, you may get a prompt to install Microsoft Silverlight. (like image shown below).
You get this prompt because of the latest update in Google Chrome. To avoid getting this prompt every time you access SureMDM Web Console, we have a workaround. Once you complete following one time steps, you would be able to seamlessly access the console.
1. Open a new Chrome browser window and access – chrome://flags/#enable-npapi
2. Under Enable NPAPI, click on Enable
3. Click on Relaunch Now button at the bottom of the page to complete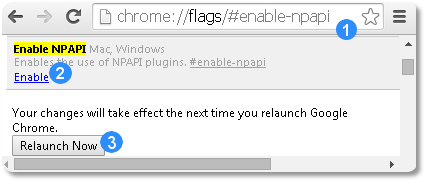 If the issue persists and require further help, you can reach out to our tech support team at support@42gears.com.
You can also chat with one of our representative, using our Contact page.