How to Remotely Configure Zebra Hardware Peripherals Using SureMDM

Android-based rugged devices by Zebra Technologies are widely used across the globe. They are purpose-built to streamline on-field operations. Zebra's partnership with 42Gears allows enterprises to control, secure and manage these Zebra Android rugged devices using its signature EMM solution – SureMDM.
With SureMDM, enterprises can remotely configure Zebra devices for the following features:
        

Remote Reboot

        

Factory Reset

        

Clock Manager

        

Bluetooth and NFC Manager

        

Display Manager: Timeout 

        

Device Settings and Notifications Control

        

UI Manager (Enable/Disable Clipboard, Clear Clipboard, Enable/Disable Home Key)

        

Camera and USB Manager

        

Wi-Fi Manager

        OS Upgrade
        Silent Application Uninstallation
        Silent Application Upgrade
        Blacklist System Applications
        Whitelist Third-party Applications
        Install and Uninstall Certificates
        Manage Unknown Sources
42Gears has created distinct scripts to manage the above-mentioned features on Zebra devices. Admin can simply apply these scripts as jobs on their devices using SureMDM.
How to create a job with a script in SureMDM?
To create a job with a script in SureMDM, follow below-mentioned steps:
Note: The script in the steps is to remotely wipe and factory reset the device. To view a list of scripts, click here.
1. Login to SureMDM Web Console.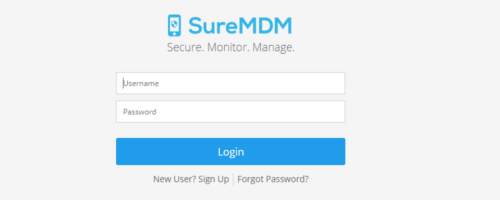 2. Click Jobs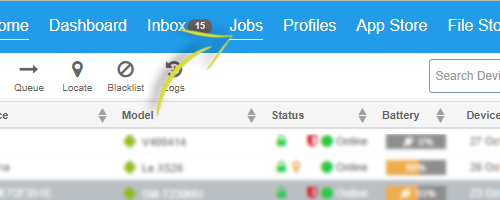 3. Click New Job.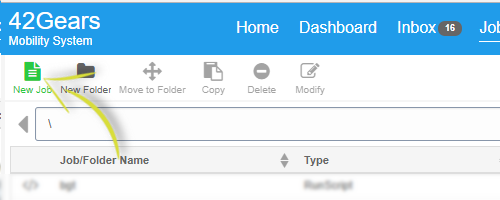 4. Select the OS platform as Android.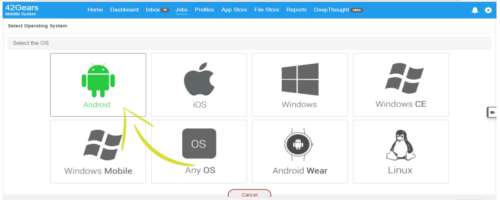 5. Click Run Script.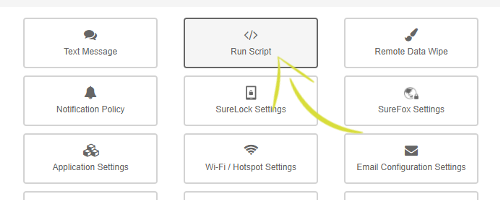 6. Give a name to the job and in Script field, enter the following script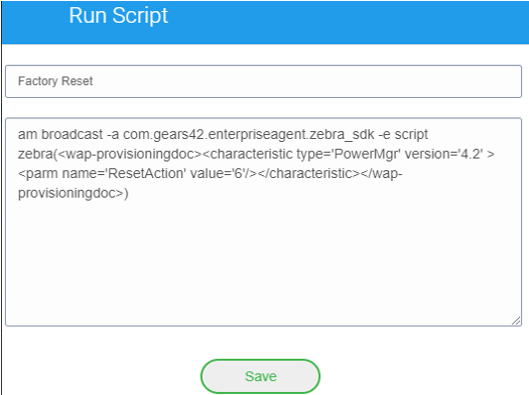 am broadcast -a com.gears42.enterpriseagent.zebra_sdk -e script zebra(<wap-provisioningdoc><characteristic type='PowerMgr' version='4.2' > <parm name='ResetAction' value='6'/></characteristic></wap-provisioningdoc>)
7. Click Save
8. Go back to SureMDM Home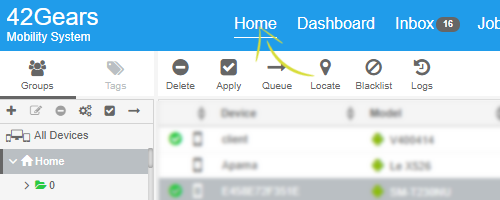 9. Select the device you want the script to be pushed to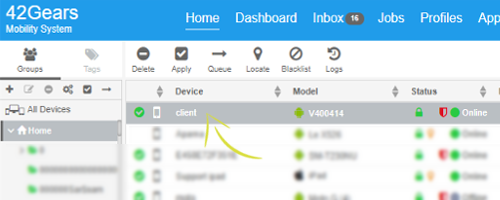 10. Click Apply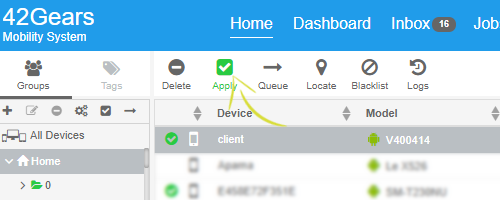 11. Select the saved job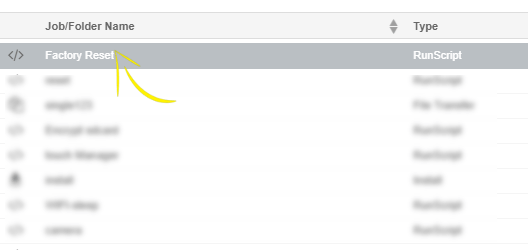 12. Click Apply to complete
Once done, the device will automatically get factory reset. You can follow the same steps for remotely applying the other above listed peripherals settings on Zebra devices just by changing the scripts.
Click here to view a list of all SureMDM scripts for peripheral configurations supported on Zebra Android devices.
Click here to know about SureMDM.
Click here to register for a free SureMDM trial.
Exclusive News and Updates on Enterprise Mobility!
Subscribe for our free newsletter