Get Started with SureFox for Android
SureFox for Android supports following versions:
8.0 Oreo
7.0 Nougat
6.0 Marshmallow
5.0 Lollipop
4.4 KitKat
4.3 Jelly Bean
4.2 Jelly Bean
4.1 Jelly Bean
4.0 Ice Cream Sandwich
Installation Steps
1. Download and Install SureFox setup from Google Play or from our file servers directly (recommended)
2. Alternatively, you can download the file on a PC and copy the .apk file to device's SD Card and launch the setup file
3. Accept the Permissions to continue
4. Once the installation is complete, a shortcut will appear in the list of installed apps on the device
First Launch
1. Launch SureFox from installed apps list
2. Agree to the License Agreement
3. SureFox is ready for configuration
Initial Configuration
1. On first launch, SureFox Home Screen will look like as below: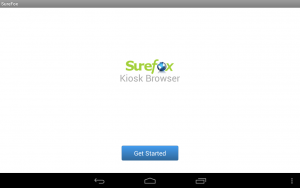 2. Tap on Back button or anywhere on your device screen 5 times within 3 seconds to launch SureFox Admin Settings password prompt (See image below)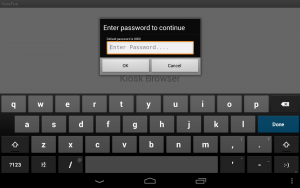 3. Enter the default password - 0000 (four zeros)
4. You can perform following actions in SureFox Admin Settings screen (See image below)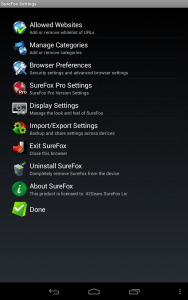 Adding allowed website(s):
1. Tap on Allowed Websites
2. On the next screen, select Add URL
3. Enter website address in URL field
4. Enter Display Name to be displayed on SureFox Home Screen
5. Enable following options according to your requirement:
Allow sub-domains: Allows all the sub-domains of the allowed website
Example: Adding www.google.com with sub-domains allowed will automatically include maps.google.com, mail.google.com as well.
Set as Starting URL: Sets a webpage as homepage and loads it automatically on launch of SureFox
Hide URL: Hides an allowed URL from the SureFox Home Screen
Assign Category: Assigns website to a category
Error Redirection: Sets the website as landing page in case of any error while browsing
Tap on Done to save the settings
6. Once you have saved an allowed website, tap on its name and select Shortcut to create a shortcut to this website on your current home screen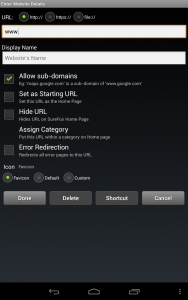 Browser Preferences:
1. Tap on Browser Preferences to manage administrator password, browser-related settings, private browsing features, etc.
SureFox Pro Settings: Use this option to turn SureFox into a kiosk mode browser.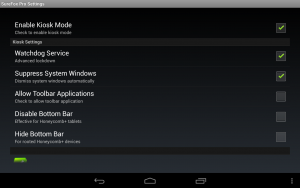 Enable Kiosk Mode: Enable this setting to turn SureFox into a kiosk and prevent users from launching any other application. Once you enable this setting, SureFox will guide you to make SureFox as your default home screen.
Watchdog Service: Enable this setting to prevent launch of unallowed applications from SureFox such as system settings or shortcut to other applications.
Suppress System Windows: Enable the setting to suppress system notification windows automatically.
Allow Toolbar Applications: Automatically allow applications present on your toolbar.
Disable Bottom Bar: Enable this setting to disable bottom bar on Android 3.0+ tablets.
Hide Bottom Bar: Enable the setting to hide the bottom bar on Samsung devices with Android 4.2.2+ or rooted Android 3.0+ devices.
Display Settings: Tap on Display Settings to manage change the look-n-feel of SureFox. Use this option to customize wallpaper, toolbars, screen timeout and other display related configuration.
Activating SureFox
1. Tap on About SureFox on SureFox Settings screen
2. Tap on Activate to launch activation prompt
3. Enter the activation code and tap on OK
Note: Activation Code is sent to you through email after the purchase of the license.
Exiting SureFox
Use Exit SureFox option to exit SureFox and return to default Android environment.