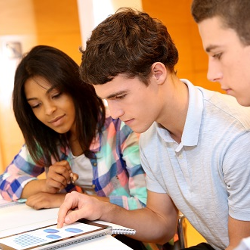 42Gears Locks Down Byju's Student Devices
Byju's was on the lookout for a kiosk lockdown solution that would lock down tablets for academic use and the company's propriety study material was protected from copy or distribution. Byju's selected SureLock by 42Gears to lock down its tablets. SureLock's comprehensive advanced features ensure that the K12 app runs on single application mode and students are unable to access any unauthorized applications and content. Robust, flexible and easy-to-use 42Gears EMM suite products seamlessly integrated into the service provider's workflow, with a very low learning curve for technicians and administrators.
Security and Management of connected devices is one of the challenges of IoT. How do you protect your smart vehicle from being taken over by a hacker or how do you guard your smart thermostat from being regulated by a mischief-maker?  How do you push updates onto thousands of smartwatches?





"Great App !!! One of the best lock down solution for the android platform. User interface and add- on features makes it more user friendly for mass deployments."
- Ranjit Kotian, MT Educare
"Amazing! I love this app and dealing with the team at 42Gears. Keep up the good work!"
- Matthew Kriel, Instacom
"SureMDM and SureLOCK provide perfect manageability, safety and transparency for our client´s professional, rugged handheld devices. Both products have great features and competitively cover every enterprise demand. The team of 42gears is very open to custom solutions and their responsiveness is mind-blowing. Barcotec appreciates and values the cooperation with 42gears very much."
- Alexander Rainsberger, BARCOTEC Vertriebs GmbH
"42Gears helped us in Mobile Device Management by providing products like SureLock and SureMDM. It is quite easy to use the product with proper training and support. The features in SureLock and SureMDM are good and serves their purpose in Mobile Device Management. Tech support was very proactive in responding to the tickets raised."
- Ashish Joseph, Dubai Technologies