Simplify Windows 10 Device Management with SureMDM
Embracing mobile friendly strategies and meeting employee mobility expectations are important keys to business growth. Solutions to support BYOD and corporate-owned devices have to be flexible enough to offer security and management features on different mobile OS platforms.
SureMDM offers unified security and management support for mobile devices across multiple OS platforms. Apart from Android and iOS support, SureMDM combines Windows 10 and EMM offerings to enable adoption of Windows devices for enterprise use.
EMM features for Windows 10 Management
SureMDM support for Windows 10 desktops and mobile devices ranges from quick setup and configuration to remote security features.
Let us have a quick look at the top five features that will simplify management and help improve security on Windows 10 desktops and mobile devices.
Password Policy: Password Policies are a very basic and important aspect to be considered for the security of any mobile devices. SureMDM can be utilized to remotely lock and apply password policies on enrolled Windows devices.
Email Configuration: Email account configuration on devices where the admin does not have physical access to the device, and configuration on Windows devices could be time-consuming and frustrating. SureMDM enables remote configuration of POP3 and IMAP4 email account on Windows 10 PCs and mobile devices.
Restriction Policy: There is a list of commonly exploited Windows features like Windows Store, storage, camera which make corporate information and device security vulnerable. SureMDM can remotely restrict these features from being accessed and used.
App Locker: An important step in maintaining privacy and security on mobile devices is by restricting the users to run only specific apps. SureMDM allows remote locking of identified apps on Windows 10 PCs and mobile devices.
Wi-Fi Configuration: With employees constantly on the move from one network to another, it is very important to have a secure setup to help them connect to different Wi-Fi accounts. SureMDM enables admins to remotely configure Wi-Fi on Windows 10 PCs and mobile devices.
How to get started and register devices to EMM Windows?
1. Launch Settings on a Windows device
2. Search for Work and select Access work or school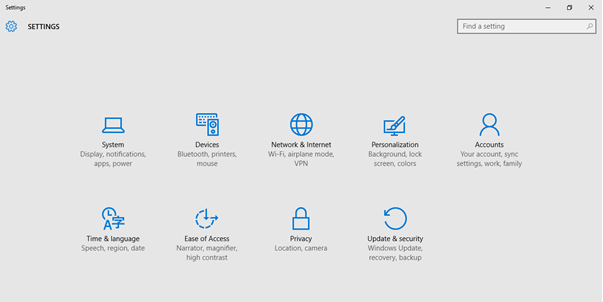 3. Select Enroll in Device Management (MDM)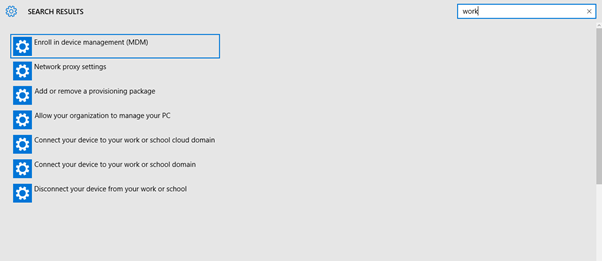 4. Click on Connect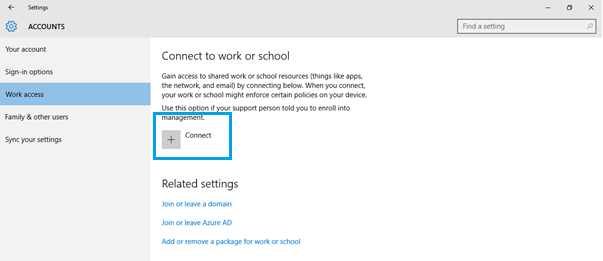 5. Enter email address, followed by your SureMDM Server Address e.g. yourcompany.suremdm.io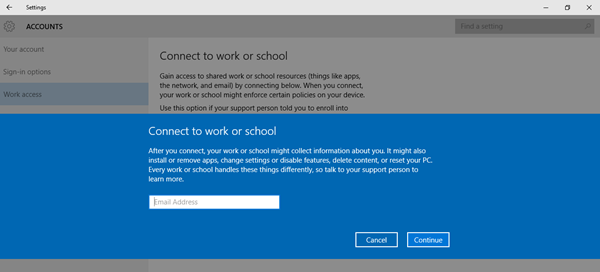 6. Enter Customer ID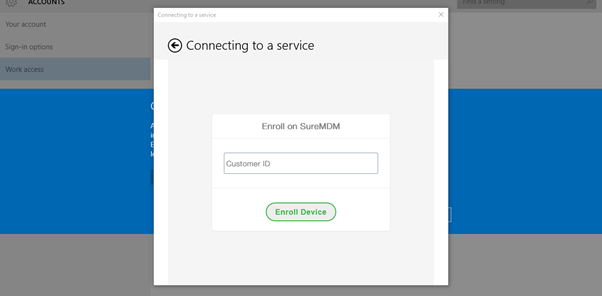 7. On successful enrollment, you will see the following message on the screen

Note: If Enroll Device in management option is not displayed on the device, then
a. On Access work or school, click on Connect
b. Add Microsoft account
c. Then follow the steps from 4 to 6
How to use EMM features for Windows in SureMDM?
1. Login to SureMDM Web Console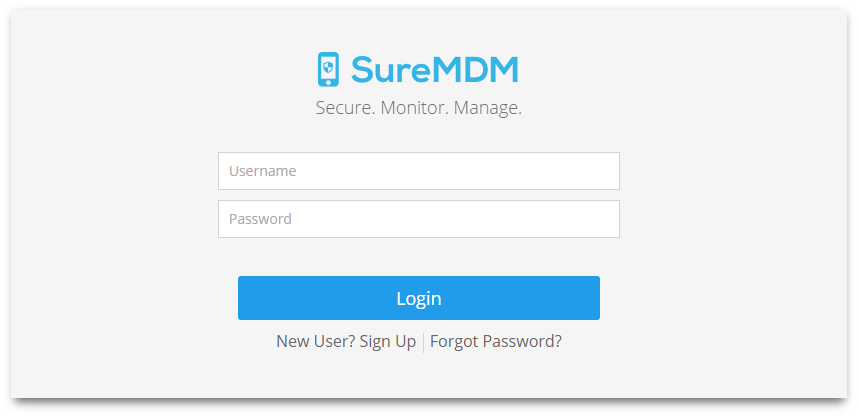 2. On SureMDM Home page, click on EMM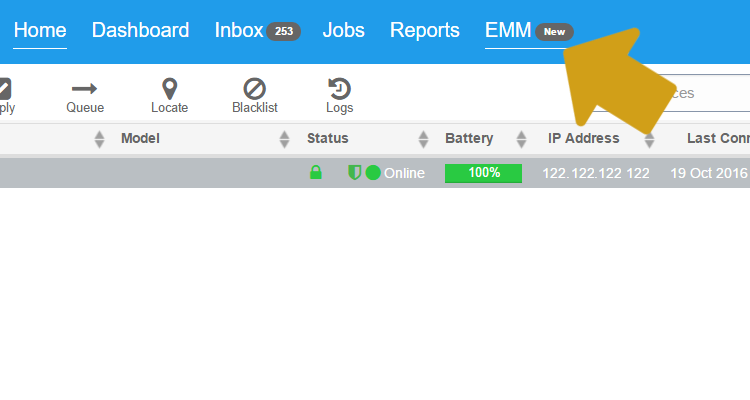 3. Click on Windows tab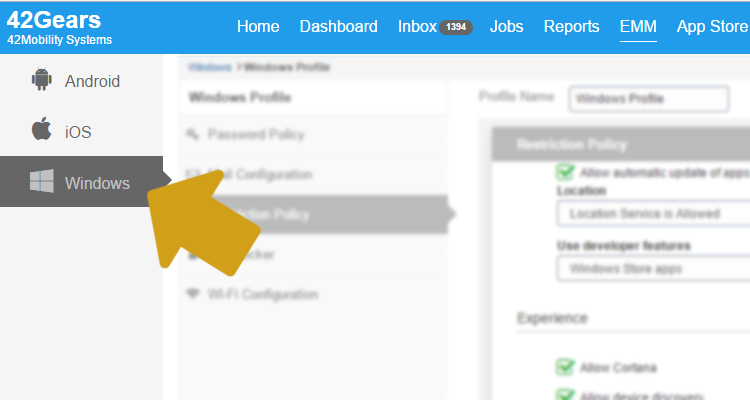 4. Click on Add to go to Windows Profile page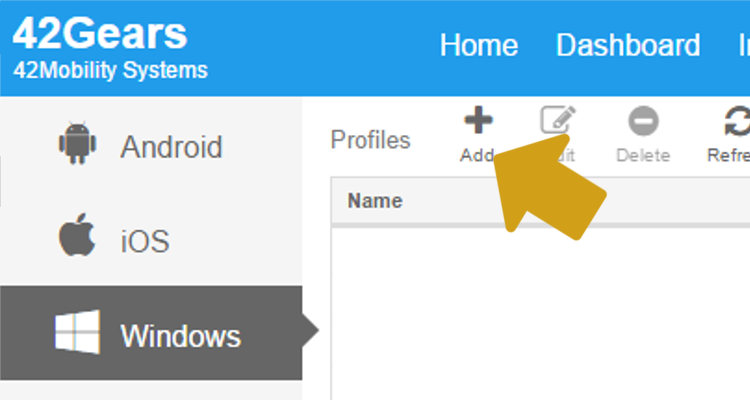 5. Windows Profile pages list all the available EMM features for Windows 10 PCs and mobile devices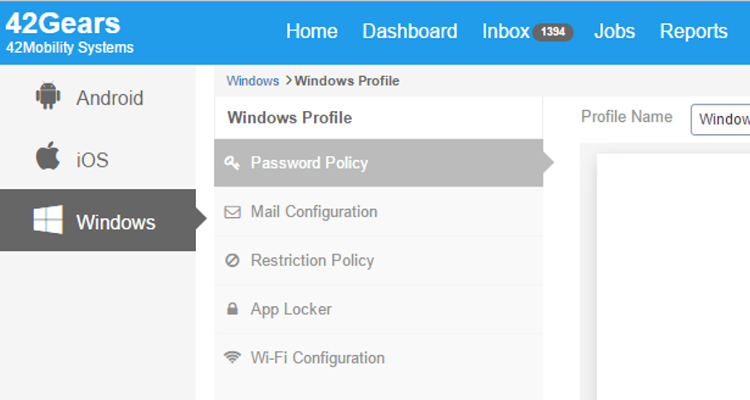 SureMDM is equipped with advanced features which simplify management, help to secure Window 10 devices, and ensures that productivity levels will improve for your organization. Try SureMDM for free and explore the different features here. 
Click here to download SureMDM Nix Agent for Windows.