Remotely Control Samsung Android Devices from PC with SureMDM
Applies to:
Product

SureMDM

Platform

Samsung Android
Are you considering your android device as an unattended kiosk? Are your deployed devices constantly on the move? Has providing technical support for mobile devices become difficult?
SureMDM lets you monitor, track and update your Android devices remotely. And now, with the release of new remote control feature in SureMDM for Samsung Android Devices, it is not only possible to view the screen of the device on your web console but also to take control of the device remotely. The new feature will empower IT administrators and Helpdesk to support mobile devices effectively and efficiently. IT Admins and Support Teams can now diagnose and fix problems reported by users in real time.
SureMDM is powered by KNOX and SAFE for SAMSUNG Android Devices.

For you to remotely control a device, all you have to make sure is that you have the latest version of Nix Agent installed on your Samsung Android (4.2.2 or above) device. Once you have installed and configured Nix Settings, follow the below mentioned steps:
1. Login to SureMDM Web Console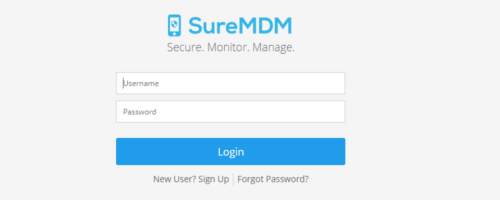 2. On SureMDM Home Screen, identify and select the device you want to remotely control
3. Click on Remote option from Quick Action Toolbar
4. Remote Screen tab will show the screen of the device
5. Now, you can use your mouse or the buttons on the screen for navigation. (as shown below)
Download a trial version of SureMDM Nix Agent from Google Play Store
Click here watch video.
For any questions, please mail us- info@42gears.com or call us on- +1 424 284 2574