How to setup SureVideo Kiosk Video Player?
SureVideo is a kiosk video player which allows you to use any Android device to loop your videos in full-screen mode. In this post, we explain the steps required to get your kiosk video player up and running in no time.
Installing SureVideo
Install SureVideo on your Android device. You can download it from Google Play or from our file servers directly.
Launch & Configuration
1. Launch SureVideo
2. On launch, SureVideo Start Screen will show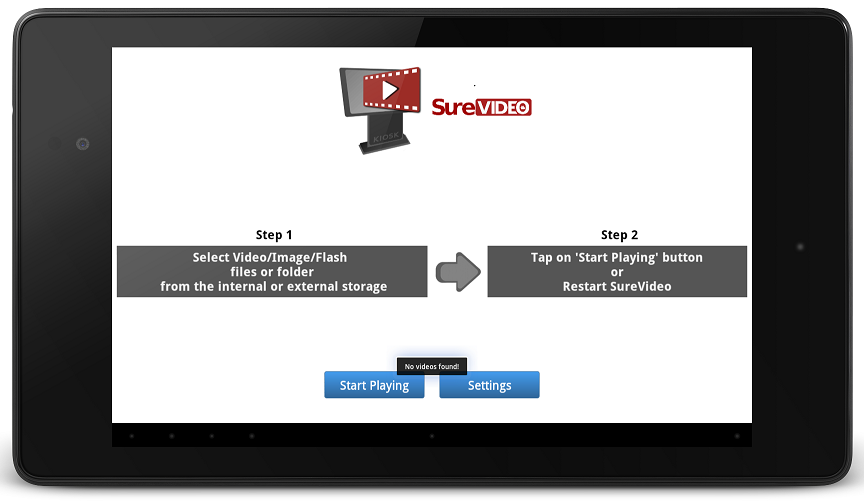 3. You can also configure SureVideo to select any folder of your choice to play videos by entering SureVideo Settings
4. To enter SureVideo Settings, tap on Back Button or anywhere on the screen for 5 times within 3 seconds. A password prompt is displayed. Enter the password (Default password is 0000) and press OK.
5. SureVideo Settings allows you to configure basic app settings such as changing admin password, selecting a custom folder  for playing videos and other settings and also allows you to enable Kiosk mode.
Activating SureVideo
1. Access SureVideo Settings by tapping on Back Button or anywhere on the screen for 5 times within 3 seconds
2. Under SureVideo Settings, look for About option and tap on Activate
3. Enter your Activation Code received on purchase of SureVideo
*Note – Internet connection is required to activate SureVideo. In case internet connection is not available on the device, contact us at techsupport@42gears.com to know about offline activation.
To know more about other features of SureVideo, click here
For Free Trial, click here.
__________________________________________________________________________________________________________________________