How to Remotely Change Time Zones on MDM Enrolled Devices?
Standardization of time zones settings on enterprise endpoints plays a key role in maintaining accountability and transparency in every facet of enterprise workflow. It is a stringent parameter for enterprises who provide tablets and smartphones to their workforce or patrons to ensure their judicious involvement in predefined activities.
Recently, one of our customers in education industry encountered a typical problem. They provided students tablets to access their unique digital learning solution platform, to not only avail interactive learning environment but also perform daily activities like marking their class attendance. But they found few students tampering with the time zone settings and manipulating their class attendance on daily record application. Hence, the client required certain settings on their mobility setup to keep a check on such manipulations, manage a transparent learning environment and maintain a standard time zone setting across all student devices.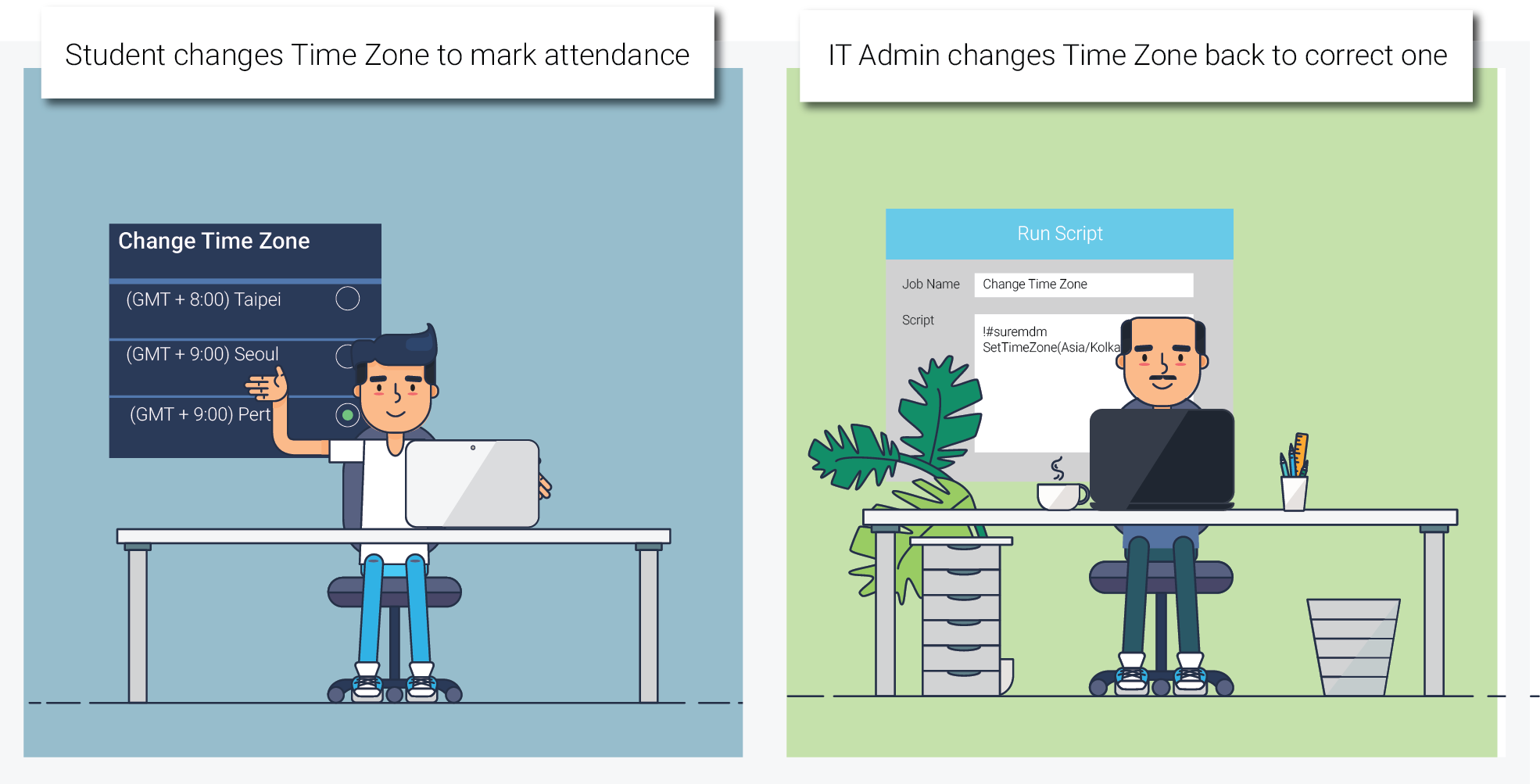 The good news is that 42Gears' SureMDM now supports an essential script which helps the IT Admin to sync the device time to server time. Let us have quick look on the configuration settings.

1. Login to SureMDM Web Console
2. On SureMDM Home, click on Jobs
3. On Jobs screen, click on New and select Android
4. On Select Job Type screen, click on Run Script
5. On Run Script prompt, enter Job Name, enter following run script command in Script field and click on Save
!#suremdm
SetTimeZone(Asia/Kolkata)
7. Once Run Script Job is saved, use Apply option on SureMDM Home to apply the job to desired device(s)
Click here to view the complete list of run scripts that you can use in SureMDM to execute script commands on enrolled devices.
Click here to view a set of run scripts that you can use in SureMDM to execute script commands on Android Smartwatches.
If you have any suggestions or inputs, please do post a comment here or email us at techsupport@42gears.com.