Android equivalent of iOS Guided Access Mode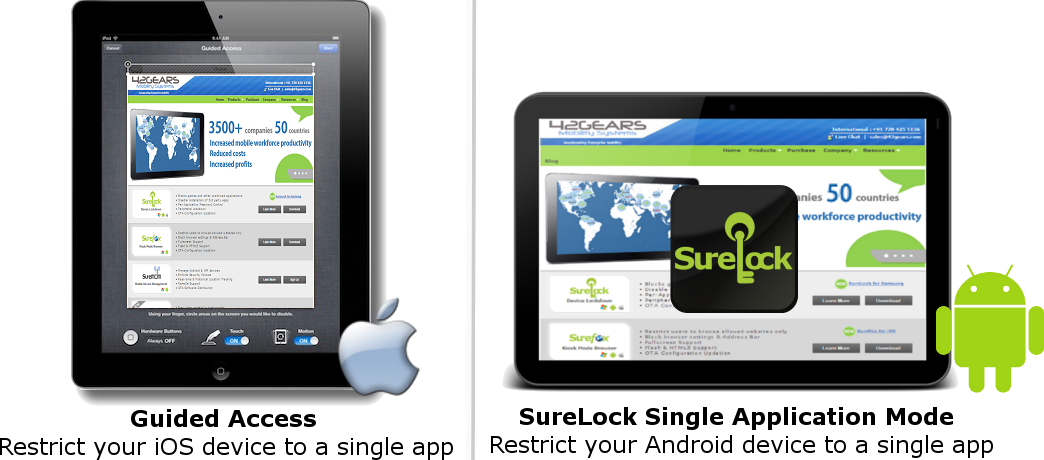 iOS Guided Access Mode
Guided Access Mode was introduced in iOS 6.0 and is used to help you to stay focused on one task while using your iPhone, iPad or iPod touch. This feature limits your device to a single application and lets you control which application features are available to the user.
Guided Access can be used to
Restrict your iOS device to a single application
Disable areas of the screen that are not relevant to a task
Disable hardware buttons
Guided Access makes it easy to lock down iPads and create kiosks, dedicated display devices, or digital signage.
Guided Access Mode for Android
For Android devices, Single Application Mode in SureLock is the equivalent to iOS Guided Access Mode. However, with SureLock's Single Application Mode, you can do much more. SureLock allows for a more secure lockdown of your device and gives you more control over what the user has access to.
Introducing SureLock Single Application Mode
Locks your Android device to just one application
Hides bottom navigation bar
Prevents access to device settings and notifications
Disables hardware buttons such as Volume or Power On/Off
Password protects the lockdown
Setting up Single Application Mode in SureLock
Download and Install SureLock on your Android device
Access SureLock Admin Settings by tapping on SureLock Screen 5 times within 3 seconds
On password prompt, enter your SureLock Admin Settings password
Tap on Allowed Applications and select the application you wish to be in Single Application Mode
Go to SureLock Settings and enable Single Application ModeNow your device is in Single Application Mode
How to launch other applications in Single Application Mode
If you want to allow access to applications other than the main application, go to SureLock Settings -> Allowed Applications, select the applications and hide them from home screen by selecting Hide Icon option. Icons for those applications will not be visible to users. However, the main application in Single Application Mode can launch them.
Learn more about SureLock for Android.
Try SureLock Android for Free